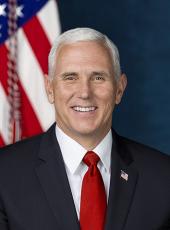 Remarks by the Vice President to Airmen at Grand Forks Air Force Base in Grand Forks, North Dakota
THE VICE PRESIDENT: Well, thank you so much for that wonderful warm welcome, and at ease. It's an honor to be with you today, Governor Burgum, Secretary Zinke, Congressman Cramer. And how about a big round of applause for Colonel Spencer for his tremendous leadership. (Applause.)
And to all the men and women who serve in the uniform of the United States, and your families who are with us today, it is an honor to be here at Grand Forks Air Force Base with the Warriors of the North. (Applause.)
Let me begin, first and foremost, by bringing greetings -- just hung up from the phone from him -- your Commander-in-Chief wanted me to extend his greetings and respect. And I bring you greetings from the 45th President of the United States of America, President Donald Trump. (Applause.)
You know, just yesterday, President Trump stood before a gathering of your predecessors at the VFW National Convention. He did so, in his words, to "pay tribute to the men and women who make freedom possible." That's the very same reason that I wanted to stop by today while I was visiting North Dakota.
You know, the Bible says, if you owe debts, pay debts; if honor, then honor; if respect, then respect. And I'm here today, on behalf of your Commander-in-Chief and on behalf of a grateful nation, to pay a debt of gratitude to each and every one of you who've stepped up and stood up to serve in the world's greatest force for good: the Armed Forces of the United States of America. Give yourselves a round of applause. (Applause.)
While you all come from the rest of us -- you volunteered to be here -- truth be told, we know you are the best of us. But we know, for many of you, you do not serve alone. You have families at your side, or, at minimum, you have families back home. I have to tell you, as the proud father of a United States Marine, I know how proud all of your parents are. So would you join me in giving all the families that support you at home as you serve our nation a big round of applause? (Applause.) We appreciate them.
And to all the leaders of this great base, that record of service to the nation -- I mentioned the Commander of the 319th Air Base Wing, Colonel Benjamin Spencer -- and all of those who are in command here at this base, you make an extraordinary difference in the life of the nation. And America is proud of the 319th. Thank you again, Colonel. (Applause.)
I also want to thank a few of the leaders who are with us today. The great Governor of the State of North Dakota and a great champion of all of those in uniform, Governor Doug Burgum, thank you for being with us today. And thank the First Lady, as well. (Applause.)
And he serves at the Secretary of the Interior for the United States of America, but he is a lifelong Montanan, and he is a former Navy SEAL Commander. Would you join me in thanking Secretary Ryan Zinke for his service to the nation, yesterday and today and tomorrow? (Applause.)
I also want to thank our partners for this administration on Capitol Hill. You have a great senator in John Hoeven -- a man who has been a great, great supporter of this base and of our armed forces.
And I also want to thank Congressman Kevin Cramer, who is a great champion for our national defense, and joins us here today with his wonderful wife, Kris. Thank you, Congressman Cramer. (Applause.)
I can tell you, these leaders are tireless advocates -- tireless advocates of the mission and the airmen of Grand Forks. Standing here today, I can see -- I can see the confidence in your faces. And I want to assure you that we're all truly grateful that you literally are the eyes and ears of America's warfighters across the globe every day.
Our nation is safer because of the diligent 24/7 work of the Warriors of the North. Thank you all. (Applause.)
And as the 319th Communications Squadron operates America's High-Frequency Global Communications System, the 69th Recon Group flies the Global Hawks to give our theater commanders intelligence, surveillance anytime, anywhere. Cavalier Air Force Station, just over an hour northwest of where we're standing, protects a critical element of the nation's missile defense. And the list goes on and on.
It's an extraordinary record of success at Grand Forks Air Force Base. It's literally turned Red River Valley into a world leader in Unmanned Aerial Systems as well, with new developments and new technologies.
In fact, a few people have already mentioned to me the extraordinary history was made. The world witnessed the power of the pioneering work that's been done here just a few weeks ago when the MO-9B [MQ-9B] "SkyGuardian" lifted off from this airfield on a 3,000-mile journey to England, the first medium-altitude transatlantic flight by an unmanned aircraft in history. Thank you for making history at this base and driving innovation. (Applause.)
The truth is, Grand Forks Air Force Base has always played a critical role in our national security. And with widening challenges and widening threats across the globe, your strength and your vigilance is more important today than ever before.
And to all of those dedicated servicemen and women in the room, I'm proud to report to you that you have a champion in President Donald Trump. In fact, this Commander-in-Chief has taken decisive action to rebuild our military and restore the arsenal of democracy. And with the strong support of Congressman Cramer and Senator Hoeven, I'm pleased to report, earlier this year, President Trump signed the largest increase in our national defense since the days of Ronald Reagan. (Applause.)
This was a historic investment in our military, and, in case you didn't notice, it included the biggest pay raise for our troops in nearly 10 years. Overdue and well deserved. (Applause.)
Also, the budget the President recently signed provides new resources to support the vital work that you do here at Grand Forks, including more than $300 million for the Global Hawk program and $8 million to install a universal payload supplier on the Global Hawk Block 40.
I just want to assure each and every one of you: President Trump and I are truly grateful -- truly grateful every day for the work that each and every one of you do. We believe that your mission supporting warfighters around the globe has never been more important to the security of our nation and the safety of our people.
And so, today, on behalf of your Commander-in-Chief, I give you this admonition, and that is: Stay ready. Bring your very best to this enterprise. Mind your missions. Mind your people. Because here at this airbase, you're doing work that's providing for the security of the greatest nation in the history of the world, and you're doing it with extraordinary professionalism. So keep it up. I know America can count on each and every one of you.
And as each one of you makes it possible for America to be the eyes and ears of the skies, and as you, yourself, take to the skies, know that you go with the gratitude not just of the Commander-in-Chief and of a Vice President, but of all the American people.
We know that you step forward in this all-volunteer force. You set aside other opportunities you may have had in your life to put on the uniform. And I have to tell you, it's deeply inspiring to the American people. And I can assure you the American people support your work. Far beyond the precincts of Grand Forks in North Dakota, the American people are grateful every day for the sacrifices you make, and the professionalism and determination and the vigilance that you show.
But let me make you another promise that I know on behalf of the American people: That as you do freedom's work here, as you do the work of providing for the common defense of this, the greatest nation on Earth, that you do so also with the prayers of a faithful people.
And I would offer a prayer too, to all of those that "rise on the wings of the dawn," and all those that go up to the heavens, that you would be confident that even, as the Old Book says, that, there, His hand will guide you, and may His right hand hold you fast as you do freedom's work.
So to the Warriors of the North, the men and women of Grand Forks Air Force Base, on behalf of your Commander-in-Chief and a grateful nation, thank you for your service. Thank you for continued vigilance.
May God bless you and your families. And my God continue to bless the United States of America. Thank you all. (Applause.)
Mike Pence, Remarks by the Vice President to Airmen at Grand Forks Air Force Base in Grand Forks, North Dakota Online by Gerhard Peters and John T. Woolley, The American Presidency Project https://www.presidency.ucsb.edu/node/336067