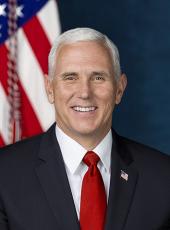 Remarks by the Vice President at AFWERX Vegas in Las Vegas, Nevada
THE VICE PRESIDENT: Thank you very much. Thank you all for being here. And let me just take a moment to thank Secretary Heather Wilson, 11-year veteran of the United States Air Force, a member of Congress, and throughout her career a tireless advocate of the Air Force and the Armed Forces of the United States of America. Your leadership is a blessing to the nation. (Applause.)
And it is good to be back in Las Vegas. It truly is. My last visit was in the aftermath of that terrible night in October, and let me assure this community that all of you continue to remain in our prayers and in the hearts of the American people.
But today, to be able to address so many men and women in uniform, to be able to stand before a gathering of extraordinary leaders, innovators, and pioneers is a great privilege for me. And to open the first-in-the-nation's AFWERX here in Las Vegas, leading the way again. (Applause.)
We're joined by many distinguished members of our armed forces today. Let me recognize three in particular -- the Chief of Staff of the Air Force and the Commanders of the U.S. Air Combat Command in the United States Air Force Warfare Center -- General Goldfeen, General Holmes, and General Gersten. We thank you for your leadership and your presence here today. (Applause.)
I'm also grateful to be joined at this very special event, which brings together the very best of public and private life and our national security to advance the interests of our nation by two great champions of Nevada -- your attorney general, Adam Laxalt, is with us today. Thank you for your presence today. And a great, great champion of our armed forces, a great friend of mine from our days in Congress, and a tenacious advocate for everything about Nevada, Senator Dean Heller, it's an honor to be with you today. (Applause.)
And I bring greetings today, as we start, from a great friend of Las Vegas and a great, great champion of the Armed Forces of the United States, the 45th President of the United States of America, President Donald Trump. (Applause.)
The President sent me here today to celebrate this grand opening of the first-in-the-nation AFWERX facility and to thank all of you for your commitment -- your commitment to the United States Air Force and to working in collaboration with all of the great military personnel in this room and all who will work in concert with you to ensure that America meets the challenges that the future places on us with innovation and creativity.
President Trump said recently, "History teaches us that when you weaken your defenses, you invite aggression," and the "best way to prevent conflict is to be prepared."
And that really is what AFWERX is all about. And in a broader sense it's a statement what this administration is about when it comes to military spending.
Since day one, this Commander-in-Chief has been working tirelessly to make the strongest fighting force in the history of the world stronger still. I am pleased to report that last year alone, the President signed the largest increase in military spending in nearly 10 years. And just a few weeks ago, with the strong support of Senator Dean Heller, President Trump signed legislation that will provide for one of the largest increases in military spending in American history.
But this President knows that the true source of our military might lies not merely in the investments that we make as Americans, but in the courage and in the ingenuity of those who serve and in the innovative spirit of the American people. It's that combination that's made the Armed Forces of the United States the envy of the world.
Innovation is deeply ingrained in the heritage of the United States Air Force, in particular, in the pioneers, the explorers, and the trailblazers who lived to break barriers in the skies above us where we stand today, to achieve the impossible, to bring the future into the present. And now AFWERX Vegas will contribute to this legacy I have no doubt.
Last summer, Secretary Wilson traveled to Nellis Air Force Base to launch this bold new initiative on behalf of our administration. It's a program that will connect the next generation of American problem solvers to Air Force decision makers and serve as an accelerator in adopting the cutting-edge ideas from the laboratory to the flight line in real time.
Now we think the Silver State is the perfect place to open the first AFWERX storefront. Southern Nevada has been on the forefront of innovation in aviation for decades, stretching back to the Las Vegas Army Gunnery School, the first aerial gunnery school of its kind in the world, of course, the precursor to Nellis Air Force Base.
And today, the AFWERX Vegas facility will be right at the heart of this city's thriving technical industry; right around the corner from the world's most advanced air combat training units; and, of course, the University of Nevada, Las Vegas, with its network of students, faculty, and entrepreneurs.
The innovations unleashed here at AFWERX Vegas we know will enable us to continue to accomplish a mission based on innovation and creativity and investment. AFWERX will be an incubator for new ideas, a catalyst for new technologies, and a reservoir for new solutions to overcome our most complex security challenges.
So whether you're an engineering student at UNLV, an accomplished or aspiring scientist, or a part-time problem solver tinkering in your garage, we know that AFWERX Vegas is going to be a place that's going to attract your talent and attract your ideas to contribute to providing for the common defense.
My message simply is this: If you've got a good idea and want to pitch it to the Air Force, AFWERX Vegas is going to give you access. We're going to give access to the platforms and the people that you need to make a difference.
And just as important, AFWERX Vegas is going to help us get the best new tactics and technologies into the hands of our warfighters as quickly as possible.
This program will focus on breaking down barriers, stripping out layers of bureaucracy that stand too often between Air Force decision-makers and innovators here in Las Vegas.
And through partnership with the Air Warfare Center at Nellis Air Force Base, Americans serving around the world will have direct access to the tactics, technologies, and training methodologies that are pioneered here at AFWERX Vegas, so they can start to make a real difference in keeping our warfighters safe and assisting them in accomplishing the mission they've been tasked to accomplish.
We can't predict the threats that we going to face tomorrow, but one thing is certain: To defeat our enemies and protect this country, we need a stronger, more agile and smarter military than ever before.
Now our men and women are counting -- we're counting on all of you here at AFWERX Las Vegas and in all the partnerships that will be forged here to continue to provide them with the innovation and the technologies that will enable them to accomplish that mission to which they've been called.
As we stand here today, America's sons and daughters are standing a post for freedom across this country and across the wider world. I truly believe that their safety and their success depends in part on the pioneering work that will take place here at AFWERX Vegas. And I commend each of you for being a part of this groundbreaking initiative.
I know just how important it is to those who wear the uniform because over the past year, as your Vice President I've had the great privilege to travel across this country and across the wider world. I'm never more humbled than I am when I stand before men and women who are wearing the uniform of the United States. You see, I'm the son of a combat veteran, and I'm the proud father of a United States Marine. But my life didn't take me into the uniform of the United States. And I'm always in awe of those who responded to the call to serve this nation in this all-volunteer military.
I was at Minot Air Force Base, where America's "silent sentinels" are -- the nation's most powerful arsenal is maintained by extraordinary men and women.
I've spoken to America soldiers standing in the gap on a great frontier of freedom, in the nation of Georgia, just a few short miles from where Russian tanks are occupying land to this day in that ally's country.
I visited with sailors aboard America's flagship in the Pacific, named after a President who powerfully reminded us that we achieve peace through strength.
And everywhere I go, I am reminded as I am today -- looking at those of you gathered in this room, that the men and women of our Armed Forces of the United States are America's strength. (Applause.)
And I've said to them as I'll say to you today that under this Commander-in-Chief, the American military will be stronger than ever before, that our nation will be safer for it, and our freedoms and our families more secure.
And I truly do believe that with the innovation and the creativity that will emerge from these hallways at AFWERX Vegas, that those who serve with the valor and vigilance will be even better equipped to be able to do freedom's work at home and abroad.
I truly believe that we're entering a new era of American strength. What we will achieve together will inspire the world, and we will ensure our freedom for generations to come.
So thank you all for being here. To those of you in the uniform of the United States, thank you for your service. To those of you who are veterans in the room, who have served in uniform, I thank you for your season of service, as well. And to the business leaders and the innovators who are gathered here today, just know that we are ready, willing, and able to partner with you starting right here at AFWERX Vegas to ensure a stronger and freerer and safer America.
Thank you all very much and God bless you and God bless the United States of America. (Applause.)
Mike Pence, Remarks by the Vice President at AFWERX Vegas in Las Vegas, Nevada Online by Gerhard Peters and John T. Woolley, The American Presidency Project https://www.presidency.ucsb.edu/node/332304