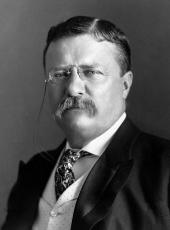 Remarks at the Unveiling of the Rochambeau Statue in Washington, DC
Mr. Ambassador, and you, the Representatives of the Mighty Republic of France:
I extend to you on behalf of the people of the United States, the warmest and most cordial greeting. We appreciate to the full all that is implied in this embassy, composed of such men as those who have been sent over here by President Loubet, to commemorate the unveiling of the statue of the great marshal, who with the soldiers and sailors of France, struck the decisive blow in the war which started this country on the path of independence among the nations of the earth. I am sure that I give utterance to the sentiments of every citizen of the United States, of every American to whom the honor and glory of our Republic in the past, as in the present, are dear, when I say that we prize this fresh proof of the friendship of the French people, not only because it is necessarily pleasing to us to have the friendship of a nation so mighty in war, and so mighty in peace, as France has ever shown herself to be, but because it is peculiarly pleasant to feel that, after a century and a quarter of independent existence as a nation, the French Republic should feel that in that century and a quarter we have justified the sacrifice France made in our behalf.
I am sure, my fellow citizens, that you welcome the chance which brings it about that this embassy of the French people should come to our shores at the very time when we, in our turn, have done our part in starting on the path of independence a sister republic—the Republic of Cuba. Mr. Ambassador, the American people, peculiarly because they are the American people and because the history of the United States has been so interwoven with what France has done for us, also because they are part of the whole world, which acknowledged, and must ever acknowledge, in a peculiar degree, the headship of France along so many lines in the march of progress and civilization—the American people, through me, extend their thanks to you, and in their name I beg to express my acknowledgments to the embassy that has come here, and to President Loubet, and all of the French nation, both for the deed, and for the magnanimous spirit that lay behind the doing of the deed, and I thank you.
Theodore Roosevelt, Remarks at the Unveiling of the Rochambeau Statue in Washington, DC Online by Gerhard Peters and John T. Woolley, The American Presidency Project https://www.presidency.ucsb.edu/node/343504