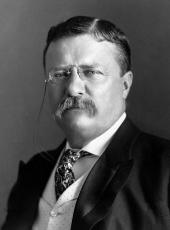 Remarks at the University of Virginia in Charlottesville
Mr. Chairman; my fellow Americans:
It is to me to-day a double pleasure to be with you; in the first place, because the University of Virginia is one among that limited number of institutions of learning to which because of its historic association every American proud of his country and his country's history must turn; and in the next place, because I have just finished a trip to and fro across this continent, which at almost every step has reminded me of some great deed done by a Virginian or a descendant of a Virginian, in that wonderful formative period which has occupied more than half of this Republic's life; going across the Alleghanies in the path over the mountains which men of Virginia first crossed to found the commonwealth of Kentucky; beyond the Ohio, which was crossed by a military force carrying the American flag for the first time when a son of Virginia, George Rogers Clark, led his little band of backwoods riflemen to conquer what is now the heart of this Re public, and that in the middle of the Revolutionary War. Then I crossed the Mississippi and went through that great region of prairie, plain, and mountain, now dotted with cities, each filled with the fruits of our material civilization, cities placed upon spots which were un known to any map maker but a century ago; thence to the Pacific Ocean, I went through the regions which mark the two greatest territorial expansions of this Nation; the greatest of which, by the fact of its acquisition, is in itself a tribute most to that man who founded this University—President Thomas Jefferson—and which was explored by two Virginians born not far from this neighborhood—Lewis and Clark. When I got south of the limits of the old Louisiana Purchase I came into that region acquired as the result of the Mexican War the region in territorial extent next to the Louisiana Purchase; and in that war the two foremost figures were men likewise born in Virginia-Zachary Taylor and Winfield Scott.
Virginia has always rightly prided herself upon the character of the men whom she has sent into public life. No more wonderful example of governmental ability, ability in statecraft and public administration, has even been given than the history of Virginia's sons in public life. I feel that this University, which so peculiarly embodies the ideal of Virginia, is in no small degree accountable for the happy keeping up of the spirit which sends into public life men of whom their constituents exact that they shall possess both courage and courtesy; and that is the reason why—as I am glad to say here in the presence of the two United States Senators from Virginia, both of them graduates of this University—whether one agrees or differs with them it is so genuine a pleasure to be brought into contact with them in handling public affairs.
In the very able address to which we have had the honor of listening it is pointed out that in mere years the history of this University is not long. Years count differently at different places and at different times. Fifty years of Europe are very much longer than a cycle of Cathay; and the period grows longer still when you take it across into the Western Hemisphere. To us of this Nation there must always be the charm of old historic association inseparably connected with this institution, the birth of which will always recall the names of three of our greatest Presidents, and from which one can well-nigh see the former abodes of all three of those Presidents—Jefferson, Madison, and Monroe.
Let me acknowledge a piece of personal indebtedness to this institution. When last year we sought at Washington to restore the White House, which ought to be always kept as the historic building of the Nation, to what it was planned to be by the founders of the Republic, we came here to study the building which represented in its existence the realization of the ideas of certain of those founders of the Republic, and gained from our study of a portion of this University an idea of the plan along which the restoration of the White House was to proceed.
The University is not old in years as years are counted in an older world, but there are very few institutions of learning in Europe which, however old, have such an honor roll of service to the State, in the council chambers of the State, and of service on the tented field, which have such an honor roll of statesmen and soldiers, as the roll that can be furnished by reading the list of the graduates of this University of Virginia. The University has been prolific of men who have gone into public life; but it is not only in public life that the record made by the University is imperishable. The strangest, in some ways the most brilliant name to be found in American letters, the name of the man who contributed something purely individual in poetry and in prose, not merely to the literature of this country, not merely to the literature of our tongue, but to the literature of mankind—the name of Edgar Allan Poe, is to be found upon your rolls. It is a pleasure to one who earnestly hopes to see the literary habit in American life kept up and who hopes to see a keeping up of productive scholarship and literature, to be able to number among his friends one of those younger literary men of whom it can be safely asserted that they have added something permanent to letters, in the person of one of your graduates—my friend, Mr. Thomas Nelson Page.
I owe you for other things. When I wished to choose the Surgeon-General of the Navy I had to go to Virginia and to the University of Virginia to find the man whom I esteem, not only because of his ability as a public servant, but because of those qualities which will render him ever one for whom I and mine feel the warmest and liveliest personal affection. Finally, when I had to choose an Ambassador to rep-resent us at the court of Russia, I had to take another graduate of your University—Mr. McCormick. You will pardon me one personal allusion; I shall never forget as long as I live certain of your graduates who served in my regiment during the Cuban War.
The University of Virginia has stood for much in our national life. It is something to stand merely for such beauty as your buildings and campus represent here. It is a good thing for any nation to have as beautiful an institution of learning as is this University. It is a good thing for the taste of a nation to have such an example of good taste ever before it. You stand for the production of scholarship; for the production of men who are to do well for the State if ever the need of calling upon them for their services may arise; but above all, as has been so well said in the address to which we have listened to-day, the University of Virginia stands for the production of men; of men who are to do each a man's duty in the world. A good American never owes anything that he does not seek to repay. The man who is content to go through life owing his alma mater for an education for which he has made no adequate return is not true to the ideals of American citizenship. He is in honor bound to make such return. He can make it in but one way; he can return what he owes to his alma mater only by making his alma mater proud of what he does in service rendered to his fellow-men. That is the type of return we have the right to expect of the University men in this country.
I want to say just one word to you in reference to our foreign relations. I want the United States to conduct itself in foreign affairs as you of Virginia believe a private gentleman should conduct himself among his fellows. I ask that we handle ourselves with a view never to wronging the weak and never to submitting to injury from the strong. Another thing, a gentleman does not boast, bluster or bully; he does not insult others. I do not wish us ever as a nation to take a position from which we have to retreat. Do not let us assume any position unless we are prepared to say that we have got to keep it."
There is one governmental instrument which is absolutely essential to our well being from the standpoint of honor as well as from the standpoint of interest of the United States, and that is the navy of the United States. I believe that foreign nations wish us well; most certainly I feel that we should, wherever possible, so carry ourselves as to make them continue to wish us well; but I think that the possession of a really first class navy on our part is a powerful aid in helping them to continue to mean well by us. I ask that there be no halt in the building up and keeping up of the United States Navy; not because I wish war, I most earnestly wish and shall strive for peace, but because such a navy is the surest guarantee of peace, the best insurance against war, and if, which Heaven forbid, war should come, the guarantee furthermore that that war shall end leaving undimmed the record upon which is written the feats of Americans in arms. I ask you for your aid in continuing to build up that navy.
The navy that won the battle of Manila Bay five years ago had been built up under successive Congresses of opposite political parties, under successive Presidents and successive Secretaries of the Navy, who in the Civil War had worn the blue and another who, in the Civil War had worn the gray, but each alike an American and nothing but an American. We won then because the men in Congress, the men in the Executive Departments, of whichever party, from whatever section, had acted, when it came to deal with our foreign relations and the United States Navy, simply as Americans to whom the honor and the interest of the whole country was dear above all else.
I hope and believe that we shall not as a nation in our time ever have to go to war, and the surest way to invite war is to be opulent, aggressive and unarmed. Now we are opulent and aggressive. Let us avoid being unarmed. Let us so conduct our government affairs that it shall never be said that we made a threat which we were unable to back up. Do not make threats at all, but if it becomes necessary to say what, in a certain contingency we are going to do, say it and then do it.
Theodore Roosevelt, Remarks at the University of Virginia in Charlottesville Online by Gerhard Peters and John T. Woolley, The American Presidency Project https://www.presidency.ucsb.edu/node/343693