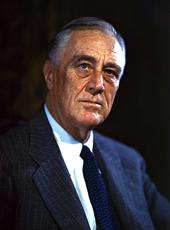 Remarks on the Transfer of a Naval Vessel to Norway.
Your Royal Highness, Mr. Ambassador:
If there is anyone who still wonders why this war is being fought, let him look to Norway. If there is anyone who has any delusions that this war could have been averted, let him look to Norway. And if there is anyone who doubts the democratic will to win, again I say, let him look to Norway.
He will find in Norway, at once conquered and unconquerable, the answer to his questioning.
We all know how this most peaceful and innocent of countries was ruthlessly violated. The combination of treachery and brute force which conquered Norway will live in history as the blackest deed of a black era. Norway fought valiantly with what few weapons there were at hand—and fell.
And with Norway fell the concept that either remoteness from political controversy or usefulness to mankind could give any Nation immunity from attack in a world where aggression spread unchecked.
But the story of Norway since the conquest shows that while a free democracy may be slow to realize its danger, it can be heroic when aroused. At home, the Norwegian people have silently resisted the invader's will with grim endurance. Abroad, Norwegian ships and Norwegian men have rallied to the cause of the United Nations. And their assistance to that cause has been out of all proportion to their small numbers. The Norwegian merchant marine has lost some 200 ships and 1,300 seamen in carrying the supplies vital to our own and Allied forces overseas. Nor has the Norwegian Navy been less active. Norse fighting ships battled valiantly but vainly against the invader—destroying one-third of the German invasion fleet before they were overwhelmed by superior forces. Right now the blue cross of Norway flies on the fourth largest Navy of the United Nations—a Navy whose operations extend from the North Sea to the Indian Ocean.
It is today the privilege of the people of the United States, through the mechanism of the Lend-Lease Law, to assist this gallant Navy in carrying out its present heavy duties.
Your Royal Highness, as a token of the admiration and friendship of the American people toward your country and her Navy, I ask you to receive this ship. We Americans, together with the millions of loyal Norwegians, are glad that this ship is being given today the name of the King of Norway—a leader well versed in the ways of the seas, a true leader who, with his people, has always stood for the freedom of the seas for all Nations. May this ship long keep the seas in the battle for liberty. May the day come when she will carry the Norwegian flag into a home port in a free Norway!
Franklin D. Roosevelt, Remarks on the Transfer of a Naval Vessel to Norway. Online by Gerhard Peters and John T. Woolley, The American Presidency Project https://www.presidency.ucsb.edu/node/210879