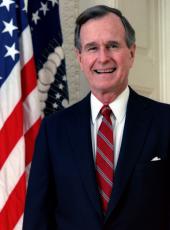 Remarks at the Texas A&I University Commencement Ceremony in Kingsville
Thank you, Mr. Secretary. Thank you all. What a great day! Thank you. Thank you very, very much for that welcome back, and good luck to all of you. Please be seated. What a privilege for me to be introduced by our great Secretary of Education, Lauro Cavazos. We work closely on these problems, but I guess it was a wonderfully emotional return today as we flew into this city in which he grew up -- to see the excitement on his face and on his wife's face -- and I felt a real part of this coming home for our great Secretary.
I want to thank your president. I can call him "the" president -- President Ibanez -- because Barbara and I had the chance to greet him in the White House but 6 days ago, and here he is, greeting me on his home turf. And I'm delighted, sir, to be with you.
I want to pay my respects Chancellor Adkisson, the chancellor of the whole system; of course, to our Governor, my old, close friend, Bill Clements; and to our two outstanding United States Senators, Senator Gramm and Senator Lloyd Bentsen -- doing a fantastic job for our State. And of course, I'm proud to be in the home turf of Congressman Ortiz, Solomon Ortiz, who flew down with me -- also your Congressman, the Congressman for many here; and another old friend of the Bush family, a distinguished chairman in the House, Kika de la Garza, Congressman from Texas and south Texas. And of course, to be introduced by another old friend -- it seems like old-home week here -- but Billy "Mac" McKenzie, the chairman of the whole system here. Thank you, Billy "Mac." And to Tony Armendariz, who's with me, came down -- a south Texan, now a member of my team at the Federal Labor Relations Authority. He was formerly a general counsel of A&I. And then, also, another hometown boy of whom I'm very proud: David Valdez, a Kingsville favorite son. He's a photo dog, we call him. He's the head photographer at the White House. I just met with his family -- that's the family that's filling up that whole bleacher over on that side there. [Laughter] So glad to see them.
But anyway, it's a pleasure to be back here in my home State of Texas. Congratulations also to those of you up there who paid the bills -- all the families, the friends, and especially to the faculty of this great, outstanding institution. Thank you all.
And now, belatedly, I get to the main act: the Texas A&I Class of 1990. Go for it! I'm delighted to be here.
You know, when President Ibanez first contacted us about A&I's graduation, he called my son, George, Jr., up there in Dallas at the Texas Rangers Stadium; and he said that you wanted to hear a speech from a reasonably popular but aging Texan who has risen to the top of his field. And George says, "Does that mean you're inviting Nolan Ryan?" [Laughter]
So, I'm second choice, but I'm honored to be in the home of the legendary Javelinas, the wild hogs. And I'm deeply honored to be speaking from the hallowed space on the playing field usually reserved for "Porky." [Laughter] But I haven't seen the mascot today. I think he got the word that we eat pork rinds there on Air Force One. [Laughter]
Javelinas aren't the only wildlife native to these parts. The mesquite outside Kingsville is shot through with rattlesnake and deer, and doves rise on the warm gulf winds, soaring over the trees and the red tile roofs of Texas A&I. And south Texas is a very special place for the Bush family. I come down here nearly every December with friends, hunt just outside of Beeville -- Berclair, to be exact. And let's hear it for the Berclair contingent. There's got to be at least one. [Applause] And as your president referred to, when I was an 18-year-old Naval Aviation cadet way back in 1943, I flew all over this country -- Corpus and Cabiness and Waldron and Kingsville -- and I loved every single minute of it. So, I do feel at home.
The reputation of the area is changing. When I told Barbara that I was flying down to south Texas to talk with college students and see the wildlife, she said, "Aren't you getting a bit old to be going to South Padre for spring break?" [Laughter]
But like springtime itself, college commencements signal a time of change. Last week at Oklahoma State University, I spoke about America's new leadership in the Atlantic alliance. Tomorrow morning up at South Carolina, we'll be talking about change among the people of Eastern Europe, people yearning to emulate not only our standard of living but also our standard of justice. But democracy isn't just the wave of the present: it's the wave of the future. And as your generation assumes a leadership role in a free world that's growing bigger all the time, others will continue to look to our shores for leadership and direction. I have proposed that one of those directions be space.
The American adventure has always had the capacity to inspire others and to astonish the world: the voyages of Columbus, the Declaration of Independence, the taming of a continent, the invention of flight. America's democracy is the world's greatest experiment in freedom and diversity, an ongoing experiment that continues to unleash the creative energy of the world's most diverse population. It's what took American pioneers to the Moon and back. It is what will take you as far as your dreams can soar.
Like Texas itself, A&I is also a place of pioneers: the first 4-year college in south Texas; a leader in bilingual education, with the first such doctoral program in the United States; home to research and innovations from natural gas engineering to snake venom to Rio Star grapefruit. And many of you are yourselves pioneers, the first in your families ever to attend college.
In America's unique democratic heritage, our pioneers commissioned themselves and took off. We are a searching people, future-oriented, impelled to push on. After graduating from my college, I took my family out West, looking for a country to test ourselves and our dreams. We found it in Texas, with enough opportunities to last many lifetimes.
Of course, Texas has always had its share of pioneers and visionaries. One was Sam Houston. Where others saw empty plains and dust, he saw farms and ranches and towns. Where others saw obstacles, he saw opportunity. But Houston could scarcely have imagined that little more than a hundred years after his death the entire planet would hold its breath as his name became the first word ever uttered on the plains and dust of another world.
It was July 20, 1969. And although Apollo 11 had just survived one of the most harrowing landings in the history of space, the voice of Neil Armstrong was confident, strong, American. He said, "Houston: Tranquility Base here. The Eagle has landed." Eight words. "Houston: Tranquility Base here. The Eagle has landed." Eight words, and the world was changed forever.
And when America accepted the Apollo challenge, we rolled up our sleeves and took on a daunting and dangerous job. Apollo 11 showed we could meet our commitments to ourselves and to the world, proof that democracy could triumph as decisively in peace as it had in war. And it lifted the spirits of a generation and raised forever the horizons of the human race. Last summer, in a speech commemorating the 20th anniversary of the Apollo Moon landing, I announced three major space policy objectives: First, to have space station Freedom up before the century is out. Second, for the new century, a permanent lunar base: "Back to the Moon, back to the future, and this time back to stay." And third, a manned expedition to Mars.
And together, these objectives form the cornerstone of my administration's far-reaching plan for investing in America's future. Our space program will, indeed, help rekindle public interest in science and mathematics, revitalize an area of our educational system that has become disturbingly weak. In fact, one of the education goals that Dr. Cavazos referred to, one that we announced in January, is to make the United States first in math and science by the year 2000. But this space program will do more. It will revolutionize everything from computers to communications, from medicine to metals, regaining and retaining America's high-tech competitive edge. It will create new technologies, new industries, and new jobs.
It's an adventure that I hope many of you will be part of. You see, it's an adventure that's already underway. The space shuttle is back and ushering in a new era of space. And it's led by a talented new generation: scientists like A&I professor John Linder, who is working here to improve shuttle communications; shuttle engineers like Ruben Zabala, A&I class of 1977; avionics experts like Primitivo Perez, the class of 1971; and new American heroes like Franklin Chang-Diaz, NASA's first Hispanic astronaut.
You are coming of age during a golden age of space, and there's no better example of this than the miracle now orbiting 380 miles above Kingsville: the Hubble Space Telescope. It will see to the furthest reaches of the universe, to the very edges of time. It will, quite literally, even enable astronomers to see back in time, perhaps far enough back to when the Dallas Cowboys last had a winning season. [Laughter] You talk about history. [Laughter] And it's hoped that the telescope will see objects so clearly that, in theory, it could pick out the writing on a dime 100 miles away. Talk about the "vision thing."
Even while Galileo and Hubble begin looking out across space, another array of new satellites will be looking back at Earth and taking the pulse of the most important planet in the universe. You may remember of a couple years back when Time magazine named Earth "Planet of the Year." And the comedian -- you remember Jay Leno, the comedian -- he said: "What did you expect? All the judges came from Earth." [Laughter]
We call this initiative Mission to Planet Earth. It's an effort of such magnitude that it dwarfs everything in the past. A worldwide study of the complex interactions between land, sea, ice, and air, as well as between the Earth and the Sun. It's an effort of global interest in which we're inviting other nations to join. As Chairman of the National Space Council, the Vice President has just returned from Europe, where our allies expressed serious interest in both Mission to Planet Earth and in our continuing exploration of the solar system.
Initiatives like these mark a critical investment in America's future. They will help protect the environment, fuel an educational renaissance, and hone America's competitive edge. But the importance of the space program, especially the manned space program, goes deeper than that. Throughout our history, America has been a nation of discoverers. It's a part of our national character, part of our democratic heritage. In fact, Monday marks the day in 1804 when Meriwether Lewis and William Clark set out across the Mississippi to map much of what was to become the great American West. And despite Thomas Jefferson's love of machines, it's hard to imagine his sending a robot out alone to describe the wonders of the American Rockies and the Pacific coast. In the American experiment, in the experiment called democracy, there will always be a place for individual men and women with imagination and daring.
Our nation's quest for the unknown took American pioneers from the bluffs of the Mississippi to the mountains of the Moon. But today we're no longer just asking for the Moon. We've been there. We're looking further: to carry the American adventure to wherever opportunity, curiosity, and need will take us. It's time to open up the final frontier. There can be no turning back. America's space program is what civilization needs to begin this journey and to perfect the commitment to go beyond. Each time we go to the frontier and beyond, we bring back more than we hoped for. And this time we have the chance to bring back more than we can possibly imagine.
Our 1991 budget is proof positive of America's commitment to an active, exciting, and continuing presence in space -- to America's leadership in space. Our proposal of $15.2 billion for NASA, an increase of 24 percent -- almost $3 billion, which is the largest increase for any major agency of the government.
But leadership in space takes more than just dollars: It also takes a decision. And so, I'm announcing one today. We stand at a halfway point in our exploration of the immediate solar system: the planet Earth, its Moon, and the terrestrial neighborhood. Thirty years ago, NASA was founded, and the space race began. And 30 years from now I believe man will stand on another planet. And so, I am pleased to return to Texas today to announce a new Age of Exploration, with not only a goal but also a timetable: I believe that before Apollo celebrates the 50th anniversary of its landing on the Moon the American flag should be planted on Mars.
Up beneath the dome of the United States Capitol -- where decisions about our space program will be made in the coming weeks -- the American adventure is told in stone, a tableau of U.S. history carved around the rim of the dome itself. It begins with Columbus' arrival in the New World and ends with the first flight of the Wright brothers' plane. But you see, they got it wrong. The Wright brothers' flight doesn't mark the end of the American adventure but the beginning of a new chapter, a never-ending story, a story about a democracy where anything is possible and where no dream is too large.
We live in a century that began with great promise and hope for the idea we call democracy, then only beginning to assume an important place on the world stage. That hope has been fulfilled and surpassed beyond the wildest dreams of our Founders. And the promise of democracy is beginning to be tasted by more people in more places than ever before. It's their inspiration; and it's our strength, our heritage, and our future. And so, as this century closes, it is in America's hands to help determine the kind of people, the kind of planet, we will become in the next. We will leave the solar system and travel to the stars not only because it is democracy's dream but because it is democracy's destiny.
Around campfires, by moonlight and starlight across the ages, men and women have turned their gaze skyward and dreamed an ancient dream. And somewhere in America today, maybe right here in this stadium, there is a young man or woman who, like Neil Armstrong, will seize this dream and change the world for all time. I believe, I truly believe, that the class of '90 will leave footprints not only in the sands of our State, in the sands of Texas, but also in the sands of time and ultimately on the plains of Mars.
You who have lived this past 4 years in Kingsville know a lot about the sky. The plains of south Texas are as flat as the sea, a land without hills or impediments, a land of limitless horizons and dreams to match. It is exactly the kind of nighttime sky where the cream of America's youth -- the cream of Texas A&I -- can point confidently to the stars, to eternity, and to their own future, the future of this great nation, and the future of free people everywhere.
America is proud of you. We are proud of your families. And I came here to say congratulations, and thank you, and God bless the United States.
Note: The President spoke at 11:45 a.m. in Javelina Stadium on the campus of the university. In his remarks, he referred to Manuel L. Ibanez, president of the university; Perry Adkisson and William A. McKenzie, chancellor and chairman of the board of regents of the university system, respectively; and Nolan Ryan, pitcher for the Rangers baseball team. Following his remarks, the President traveled to Columbia, SC.
George Bush, Remarks at the Texas A&I University Commencement Ceremony in Kingsville Online by Gerhard Peters and John T. Woolley, The American Presidency Project https://www.presidency.ucsb.edu/node/264755