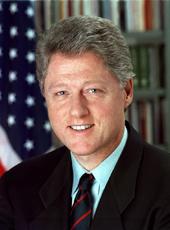 Remarks on the Terrorist Attack in London, United Kingdom
The President. Good morning. I have a few words to say about yesterday's terrorist bombing in London. As all of us know, it injured scores of people. Let me begin by saying that I know I speak for all Americans who join Hillary and me in praying for those who were hurt and for their speedy recovery. We also hope that those responsible for this terrible and cowardly act are quickly brought to justice.
There can be no doubt about the purpose of this attack. This attack was aimed at the growing prospects for peace, a just and lasting peace, in Northern Ireland. I am deeply concerned by reports that the Irish Republican Army has announced an end to the cease-fire. The cease-fire and the good will and hard work of the parties to the Irish conflict have given the people of Northern Ireland the greatest gift of all, the simple blessings of a normal life. Since the cease-fire went into effect a year and a half ago, people of all faiths have been able to go about their daily lives without the disruption of searches and roadblocks, and especially without fear of the bullet and the bomb. We must not turn away from that path now.
I know that the overwhelming majority of the people of Northern Ireland, Catholic and Protestant alike, want to stay on the path of peace. During my visit there last year I could see for myself that the demand for peace was lasting. No one and no organization has the right to deny the people of Northern Ireland a peaceful future, and I am determined to do all that I can to see that the enemies of peace do not succeed.
Last night I spoke to the British Prime Minister, John Major, to express our shock and sadness over this event. I also spoke to the Irish Prime Minister, John Bruton. I assured both of them that America would continue to be committed to work for a negotiated, secure peace.
Let me say again that this terrible incident reminds me of a lesson I have learned in working for peace throughout the world in the last 3 years. The real differences in our world are not between Catholics and Protestants, Arabs and Jews, Muslims, Croats, and Serbs; they are between those who embrace peace and those who reject it, those who look to the future and those who are blinded by the hatreds of the past, those who open their arms and those who are determined to keep clenching their fists.
We all have to choose. The people of Northern Ireland have chosen peace. They do not deserve to have a small group choose bloodshed and violence and wreck the peaceful life they long for. And the people of Great Britain do not deserve to have this violence wreaked upon them. We will not stop in our efforts until peace has been secured.
Thank you.
NOTE: The President spoke at 8:47 a.m. on the South Lawn at the White House, prior to his departure for Iowa City, IA.
William J. Clinton, Remarks on the Terrorist Attack in London, United Kingdom Online by Gerhard Peters and John T. Woolley, The American Presidency Project https://www.presidency.ucsb.edu/node/222744