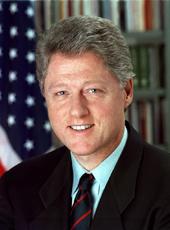 Remarks on the Tentative Settlement of the United Parcel Service Strike and an Exchange With Reporters in Martha's Vineyard, Massachusetts
The President. Good afternoon. I would like to compliment UPS and the Teamsters on resolving their differences and agreeing to a new contract. I think it is very much in the interest not only of the company and its employees but also of all of the people it serves and of the United States, and I'm very pleased about it.
I also want to say a special word of thanks and appreciation to Secretary of Labor Alexis Herman, who I believe did a very fine job in working with the parties, trying to keep them working together and getting back together. I know that she deserves and will get some muchneeded rest today. But I think it's a good thing for the country, and I'm very pleased it's resolved.
Q. Mr. President, can you walk through your own evolution in this? The first 2 weeks were sort of hands off, and then on Saturday you gave them a little bit of a nudge, and then by the time you reached Martha's Vineyard, it seemed a little more like a push. Why, specifically, did you choose to engage at those two moments?
The President. Well, first of all, the Secretary of Labor had been involved with this almost from the beginning. But I thought it was important to give the parties a chance to work out their differences. And obviously, I was getting reports about where they were. I just wanted to—when it was obvious that they were quite close—it's been my observation, not just from them but sometimes in our negotiations with Congress, for example—sometimes you get very close, and you've got 95 percent of the issues or 99 percent of the issues resolved, and maybe just a little nudge in the right direction helps you go over the top. And I was just hoping to do that.
They did the work, and they deserve the credit. They resolved their differences in a way that I think will be good for the company and good for the employees.
Q. Mr. President, is this an outright victory for the labor movement?
The President. I think it's a victory for the proposition that you can have a profitable, highly competitive company with good, solid labor relations providing good jobs and good benefits for the employees. That's what I think it's a victory for. It's not an outright victory if you mean it's also a defeat for UPS; I wouldn't characterize it that way. I think this company will go forward. It will do real well, and the workers will do well. And they've made some important agreements around the side about how they're going to work together to be even more productive and competitive, so I would say that it is a victory for the proposition that you can have good, strong labor relations and treat your employees well and make money in this economy of ours. That's what I wanted to prove from the time I became President, so I was very pleased by it.
Q. Mr. President, how much of an economic threat would there have been if this strike had not been resolved when it was, if it had gone on much longer?
The President. It's hard to say. That would depend upon something we'll never know, which is how quickly others could have absorbed the capacity. But it could have been very difficult for both the company and for its employees. So I think they were both advantaged by making the agreement they did before any irreparable harm was done to both sides. And that may well have been something they were thinking of.
The President's Birthday
Q. On a more personal note, sir, how does it feel to be another year older?
The President. Well, it feels good today. I've had a wonderful time here. I had a good day yesterday on the golf course, and this morning I got up and Chelsea and I went jogging. That's the longest I've been able to go since I hurt myself. And the three of us are just going to spend the day reading and playing games and having fun with each other, and then we're going to go to a party tonight. So I feel very blessed, and I'm very fortunate to be here. And as far as I know, I'm in good health, and the country's doing well. That's the most important thing of all. So I'm very happy today, and I have a lot to be thankful for.
Thank you.
NOTE: The President spoke at 12:43 p.m. at the Richard Friedman residence.
William J. Clinton, Remarks on the Tentative Settlement of the United Parcel Service Strike and an Exchange With Reporters in Martha's Vineyard, Massachusetts Online by Gerhard Peters and John T. Woolley, The American Presidency Project https://www.presidency.ucsb.edu/node/224358