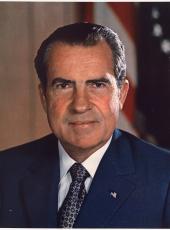 Remarks at the Swearing In of William E. Simon as Secretary of the Treasury.
AS YOU know, we are gathered here today for the purpose of swearing in the new Secretary of the Treasury. And here for that occasion is Mr. Justice Potter Stewart, who will administer the oath of office, and Mrs. Simon will hold the Bible.
The oath of office will now be administered, and after that, I will deliver some remarks with regard to the man who is succeeding to this very important post, and Mr. Simon will respond.
[At this point, Associate Justice Potter Stewart of the Supreme Court administered the oath of office. The President then resumed speaking.]
Ladies and gentlemen, you are all aware of the enormous importance of the position of Secretary of the Treasury. I am sure that all of you who have studied the history of our country know of the very distinguished men who have served in this post through our history.
There has probably never been a time, however, when the Secretary of the Treasury had greater responsibilities, not only in America but worldwide, than he has at the present time.
And as we have a new Secretary of the Treasury, I would like to say a word about the one who is leaving this post, but who fortunately will be advising the President, he has told me, whenever his advice is needed and will be undertaking some responsibilities, particularly in the field of international economic affairs, on what we call an ad hoc basis.
First, as I look back over the career of George Shultz, I remember that I met him when I was Vice President and he was, I understood, an economist from Chicago. At that time, I thought an economist was an economist, but he quickly explained an economist from Chicago was very different. And since that time, he has indicated his strong philosophical beliefs with very great eloquence in all the positions that he has held.
The second thing I should mention is that during this Administration he has held positions of enormous importance: Secretary of Labor, the Director of the Office of Management and Budget, and of course, Secretary of the Treasury. And in each of these positions he has brought, first, a dedication which simply couldn't be exceeded.
Of all the people in this Government, I don't know of any man who has worked longer and harder with greater dedication than George Shultz. He has also brought, as we all know, high intelligence and great wisdom in the advice that he has given to his colleagues and in the advice that he has given to the President in both the international and the domestic areas.
George Shultz is a fine man; he is a good man. He, I am happy to say, is my friend, and he is a man whose shoes are hard to fill.
And so, as we looked for a man to succeed him, our search was very broad. There were a number of splendid individuals who could perhaps, we thought, fill that position. But the man that we thought, by what he had done both in the private sector and in Government, had demonstrated that he had the capacity to step into the shoes, big shoes that George Shultz had filled so well---Bill Simon's record in business is well known. He was successful. Like so many who came to Washington, he came here at great personal financial sacrifice.
And then, when he came to the Government, he demonstrated his capacity as an administrator as the Deputy Secretary of the Treasury. He had good training, on-the-job training under a very great Secretary of the Treasury. And then, when we had the energy crisis, we had to turn to an individual within the Government who understood that problem. And here he demonstrated not only to his colleagues within the Government but to the whole Nation that he was a man who could not only inform the Nation in a very effective way of what the problem was about and gain the cooperation of the people as well as Government officials in a program to deal with that problem, but he also developed those programs with the assistance of others, those programs that have moved us through that crisis.
It is not yet something that we can say is not a problem--it is and will continue to be--but we are on the way to solving it. And the fact that we have moved through what could have been a desperate crisis and what is a desperate crisis for many countries abroad, that we have moved through it so successfully is due, in great part, to the leadership of Bill Simon.
I was trying to think of how to describe his philosophy. He does not claim to be an economist. I don't believe he went to the University of Chicago. But he did graduate someplace. [Laughter]
Most important is that Bill Simon, in the field of energy, Bill Simon, in the field of economics here in the United States, has one fundamental belief that is the cornerstone of our economic philosophy: And that is that the answer to whatever problem we have, to more jobs and more growth for our economy, the answer to the problem of inflation, particularly when it is a demand-pull inflation, is not controls, but the answer is more productivity.
He argues for that, he stands for that, and in business he practiced that, and in his personal life, I understand, he practices productivity. [Laughter]
He has one distinction in which he can one-up any member of the Cabinet, because here, we are very proud to say, along with his lovely wife, Mrs. Simon, we have seven Simon children.
And so, to the man who believes in productivity and who practices it, I am proud to present the new Secretary of the Treasury, Mr. William Simon.
[At this point, Secretary Simon responded to the President's remarks. The President then resumed speaking.]
Now, ladies and gentlemen, we had a very long economic meeting yesterday-over ,o hours--and Bill Simon came down very hard for keeping Government spending down, for austere policies in terms of Government spending as one of the tools that Government could use in order to deal with the problem of inflation, recognizing, of course, that the final answer is productivity of the economy, which we all support.
And so, before planning this program, we were wondering if this man of austerity would approve of some Government funds being used for what occurs right now. It occurred to me, however, that not only because there are so many distinguished guests but because we have this wonderful family here--and young people are always just a little hungry--we should have refreshments.

Now we will have the refreshments.
Note: The President spoke at 11:40 a.m. in the East Room at the White House.
Secretary Simon responded to the President's remarks as follows:
Mr. President, Mrs. Nixon, Members of the Cabinet, distinguished Members of Congress, my family, and friends:
To serve one's country under any circumstance is a privilege, but to serve one's country in the extreme position of responsibility as Secretary of the Treasury is not only a privilege, it is a rare opportunity.
The number one problem facing us in our country today is, obviously, inflation. The solution to this problem is going to require a determination, a political will, a close cooperation between the executive and the legislative branch of our Government.
I promise you, as indeed I have in the past, to work closely and cooperatively with the Congress on these issues, as well as all the other critical issues that we face.
In carrying out my responsibilities, Mr. President, I pledge to you that I will approach all of the problems with a humility and a determination, that I will justify the faith that you have placed in me, the faith that the Senate in confirming me placed in me, as well as that of the American people.
Thank you.
Richard Nixon, Remarks at the Swearing In of William E. Simon as Secretary of the Treasury. Online by Gerhard Peters and John T. Woolley, The American Presidency Project https://www.presidency.ucsb.edu/node/256532