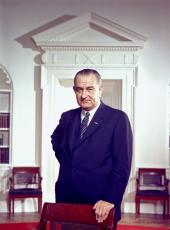 Remarks at the Swearing In of W. Marvin Watson as Postmaster General.
Marvin Watson and family, Justice Fortas, distinguished members of the Cabinet, leaders of the Congress, distinguished guests, ladies and gentlemen:
The Postal Service is one office of the Government that touches the lives of all Americans every day. This year, I am told, the Post Office Department will handle 83 billion pieces of mail. The Post Office Department today has employed in it more than 700,000 people. Nine States have smaller populations than does the Post Office Department.
Its annual budget is equal to the budgets of Michigan, New Jersey, Massachusetts, and Florida--all combined. A job that is this big needs a good manager and a good leader, and I think the best man whom I could find for that job has been selected.
I have indicated on occasions in the past something about the respect that I have for Marvin Watson and I don't think that he needs any assurances of how I feel about him--and I don't need any about how he feels about me. I think both of us know how you feel or you would not be here.
I just want to observe, though, that he has served here in the White House for more than 3 years. I think he knows the weight of responsibility in Government. I think he knows the pressure for decision and the necessity for action. I have found him always cool in crisis, and we have had enough of them for me to test him. He has been constant in his service and his devotion and he has always been wise and frank in his counsel.
I believe he is a man to match the demands of his new duty.
A year ago I appointed a special commission of outstanding private citizens to undertake a major analysis of the organization and the operation of the Postal Service. At that time, Larry O'Brien had suggested that the Postal Service and his job be abolished and turned over to a Government corporation. Marvin seemed to think that we ought to give consideration to that idea then--at that time. Now, I gather that he is not so sure.
In any event, I have asked this commission to consider not only the feasibility of a Government postal corporation, but every proposal that could result in better mail service for our people.
I will be looking forward to their recommendations and I know the new Postmaster General will give them his closest attention without delay.
We have already begun a far-reaching program to try to modernize the Postal Service. This work is expensive. But I think we must not permit the Postal Service to deteriorate. The price of a poor Postal Service is far greater than the cost of remodeling the Service into the smooth-running system it must be.
I hope the new Postmaster General can lead this modernization program with the approval of the Congress and the cooperation of the Congress and make sure that the American taxpayer gets 100 cents worth of value for every dollar we spend.
Now, from what I have observed of Marvin Watson, I believe that we can count on him to do that. Marvin's frugality is a legend around here. One of his many duties has been to keep a very close eye--keep two close eyes on the White House operation and the White House expenditures.
I think that every American citizen should be glad to know that Marvin spends the people's tax money just like his own.
Marvin, we will all miss you. We believe that our loss here will be the Post Office Department's gain. The presence of these people here is a sufficient testimony to your fairness and to your service and to the high esteem in which you are held in the Government-particularly the executive and congressional branches.
Note: The President spoke at 1 p.m. in the Rose Garden at the White House. In his opening words he also referred to Associate Supreme Court Justice Abe Fortas, who administered the oath of office. Later he referred to Lawrence F. O'Brien, who preceded Mr. Watson as Postmaster General.
Following the administration of the oath of office, Mr. Watson spoke briefly. His remarks are printed in the Weekly Compilation of Presidential Documents (vol. 4, p. 721).
For a statement by the President upon receiving the report of the Commission on Postal Organization, see Item 391.
Lyndon B. Johnson, Remarks at the Swearing In of W. Marvin Watson as Postmaster General. Online by Gerhard Peters and John T. Woolley, The American Presidency Project https://www.presidency.ucsb.edu/node/237690