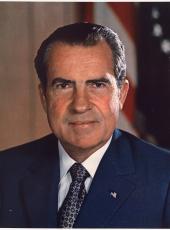 Remarks at the Swearing In of Secretary Richardson and Counsellor Finch.
Mr. Chief Justice, Secretary Finch, Secretary Richardson, Members of the House, Members of the Senate, and our guests:
This is an occasion that is very meaningful to the families that are here of those who will be sworn in, and particularly meaningful to the White House family and the administration family.
We have already announced the change that has occurred and that will be consummated in this ceremony. I have noted there has been considerable speculation in the press about that change and interpretation of it.
Before the swearing in takes place, I would simply like to reiterate and reemphasize points that I have made previously with regard to the qualifications of those who are assuming these responsibilities.
The new Secretary of HEW is one who has had experience in that position. He was Under Secretary of the Department and for 4 months served as Acting Secretary of the Department. Then he moved to State government where he had the opportunity to serve as Attorney General and as Lieutenant Governor, with particular responsibilities in this field. Then after a sabbatical as Under Secretary of State, moving in those areas, he now returns to the problems at home, the problems of health, education, and welfare, as Secretary in that Department.
In looking into his background I found out something that I didn't mention when I announced him a few days ago. I found that he, during the time he was a fighter pilot, was given the name "Lucky" by his colleagues in his fighter squadron.1 I can only say that I hope he is lucky and that we are lucky when he is head of HEW. I am sure that that will be the case because he brings qualifications that are certainly superb for this position and I am sure that he will carry on the excellent work that has been done by Secretary Finch in the Department of HEW as he undertakes his new responsibilities.
1 Mr. Richardson was nicknamed "Lucky" in World War II, but served in the infantry rather than as a fighter pilot.
Mr. Chief Justice, if you would now swear Secretary Richardson in?
[Following the administration of the oath of office, Secretary Elliot L. Richardson spoke. The President then resumed speaking.]
As all of you are aware, in the entire White House and administration family, the man who has been my closest and longtime friend is Bob Finch, for 23 years.
I should add, incidentally, that in my first campaign he was still attending school at the University of Southern California and participated in it even before he could vote.
But for 23 years we have worked together in campaigns. We have celebrated victories and we have also had to go through, sometimes, the problems of defeat. I have needed his counsel and his advice here at the White House.
He has served this country admirably in the position of Secretary of HEW, a position which Secretary Richardson now undertakes, and as a result of his move to the White House, he now assumes the responsibilities of Counsellor to the President with broader responsibilities, and, again, that close, personal relationship, politically and otherwise, resumed, that we have had through the years.
We are glad to have him back in our close family and he will now be sworn in as a Counsellor to the President and as a member of the Cabinet in that capacity, by the Chief Justice.
[Following the administration of the oath of office, Robert H. Finch spoke. The President then resumed speaking.]
Bob has to be prepared now for some trips of the kind I take. We have scheduled a Cabinet meeting, but I look out over this group and I see so many distinguished Members of the Senate and the House, that I do believe if they have the time, these new appointees in these positions would like to meet you, so we will defer the Cabinet meeting so you can pay your proper respects--and you better pay your respects--to the Members of the House and particularly the Senate.
Note: The President spoke at 9:56 a.m. in the Rose Garden at the White House. The remarks of Secretary Richardson and Counsellor Finch are printed in the Weekly Compilation of Presidential Documents (vol. 6, pp. 809 and 810, respectively).
Richard Nixon, Remarks at the Swearing In of Secretary Richardson and Counsellor Finch. Online by Gerhard Peters and John T. Woolley, The American Presidency Project https://www.presidency.ucsb.edu/node/239915