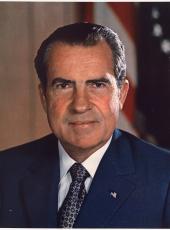 Remarks at the Swearing In of New Members of the White House Staff
Mr. Chief Justice, ladies and gentlemen:
This is the first official swearing in of this new administration. I do not think there will be any that will be more important.
The people who will be sworn in are members of the White House Staff. They are supposed to be faceless men and women.
For faceless men and women, I think they look very good, though, don't you, Mr. Chief Justice?
We mean by that that these are the men and women who will be working long hours in the White House and in the Executive Office Building; who will be working, many of them, as is the case with many people in Government, at less compensation than they have had in private life; who, in addition to that, will be away from their families a great deal.
That is one of the reasons we invited the families. We want you to take a good look at them now. You may not see too much of them later.
I should tell you that as far as my own work habits are concerned, some of you who have been with me in campaigns know what they are. We usually start fairly early in the morning and go reasonably late in the afternoon or evening, but I try not to call after midnight.
I have an interesting story on that that I just recalled as I was walking down the hall.
Ten years ago, when I was in the Soviet Union, I recall a conversation in which Mr. Khrushchev was talking to Mr. Mikoyan. Mr. Mikoyan, who had a very keen sense of humor, often was used by Mr. Khrushchev as a foil for some of his jokes, and sometimes Mr. Mikoyan would turn it on him.
In some way, after we had had lunch, and the conversation was in that easy stage when no very heavy subjects were up, the question of sleep came up and how much sleep each of us got.
Mikoyan pointed out that during the Stalin era, Stalin had very unusual sleep habits; that he would work during the day and then he would call members of his staff at 2, 3, or 4 o'clock in the morning. Then they would work the rest of the night. Then he smiled and said, "You know, we sleep much better now that Mr Khrushchev is the head of the Soviet Union." You can take that a number of ways, of course.1
1The President's reference to Mr. Mikoyan's statement had particular meaning to the audience because of a widely publicized 1965 speech made by Jack Valenti, Special Assistant to President Lyndon B. Johnson before the Advertising Federation of America in Boston, in which he said: "I sleep each night a little better because Lyndon Baines Johnson is my President." House Staff, Mr. Chief Justice, how fortunate they are that you, with great experience, knew exactly how to administer the oath.
I simply want you to know that while the hours will be long, and the work will be hard, I hope it will be rewarding. As far as any of the wives are concerned, of the husbands who are here, if they are away after midnight, don't blame me; blame them.
Now, for the purpose of this swearing in ceremony, we have the honor of having the Chief Justice of the United States.
I pointed out at luncheon yesterday that it was to me a very great honor to be sworn in by the Chief Justice and I thought it had some significance historically, because I was the first President born west of the Rockies, in the State of California, to be elected President, and I was sworn in by the Chief Justice of the United States, who also came from California.
So that swearing in, and this one today, is an all-western swearing in, but we are glad to invite you easterners, midwesterners, and southerners to the club as well. Mr. Chief Justice.
[At this point Chief Justice Earl Warren administered the oath of office. The President then resumed speaking.]
Thank you very much, Mr. Chief Justice.
I should tell the members of the White
In 1953, when I was sworn in as Vice President, we used this same oath. As you may have noted yesterday, the oath for the Vice President is this one, whereas, the oath for the President is a much shorter one.
In 1953, Senator Knowland--who had been appointed to the Senate by the Chief Justice when he was Governor of California--at my request, swore me in. He proceeded, in swearing me in, to read the entire oath, and then I had to repeat it from memory. Even though I had been a Member of the Senate, I did forget a line. Some people were even wondering whether I was really the Vice President or not.
But the Chief Justice, both today--and I want to say I appreciated the fact that yesterday on the shorter oath--did it phrase by phrase. When you are standing there for that one moment, even though I sometimes can remember 30 minutes of speech, shorter or longer as the case may be, without dropping too many words, for that one moment you can imagine what you might forget.
We welcome you now officially to the White House Staff. We know that this is going to be a very dedicated Staff. I know it from the work that you have all done during the transition.
I do want your families to know that after all I have said about these long hours and the rest, you will see your fathers, your mothers, and others on occasion. I know, too, that despite what you have heard about Washington, that this is an exciting city in which to live. It is the capital of the world. There are many interesting things to do. Enjoy it; savor it while you are here. You will look back on it later and remember what a wonderful experience it was.
Thank you very much. We wish you well.
NOTE: The President spoke at 1:13 p.m. in the East Room at the White House where 81 new members of the White House Staff, including clerks and secretaries, were sworn in by Earl Warren, Chief Justice of the United States. During his remarks the President referred to Nikita S. Khrushchev, former Premier of the Soviet Union and Anastas I. Mikoyan, former Chairman of the Presidium of the Supreme Soviet.
Before administering the oath of office, Chief Justice Warren spoke. His remarks are printed in the Weekly Compilation of Presidential Documents (vol. 5, P. 157).
Richard Nixon, Remarks at the Swearing In of New Members of the White House Staff Online by Gerhard Peters and John T. Woolley, The American Presidency Project https://www.presidency.ucsb.edu/node/239812