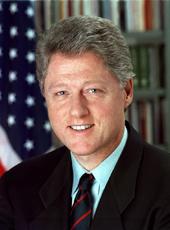 Remarks at the Swearing-In of Mark Gearan as Director of the Peace Corps
Well, Mark, congratulations to you and your family, to all the Members of Congress who are here and other former Peace Corps volunteers and others.
I have always been impressed by many things about the Peace Corps, one of which is the contributions made by Peace Corps volunteers after they come home. Senator Dodd was a member of the Peace Corps. Congressman Farr was a member of the Peace Corps. Donna Shalala served in the Peace Corps. The Vice President's beloved sister, Nancy Gore Hunger, was one of the first two people to join the Peace Corps, working with Sarge Shriver, all those years ago.
And it is a remarkable tradition that emphasizes that our country is about more than power and wealth. It is also about the power of our values and the power of a helping hand and the ethic of service and the understanding that we have an obligation not only to our own people but to people around the world to help them make the most of their own lives, and that the best guarantee of peace and freedom and democracy is the ability of people freely to develop their God-given capacities to strengthen their families and see their communities succeed. That's really what the Peace Corps is all about.
It is the symbol of everything that got my generation into public service. And it has animated a whole generation of people. It is the inspiration for so much of the service that goes on today, whether it is in the AmeriCorps program that was started in our administration or— I just came from taping a public service announcement for Nickelodeon, the children's television network. One year ago this week, I asked the children in Nickelodeon to volunteer to do community service. And 5 million-plus of them did so by telephone. They called in and actually served. And so this year, we're trying to increase. These are grade-school children by and large.
So this whole ethic of service that has spread across our country in part is inspired by and defined by the work that was begun so many years ago by President Kennedy and by Sargent Shriver. I think it's really fitting that Mark Gearan should be here in this program inspired by President Kennedy. I mean, look around at this family and notice that Father Leo O'Donovan—operative word, O'Donovan—the president of Georgetown, is here. Notice—I was wondering how Mark got so much bipartisan support. Look at the chairman of the committee, Chairman Callahan—[Laughter]—and Peter King—King, in this case, is a very Irish name. [Laughter] As a matter of fact, Mark said, "Mr. President, I love the Peace Corps just the way it is. I only have one serious change I want to make. I think we should send 6,500 of the 7,000 volunteers to Ireland." [Laughter]
Congressman Moran, we're glad you're here. And Congresswoman Pelosi, we're certainly glad you're here to show that we're not trying to ethnically purify the Peace Corps here. [Laughter]
The Peace Corps is really the reflection of our better selves, isn't it? And one of the reasons we're all so happy to see Mark Gearan become the Director of it is that, on most days, he is the reflection of our better selves. We wish him well. We love him, we respect him, and we know that he will do great honor to this very important position for the United States and for all the good-hearted people of the entire world.
Thank you very much.
NOTE: The President spoke at approximately 3:20 p.m. in the Indian Treaty Room of the Old Executive Office Building.
William J. Clinton, Remarks at the Swearing-In of Mark Gearan as Director of the Peace Corps Online by Gerhard Peters and John T. Woolley, The American Presidency Project https://www.presidency.ucsb.edu/node/222161