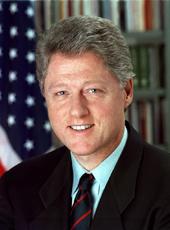 Remarks at the Swearing-In of Madeleine K. Albright as Secretary of State and an Exchange With Reporters
The President. Welcome. Mr. Vice President, Secretary-designate Albright, members of your family, Senator Helms, Senator Mikulski. Is Congressman Hamilton here? Under Secretary Tarnoff. I'm very pleased to preside at Madeleine Albright's swearing-in today. I thank the Senate for its swift and unanimous approval of her nomination. That reflects the confidence that all of us have in this remarkable American. It also sends a strong signal of the Senate's willingness to work with us to fashion a constructive and bipartisan foreign policy to advance the national interest of America.
This is a time of great hope and opportunity. If we are going to realize its promise, we must recognize that our global leadership is essential. In the next century, no less than this one, America must continue to be the world's greatest force for peace and freedom and prosperity. Madeleine Albright has the strength and wisdom to help ensure that America remains the indispensable nation.
Arriving on our shores as a refugee from tyranny and oppression, she worked her way up with determination and character to attain our Nation's highest diplomatic office. She knows from her life's experience that freedom has its price and democracy its rewards. Her story is the best of America's story, told with courage, compassion, and conviction.
As our U.N. Ambassador these last 4 years, she has stood unflinchingly for America's interest and values. Now as our Secretary of State, she will help lead the effort to build a world where America makes the most of its partnerships with friends and allies around the world, where America leads the fight for a world that is safer from weapons of terror and mass destruction, where America leads the fight for a world that is safer from organized crime, drug trafficking, and all terrorist activity, and where expanded trade brings growth and opportunity, where peace and freedom know no frontiers.
Just as I have benefited time and again from her counsel and her judgment, the American people will benefit from her leadership and her ability to speak to them about the importance of our being strong abroad in order to have a strong, good life here at home.
On their behalf, I ask now that the Vice President swear Madeleine Albright into her new office.
[At this point, Vice President Gore administered the oath of office, and Secretary Albright made brief remarks.]
Q. Madam Secretary, what is your first order of business?
Secretary Albright. To go over to the State Department and tell them all that we have a very important job to do with the hard work of our foreign service and civil service who works in the State Department. And then I will plan the next steps. But my first goal is really to go and work with the excellent people that have provided the backbone of America's diplomatic service.
Q. Madam Secretary, now that you've made history, how else do you intend to differ from your predecessor?
Secretary Albright. I'm basically interested in serving the President of the United States and the people of the United States as best I can. I'm very proud to be an American. And I hope very much that the American people will be proud of me as I perform this service for the United States.
Thank you.
Q. Are you going to be tough on the new Secretary-General, as you were on his predecessor? [Laughter]
Secretary Albright. I think we are going to meet with the new Secretary-General. I'm very pleased, actually, that his—the first official trip that—the first visit here that the President is going to have after his Inauguration is with the United Nations Secretary-General. My first official act will be to meet with the President and the new Secretary-General in a little while. And I think that is a very good sign of the support that the United States is going to give to the United Nations. And as the Vice President said last night, we are committed to the United Nations.
Thank you.
The President. Thank you.
NOTE: The President spoke at 12:18 p.m. in the Oval Office at the White House.
William J. Clinton, Remarks at the Swearing-In of Madeleine K. Albright as Secretary of State and an Exchange With Reporters Online by Gerhard Peters and John T. Woolley, The American Presidency Project https://www.presidency.ucsb.edu/node/224152