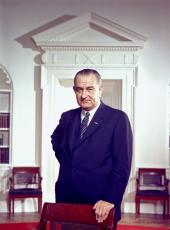 Remarks at the Swearing In of Joseph W. Barr as Member, Board of Directors, Federal Deposit Insurance Corporation.
Mrs. Barr, members of the family, friends, ladies and gentlemen:
I remember one of President Roosevelt's early fireside chats when he said one evening, "You know, I have learned a lot about banking in the past few weeks."
Well, I have learned a lot about a lot of things in the past few weeks, but I didn't have to learn much about banking.
Most of us learned an awful lot about banking in the early thirties. In the years between '31 and '33, more than 7,700 banks with $6 billion in deposits closed and failed. This was a hard lesson for the American people, particularly those who went to their banks to draw out their savings and were told that there was nothing there.
But we learned our lesson well. The Congress moved to protect depositors with the Glass-Steagall Act of 1933, establishing the Federal Deposit Insurance Corporation. Some have said that the late great Senator from Michigan, Arthur Vandenberg, really contributed a great deal to the passage of this act. I wasn't in the Congress at the time, but there is enough credit to go around for everybody, because I think it is one of the finest pieces of legislation that the Democrats and Republicans, even if they did work together, ever passed. Since it was passed, we hardly ever hear about a bank failing at all. The FDIC protects deposits and protects the $150 billion money supply in our commercial banks.
And now we are sending Joe Barr over to the FDIC with specific instructions to keep the experiences of the thirties in mind. He has his bank regulatory chores to perform, but if I see that he is not putting in at least 14 hours a day, I am going to load him up with some more work. Joe has a lot of work in him and he has broad experience in business and in the Congress and in the Treasury.
This could be off the record, there may be too many here to know it, but anyway, Joe is going to get a $10 a week increase in pay, and I intend to see that he earns it.
In 1958 I was making a speech for a Senator friend of mine, a candidate for the Senate, out in Indiana. just as I went to the podium a very young, attractive man said to me, "Don't forget that I am a candidate for Congress from this district, and mention my name, Joe Barr." So I talked about the glories of the Democratic Party and the necessity of their sending a Democratic Senator to the Senate.
Then I recalled what this young, attractive fellow had said to me just as I went to the podium, and I said, "And I have one other favor to ask of you. There is a young, progressive, attractive, well-educated fellow who is running for Congress," and I couldn't think of his name.
"I want to tell you people that he is one of the finest candidates I have ever observed," and I still couldn't think of his name.
"And I believe if you send him to Congress he will make one of the ablest Congressmen any District ever had," and I still couldn't think of his name.
About that time I heard a fellow whisper "Burr, Joe Burr." And I looked around and it was the candidate himself!
His qualifications impressed me then even more than his name. He has justified all the very fine impressions that we had of him. I know that Mrs. Burr is entitled to more than 50 percent of the credit for the fine work that Joe has done, and we are all going to take a great deal of pleasure in sharing with him the responsibilities of this job.
Now I am going to ask Henry Fowler to get on back on that Hill and see what happened to that excise tax vote this morning, and see if we can't get that tax bill passed at an early date so that Joe will really have some money in the banks to protect.
Note: The swearing-in ceremony was held in the Cabinet Room at the White House at 12:30 p.m. In the President's closing remarks he referred to Henry H. Fowler, Under Secretary of the Treasury.
Lyndon B. Johnson, Remarks at the Swearing In of Joseph W. Barr as Member, Board of Directors, Federal Deposit Insurance Corporation. Online by Gerhard Peters and John T. Woolley, The American Presidency Project https://www.presidency.ucsb.edu/node/240115