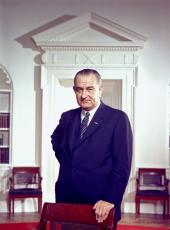 Remarks at the Swearing In of John T. McNaughton, Daniel Luevano, Solis Horwitz, and Robert W. Morse as Key Officials in the Department of Defense
THIS IS a very proud and satisfying moment, I am sure, for each of you men who have weathered the perils of the United States Senate and find yourself duly approved and confirmed here today.
I know it must be a matter of great satisfaction for your family and for your friends.
I want each of you to know that this is a very proud and satisfying moment for your President as well. We Presidents have many responsibilities. Unfortunately, Presidents have no more hours in the day than other men, but when able and brilliant and dedicated men are willing to help bear those burdens with little hope of glory, any President would feel as I do that we should give recognition to it and congratulate you.
You men assembled here this morning come from many regions of our country-from New England, from the west coast, from metropolitan centers of the East, and from a small town in the Midwest. Each of you in your respective fields has established a most distinguished and impressive record. The country is fortunate to have your services in this critically important work of this period when the first purpose of America in the eyes of every citizen of the world is keeping the peace.
So, I congratulate you. I thank you for coming aboard to help us carry forward the great task of these times. All of you have demonstrated the experience, the judgment, and the dedication to public service worthy of the recommendation of the most distinguished Secretary of Defense, and I think worthy of the nominations that I have made and the confirming action the Senate has taken.
So, it is a great pleasure to be here and be present when you are sworn in and when you assume your new responsibilities.
Note: The ceremony was held at 1 p.m. in the Rose Garden at the White House. Mr. McNaughton and Mr. Horwitz were sworn in as Assistant Secretaries of Defense, Mr. Luevano, as an Assistant Secretary of the Army, and Mr. Morse, as an Assistant Secretary of the Navy.
Lyndon B. Johnson, Remarks at the Swearing In of John T. McNaughton, Daniel Luevano, Solis Horwitz, and Robert W. Morse as Key Officials in the Department of Defense Online by Gerhard Peters and John T. Woolley, The American Presidency Project https://www.presidency.ucsb.edu/node/239103