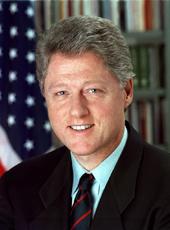 Remarks on the Swearing-In of James J. Blanchard as Ambassador to Canada and an Exchange With Reporters
The President. Good morning, ladies and gentlemen. I'm delighted to have you here today at the White House for the swearing-in of my longtime friend and a very able public servant, Governor Jim Blanchard, to be our Nation's next Ambassador to Canada. I have known and respected Jim for many years now. We've worked on many things together both as Governors and as fellow partisans in political wars. I can tell you that he is one of the ablest Governors with whom I ever worked, one of the most creative and innovative people I have ever met in public life.
As a Governor and earlier as a Member of Congress, Jim Blanchard was known as someone who would innovate, listen, and act. Those are capabilities which will be indispensable in his new assignment. His service in Ottawa will also benefit from his insights and his personal ties to Canadian leaders gained from being Governor of a State with a large border and close ties to Canada.
When I nominated Jim Blanchard for this post, it was a sign to me, and I hope to the Canadians as well, of the immense importance I place on our relationships with Canada. For that relationship is unquestionably one of the most important in the world to us. Canada is our largest trading partner. Over $200 billion in goods and services cross our borders annually. That amount increased significantly after the passage of the free trade agreement. And I believe it will increase again after implementation of the North American Free Trade Agreement.
Our relations with Canada are far more than economic, however. The fact that we share the world's longest undefended border is one of our greatest security assets. And Canada's cooperation on a host of international security efforts is absolutely invaluable. Canada has been our partner in efforts toward the former Soviet Union, Haiti, Somalia, and many other areas. With Canada we founded the United Nations and NATO. We work closely together today in the Group of Seven, in GATT, in international peacekeeping operations, just to name a few of the arenas that are important to us because of what we are able to do together.
Today the United States and Canada share a challenging list of opportunities for mutual progress. We can work together to promote greater economic growth in our own hemisphere and throughout the world. We can work together to protect the air, the water, the environmental quality that is significantly shared by our two peoples. We can work together to improve the security of both our nations in this new era of world affairs.
In all this I have greater confidence in the ability of Canada and the United States to make that kind of progress knowing that we will be represented in Ottawa by Jim Blanchard. I appreciate the fact that Jim and Janet are willing to accept this assignment. We all wish them great success.
And now, Mr. Vice President, I would like to ask you to do something I cannot do, administer the oath of office.
[At this point, the Vice President administered the oath of office.]
NAFTA
Q. Mr. President, have you given up on NAFTA?
The President. That's ridiculous. No.
Q. Some people say that the administration isn't fighting hard enough for it.
The President. We don't have an agreement yet. We have to wait until we finish. The Trade Ambassador has not finished with the negotiations.
NOTE: The President spoke at 11:48 a.m. at the North Portico of the West Wing at the White House.
William J. Clinton, Remarks on the Swearing-In of James J. Blanchard as Ambassador to Canada and an Exchange With Reporters Online by Gerhard Peters and John T. Woolley, The American Presidency Project https://www.presidency.ucsb.edu/node/217709