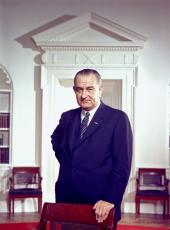 Remarks at the Swearing In of J. Russell Wiggins as U.S.. Representative to the United Nations.
Ambassador Wiggins, Mrs. Wiggins, members of the Wiggins family, distinguished guests, ladies and gentlemen:
I want to express my pleasure and happiness that all of you could join us here this afternoon on such very short notice. In case some of you haven't heard it--this is a surprise party for J. Russell Wiggins.
As early as this morning, the surprise was on me. We had planned to roll out the red carpet for Ambassador Wiggins early next week in what we call one of our very special East Room ceremonies.
But the Ambassador apparently does not believe in standing on ceremony--not when it keeps him standing around. So he sent me a message saying: "Mr. President, if it is all right with you, I want to get cracking. I want to get up to the United Nations tonight. So maybe you can just skip the fancy swearing-in business and just swear me in with my wife and my family watching--and I will go on and get on the job."
I would say, Mr. Ambassador, that your attitude has assured your success.
And I also hope, remembering your former profession, that your journalist friends take proper note of this occasion. Because for a change, it is the press that has pulled a surprise ceremony on the President.
I am glad, Mr. Ambassador, that you have been able to respond to my request and we have been able to enlist you in the cause of peace. You are about to take on your shoulders the task of representing the United States in the highest deliberative body of the international system--the General Assembly of the United Nations.

An awesome agenda will confront you there. As the Assembly moves into high gear, you will be participating in the Assembly's discussions as they relate to developments in Eastern Europe, in Vietnam, and in other areas of international tension. You will be engaged in efforts to bring about an agreed settlement on the tangled issues which have divided the Arab States and Israel and which have led to destructive violence. You will be considering complicated problems of arms control, those arising from the conclusion of the Nonproliferation Treaty, as well as others involving many aspects of nuclear and conventional armament.
You will be discussing the vexing problems of Africa: of its struggle for racial equality, the struggle for self-determination, and for relief from starvation and from fear. You will be pressing for effective international cooperation in areas just opened to man--both under the seas and in outer space.
In all that you do, you will be seeking a world order in which nations settle their disputes by peaceful means, and by the application of the principles of the United Nations Charter.
I am very grateful to you, Ambassador Wiggins, for your willingness, on such short notice, to take on such an important task for your country. I feel confident that under your guidance the United States delegation at the United Nations will effectively pursue our American objectives, and will constantly manifest America's very strong and continuing support for this great body known as the United Nations and for its efforts to try to bring peace in this troubled world.
I do not believe that in all of this country I could have chosen a finer or a wiser man. So, in you, we send a representative of the best in our American character. And the best is none too good for the United Nations.
We all, I am sure, wish you Godspeed and happy landing and safe return.
Note: The President spoke at 5:15 p.m. in the Blue Room at the White House. In his opening words he referred to J. Russell Wiggins, former editor of the Washington Post, and Mrs. Wiggins. Following the President's remarks, Mr. Wiggins spoke briefly. His remarks are printed in the Weekly Compilation of Presidential Documents (vol. 4, p. 1445).
See also Item 496.
Lyndon B. Johnson, Remarks at the Swearing In of J. Russell Wiggins as U.S.. Representative to the United Nations. Online by Gerhard Peters and John T. Woolley, The American Presidency Project https://www.presidency.ucsb.edu/node/237311