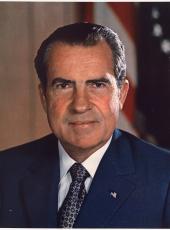 Remarks at the Swearing In of Henry A. Kissinger as Secretary of State.
Ladies and gentlemen:
We welcome you today to this ceremony in which Dr. Henry A. Kissinger will be sworn in as Secretary of State.
The Chief Justice of the United States will now administer the oath of office.
[At this point, Warren E. Burger, Chief Justice of the United States, administered the oath of office. The President then resumed speaking.]
Mr. Chief Justice, Mr. Secretary of State, Members of the Cabinet, Members of the House and the Senate, and all of our other distinguished guests:
I know all of you will want to hear from the new Secretary of State, speaking for the first time in that capacity, and my remarks, therefore, will be brief before presenting him to you.
First, I am aware of the fact that during the process of his hearings that you have learned much about him that perhaps you had not known before, but certainly during the process of his hearings you learned that here is a man who has the poise, the strength, the character to serve in this great position, and that he can handle himself under considerable fire. As a matter of fact, Dr. Kissinger used to come in my office during the days of the heatings. He had not been through such an experience before, and I said, "You are going to go through it for a long time; do you still want the job?" But I kept reassuring him, and I told him the vote would be very, very good, and it was.
And I am sure he must have felt like Winston Churchill, who once wrote that the most exhilarating thing in life is to be shot at without result.
Now, much has been written about Dr. Kissinger's background and the significance of his appointment. All of you know and members of the press are aware of the fact that I like to refer to things which happen to be first in this Administration. I suppose that is the right of every President.
But in Dr. Kissinger's case, we are very proud and it is very significant in these days when we must think of America as part of a whole world community, it is very significant that for the first time in our long history, a naturalized citizen is the Secretary of State of the United States.
It is also significant to note that this is the first Secretary of State, who, before assuming that office, had traveled on official business both to Peking and to Moscow. I was trying to think of something else that had not been written, and nothing occurred to me until yesterday, when very late in the day, I thought I had better get a haircut before appearing on television again. And so my barber, who is also Dr. Kissinger's barber, said he had been looking at some pictures of Secretaries of State, and he said, "I bet I know something about this man that you don't know."
I said, "I am sure you do. What is it?" He said, "He is the first Secretary of State since World War II who doesn't part his hair."
So, I began to think back and I said, "Secretary Acheson, yes, that is tight, he parted his hair; Secretary Dulles parted his hair; Secretary Rogers parted his hair."
But then my barber, who is a very wise man and seldom wrong--I said, "But what about Secretary Rusk?" And he said, "Well, Mr. President, he didn't have much hair, but what he had, he parted."
That little story about the parting of hair has no relevance to the functions of Secretary of State. I would say on a serious vein simply that Dr. Kissinger assumes this office at a watershed time in American foreign policy, at a time when America is at peace for the first time in I e years, at a time when we recognize that the only thing more difficult than getting peace is keeping it, at a time, therefore, when building the structure of peace is so important.
And he also recognizes another fundamental fact. There is a tendency these days to personalize every activity in, particularly, foreign policy: the exciting secret trips of Dr. Kissinger to Peking, to Moscow, to Paris; what a President does, what a Secretary of State does, what his advisers do.
But Dr. Kissinger knows, as I know. and as everybody in this audience knows that successes in any area, and particularly in foreign policy, do not come simply from the activities of one person. It requires a dedicated team of people, men and women working together. And in now having achieved peace, in keeping the peace and building the structure of peace, he has the function and, I am sure, will meet that responsibility of getting the cooperation of the people in the State Department and the other agencies of Government so that, working together and working with the Congress of the United States, we will not miss this historic opportunity to build a lasting peace for America and the world. This is certainly his charge. It is one that he welcomes, and it is one for which he is superbly qualified.
Ladies and gentlemen, Secretary of State Henry Kissinger.
Note: The President spoke at 11:05 a.m. in the East Room at the White House.
On the same day, the White House released biographical data on Secretary of State Kissinger.
Secretary Kissinger responded as follows:
Mr. President, the Chief Justice, distinguished guests:
Nearly 5 years ago, shortly after the President had been elected, he invited me to call on him at the Hotel Pierre in New York. I had never met the President at the time, and he described to me, in a conversation which eventually led to my appointment as his assistant for national security, what he hoped to achieve in his Presidency.
He told me that no goal could be more noble than to bring mankind closer to its eternal hope for a lasting peace. He said that we should not be hampered by any preconceptions, that we should not avoid any new departures, and that we should enlist the ablest people in the departments and in the country to help in this enterprise.
In the 5 years that have passed since then, we have gone through many turbulent times, but the objective has never wavered, and the major progress has been made in easing many of the tensions that existed in the world when the President assumed office.
A few weeks ago in San Clemente, the President spoke to me again about his hopes for his second term and asked me to assume this position, and he again stressed to me that the only objectives that are worth achieving in foreign policy are those that transcend administrations and go beyond parties, and he spoke to me then about the structure of peace.
When we speak of a structure of peace, we mean a world which has not just eased tensions, but overcome them; a world not based on strength, but on justice; a relationship among nations based on cooperation and not an equilibrium of forces alone. That kind of a world is the task, as the President has pointed out, of all Americans, and it is the reason why the President has charged me here with achieving it in the closest cooperation with the congress and with the great departments of the Government.
Mr. President, you referred to my background, and it is true, there is no country in the world where it is conceivable that a man of my origin could be standing here next to the President of the United States. And if my origin can contribute anything to the formulation of our policy, it is that at an early age I have seen what can happen to a society that is based on hatred and strength and distrust, and that I experienced then what America means to other people, its hope and its idealism. And therefore, in achieving a structure of peace under your leadership, Mr. President, we will strive not just for a pragmatic solution to this or that difficulty, but to recognize that America has never been true to itself unless it meant something beyond itself.
And as we work for a world at peace with justice, compassion, and humanity, we know that America, in fulfilling man's deepest aspirations, fulfills what is best within it.
Thank you very much.
Richard Nixon, Remarks at the Swearing In of Henry A. Kissinger as Secretary of State. Online by Gerhard Peters and John T. Woolley, The American Presidency Project https://www.presidency.ucsb.edu/node/255277