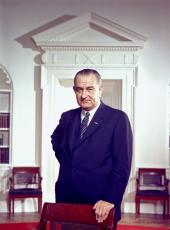 Remarks at the Swearing In of Henry H. Fowler as Secretary of the Treasury.
Mr. Secretary, Mr. ex-Secretary, Mr. Justice, ladies and gentlemen:
This is an occasion of mixed emotions for all of us. We are sorry to see our beloved Phyllis Dillon leave, but we are all quite happy to welcome Trudye Fowler to the official family again.
Doug and Joe are, of course, merely incidental-although I must say that nothing commends their judgment so much as their respective selection of their wives.
Over a long number of years Phyllis and Doug Dillon have been so much a part of Washington life that it is really difficult to actually believe that they are leaving. As individuals, and as a couple, they have enriched the lives of all who know them and they have contributed in far more ways than any of us really know to the grace and to the beauty of this city and this Nation, as well as to the strength and security of free people everywhere in the world.
The Office of the Secretary of the Treasury is the second oldest Cabinet office of our system. It has been occupied by some of the great names of our Nation's history. Over these last 4 years Douglas Dillon has written his name large--for all the time to come,
To say this about Secretary Dillon is to challenge the man who has been chosen as his successor. Joe Fowler is under no illusions about the size of the shoes he has been chosen to fill--because he himself was chosen by Doug Dillon to be the Under Secretary of the Treasury.
I was very proud and very gratified when Joe agreed after due deliberation, a good deal of speculation, to accept my appeal for his return to public life. Over a long and distinguished career Joe Fowler has proved himself as a man of superior ability, of superior capacity and, above all, a man of superior integrity and intellect and knowledge about how to deal with his fellow man. His entire life has been dedicated to trying to serve humanity well and I think that he has achieved a considerable amount of success.
It may be flattering to Joe to compare him to Andrew Mellon, whose resources were somewhat more substantial than Joe's, and for that matter I guess even anyone in this room. When Mr. Mellon was offered the Secretary of the Treasury position, he made the comment, "I had no substantial reason to refuse, but I did not really want to come." And as I recall some of the speeches my friend Wright Patman was making, when I first came to Washington, on that general subject to the Treasury Department, I can understand how Mr. Mellon felt.
I know that Joe Fowler, after his year on the tax bill last year, had substantial reasons to decline this position. But I didn't give him that opportunity. I closed all the doors, watched my steps carefully--J. Edgar Hoover and I roamed all over this Nation for a long time while we had considerable speculations. And finally the day he was appointed I called him in this room about 1 o'clock and I said, "I have not come to ask, I have come to tell, and I want you to do the same thing. Would you mind going home now for lunch and telling Trudye that you are going to be named Secretary of the Treasury." And he said, "We had planned to leave for Europe on Tuesday--what do I say about that?" I said, "Don't bother me with details."
So I would just like to observe that this is a man that is dedicated and devoted and he spent his entire life in the public interest. I know that he wanted to come because he knows what a contribution can be made and actually must be made in this vital position in these crucial times.
We aspire in this country to build a greater society. We aspire to fulfill the promise of our Constitution. We are committed and we are determined to defend freedom wherever it is challenged any place in this world. If we are to succeed in any of these purposes, our country must be guided by sound and successful and wise fiscal policies. The source of that wisdom and the responsibility for that success will shortly rest upon the office and the man-the Office of Secretary of the Treasury, the man, Joe Fowler. He will assume those duties momentarily.
This is not an office any President can fill lightly, particularly in these times. In making the choice I have made, I proceeded with the utmost care, seeking the very best man who could be found to be entrusted with this great responsibility.
I hope--I genuinely, earnestly believe that my search was successful. I believe Joe Fowler is that man. I am very proud to welcome him and his lovely wife to our Cabinet.
I wish for him every success. And during the 3 or 4 months that Doug and Phyllis are going to be gone I wish them every happiness.
[At this point Mr. Fowler was sworn in. The President then resumed speaking.]
Ladies and gentlemen, I have just signed the nomination of Dr. Sherman I. Maisel, professor of business administration at the University of California, at Berkeley, to the Federal Reserve Board.
Dr. Maisel is one of those enormously able men whose sense of public duty matches his ability and his excellence in performance. He is a young man, as you can observe--46 years old. He earned his Ph.D. at Harvard and was a veteran of World War II. A follower of Horace Greeley, he went "West, young man." He is a scholar and author whose prestige is the highest in the academic world. He is an effective doer who has had previous experience in Government, the Federal Reserve Board staff, in the Department of State, and other places.
Chairman Bill Martin of the Federal Reserve gives him superior marks, and so do I.
Dr. Maisel is the kind of man that this Government can use and that this Nation appreciates and with the consent of the Senate he will shortly enter upon his duties with the Federal Reserve. It gives me great pride to present him to you this morning.
The other day a newspaper friend got a note from the Treasury Department that says "A Better Treasury Bet" (it followed some speculation). It says "the indications are now that the investigations are continuing of some individuals and the man that is now going to be appointed is associated with a leading bank and his contribution of $25,000 to the election fund guarantees him this place. It had been planned to present him an ambassadorship under the previous administration but this plan has just been changed. This man will now be appointed Secretary and he will hear from the President on it very shortly."
I did not know the man and I cannot test whether he had been offered the ambassadorship or not but at that time we had just completed the investigation on Mr. Fowler.
Now before any of you all in the Treasury write any more memos that mislead the press I want you to warn them, Joe, that I want the press to have all the truth, the whole truth, and nothing but the truth.
I do say that we have already selected the Under Secretary and the Assistant Secretary. The Secretary has made his recommendations, and we are following the routine procedures. Just as soon as we can speak with accuracy we will have the top spots in the Treasury filled and named and we will have them here for you to pass judgment on.
Note: The President spoke at 12:25 p.m. in the Cabinet Room at the White House. His opening words referred to Henry H. (Joe) Fowler, the new Secretary of the Treasury, C. Douglas Dillon, the outgoing Secretary, and Arthur J. Goldberg, Associate Justice of the Supreme Court, who administered the oath of office to Mr. Fowler. Early in his remarks the President also referred to Mrs. C. Douglas (Phyllis) Dillon and Mrs. Henry FL (Trudye) Fowler. Later he referred to Wm. McC. Martin, Jr., Chairman, Board. of Governors of the Federal Reserve System.
The selection of the Under Secretary and the Assistant Secretary of the Treasury was announced by the President on April 18 at Austin, Tex. Joseph W. Barr, Chairman of the Federal Deposit Insurance Corporation, was named Under Secretary, and Merlyn N. Trued, Deputy Assistant Secretary of the Treasury (International Affairs), was named Assistant Secretary of the Treasury (International Affairs).
Mr. Dillon served as Secretary of the Treasury from January 21, 1961, through April 1, 1965.
Lyndon B. Johnson, Remarks at the Swearing In of Henry H. Fowler as Secretary of the Treasury. Online by Gerhard Peters and John T. Woolley, The American Presidency Project https://www.presidency.ucsb.edu/node/242007