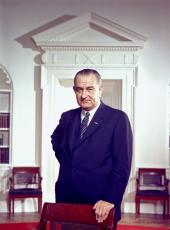 Remarks at the Swearing In of Frederick C. Belen as Deputy Postmaster General and William McMillan as Assistant Postmaster General
I AM PLEASED this morning to be able to witness the swearing in of Fred Belen and Bill McMillan as second and third ranking officials of the United States Post Office Department. They represent a combined total of 64 years of service to our Government.
Fred Belen, our new Deputy Postmaster General, has served in the legislative and executive branches of Government since 1937, and he has been with the Post Office Department since 1947.
Bill McMillan, who succeeds Fred as Assistant Postmaster General for Operations, entered the Post Office service as a substitute clerk in 1927, so he has 10 years' seniority on Fred.
These two men represent the kind of dedicated competent men who rightfully belong at the very top levels of Government. We have high standards and they meet those high standards. They know the postal service. They know the needs and the problems. They are the kind of men who can best help our very able Postmaster General to find the solutions. These men are postal experts and they are management experts, and they are going to do a fine job in helping Postmaster General Gronouski give the very best possible postal service to the American people at the very lowest possible cost.
They have the full confidence of the Postmaster General, and I am proud to say they have the full confidence of the President and this administration.
[At this point Mr. Helen and Mr. McMillan were sworn in by Judge Homer Thornberry, federal Judge in El Paso, Tex. The President then resumed speaking. ]
General Gronouski, I apologize for being detained slightly this morning. I do have the commissions here, and I am ready to present them. However, the Director of the Central Intelligence Agency is leaving for Viet-Nam tomorrow, and I asked him to go out and brief President Eisenhower today. He came in to review that briefing with me, and asked me the extent of the briefing with President Eisenhower. I told him that I thought he should tell him everything that I knew. I hope he will do that and review things with him thoroughly. That took a little time, and so I was a little late coming in, but we are here nevertheless.
Note: The swearing-in ceremony was held at 11:30 a.m. in the Cabinet Room at the White House.
Lyndon B. Johnson, Remarks at the Swearing In of Frederick C. Belen as Deputy Postmaster General and William McMillan as Assistant Postmaster General Online by Gerhard Peters and John T. Woolley, The American Presidency Project https://www.presidency.ucsb.edu/node/239743