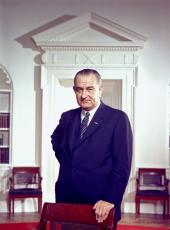 Remarks at the Swearing In of Dr. Otto Eckstcin as a Member of the Council of Economic Advisers.
Dr. and Mrs. Eckstein, ladies and gentlemen :
I know that the Ivy League takes a dim view of recruiting athletes. But I hope that they will be more favorable toward our recruiting economists. We have had a "Big Ten" team on the Council, from Minnesota, Michigan, and Indiana. Walter Heller and Gardner Ackley may have the height on you, Dr. Eckstein, but we do expect you to add depth worthy of both Harvard and Princeton.
Eighteen years ago the Council of Economic Advisers was established by the Employment Act of 1946. At that time there were many predictions that the Council would become either an aloof academic supreme court of academic policy or a sinister scheming cell of master planners. Under both Republican and Democratic administrations it has become neither. Instead, the Council is one of the most effective and one of the most successful instruments of responsible policy guidance that has been created in modern times.
I am both proud and grateful for its services and for the leadership offered by Chairman Heller and Acting Chairman Ackley.
In 1946 our Nation faced considerable uncertainty about employment in postwar America. I remember, as a Member of the House of Representatives at that time, our concern for the facts of prewar America.
In 1938 unemployment stood at 19 percent. Even in 1941 unemployment was 10 percent. But in the Employment Act of 1946 we made a bold new national commitment. We committed the Federal Government to use all practical means to create and maintain conditions under which there would be afforded useful employment opportunities for those that were able and willing and seeking work. The facts today tell the story of our success.
This summer, 72,400,000 Americans have been at work, more than have ever been at work in our history. Unemployment has dropped below 5 percent. We are enjoying together the longest and the strongest uninterrupted prosperity in the Nation's history.
Well, this is a great record, and credit is wisely due. Our success is not the success of Government alone, or labor alone, or business alone. But it is the success of all of these parts of our general system, and all working together in our system.
One factor in that success is the greater use in all sectors of reliable, responsible guidance from our economics profession. I suppose that professors, like politicians, will always be the target of critics. But I do think it is healthy for America that we no longer look down our noses at trained men with trained minds. Our policies, pub lic and private, are wiser and more successful today because we do respect and we do accept the counsel of our academic community.
Today, unlike 1946, we face the future with strong confidence, with solid expectations. We are hopeful the time may come when recessions as we have known them will become not merely milder and less frequent but even become a relic of the past.
We are confident that this resourceful and resolute economy can meet its responsibilities for creating the jobs that are required by a growing population. Maximum employment is not the only answer to the war on poverty. Most of the poor have jobs but their jobs are poor because they are unprepared for good jobs. Many of the rest are simply not in the labor force because of age or disability, or family status.
Victory in the war on poverty requires more than jobs. It requires a strong and a vigorously growing economy as the environment for progress on all fronts and that is the target that is in our sights today.
Dr. Eckstein, we want to welcome you aboard. It is good to have you. I want to welcome to the White House not only you under these circumstances, but your wonderful family who is present to see you Sworn in.
Note: The ceremony was held in the Cabinet Room at the White House. During the course of his remarks the President referred to Walter W. Heller, Chairman, Council of Economic Advisers, and Gardner Ackley, member of the Council. The text of brief remarks by Dr. Eckstein was also released.
Lyndon B. Johnson, Remarks at the Swearing In of Dr. Otto Eckstcin as a Member of the Council of Economic Advisers. Online by Gerhard Peters and John T. Woolley, The American Presidency Project https://www.presidency.ucsb.edu/node/241705