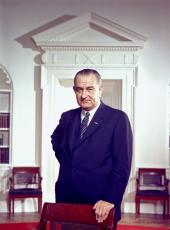 Remarks at the Swearing In of Dr. Mary I. Bunting as a Member of the Atomic Energy Commission.
Good morning, ladies and gentlemen:
This is a very proud and happy moment for all of us who have gathered here. We are somewhat later than we planned, but that is a matter we couldn't avoid.
Congratulations are due the new commissioner, but really the country can congratulate itself on the good fortune of Mrs. Bunting's example of good citizenship in taking this very important office.
I believe we can say objectively that no woman has shared in a responsibility to all of humankind so great or so grave as Mrs. Bunting is assuming today.
From the beginning of the atomic age, the American people have been determined that the power of the atom should be used for human progress and should be used for peace. I hope that wives and mothers of every land will find in this appointment a reaffirmation of that American determination.
As you know, Mrs. Bunting is a distinguished scientist, a distinguished educator, a distinguished leader of our national life. But before she is any of those things, she is distinguished among us as a wife, as a mother, as a woman concerned about the world that we leave to our children. So in accepting this duty, Mrs. Bunting is doing much more than practicing what she has been preaching to the women of America. She is helping to set a new standard of public service for all our most useful citizens--men as well as women.
We have for too long accepted as standard the idea that success in private life precludes service in public life. Such a concept is obsolete, and we should discard it. I am hopeful that we can develop a new concept--that personal success is not complete until our careers are crowned by a tour of public service. Mrs. Bunting's splendid and unselfish decision to accept this high office is a model example. I trust that many men, as well as many other women, will emulate that example in years to come.
You have had many titles, Mrs. Bunting-"Doctor," "President," certainly not the least of which is "Mother," but it is a very high and a very satisfying privilege to me to greet you now by your newest title and salute you as Commissioner Bunting.
Note: The President spoke shortly before noon in the Cabinet Room at the White House, Mrs. Bunting was the first woman to become a member of the Atomic Energy Commission. Among those attending the swearing-in ceremony were Mrs. Bunting's son, John, and the other members of the Commission and their wives.
Lyndon B. Johnson, Remarks at the Swearing In of Dr. Mary I. Bunting as a Member of the Atomic Energy Commission. Online by Gerhard Peters and John T. Woolley, The American Presidency Project https://www.presidency.ucsb.edu/node/239138