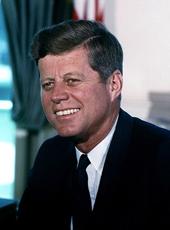 Remarks at the Swearing In of David L. Lawrence as Chairman of the President's Committee on Equal Opportunity in Housing.
I WANT to express great pleasure in having Governor Lawrence come with this administration as Chairman of the President's Committee on Equal Opportunity in Housing. This is a most important assignment which requires a good deal of experience, commitment, and administrative skill.
The Governor will deal with the States, for which he is almost uniquely qualified. He will be dealing with the cities and he has had a long and successful career as Mayor of Pittsburgh. He will be dealing with the housing industry itself, and most of all he will be dealing with the American people in attempting to assist them, all of them, to enjoy the equal opportunities in housing as we hope they enjoy and will enjoy increasingly equal opportunities in all of the other vital areas of life.
Housing goes to the very basic life of the family and we are anxious to make sure that every American has a chance to live as he chooses and to bring up his family the way he wants.
So, Governor, you have undertaken a good many important assignments in your career. This is a field in which you have had the longest personal interest. It is not a very good way to repay you for all your political services by giving you one of our most difficult assignments, but I really feel that in this case you and your own personal qualities, plus your experience, plus the sensitivity and the importance of the job at hand, have all joined together, like the three rivers around Pittsburgh, and the country will benefit.

Thank you.
Note: The President spoke at noon in the Cabinet Room at the White House. Mr. Lawrence, former Governor of Pennsylvania, responded briefly. The text of his remarks was also released.
Mr. Lawrence's appointment was announced by the White House on January 11. On May 16 the President announced the appointment of the following eight persons to serve as public members of the committee: Lewis H. Weinstein, Earl B. Schwulst, Roland M. Sawyer, Cyril Magnin, Ferdinand Kramer, Charles Keller, Jr., Theodore A. Jones, and lack T. Conway. The following ex-officio members were also listed in the May 16 release: the Secretary of the Treasury, the Attorney General, the Secretary of Defense, the Secretary of Agriculture, the Administrator of the Housing and Home Finance Agency, the Administrator of the Veterans Administration, and the Chairman of the Federal Home Loan Bank Board.
John F. Kennedy, Remarks at the Swearing In of David L. Lawrence as Chairman of the President's Committee on Equal Opportunity in Housing. Online by Gerhard Peters and John T. Woolley, The American Presidency Project https://www.presidency.ucsb.edu/node/236866