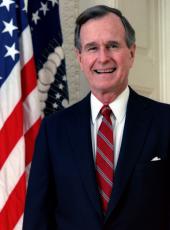 Remarks at the Swearing-in Ceremony for William K. Reilly as Administrator of the Environmental Protection Agency
The President. Well, I'm told that this is the first time that a President has visited the EPA. Well, not exactly the EPA, but all the stores underneath the EPA. [Laughter] And I think I should, at the outset of these brief remarks, just express my appreciation to the merchants and to the others who have this vibrant mall in their custody -- [laughter] -- thanking them for the opportunity to have this ceremony here so we could meet with as many of the EPA employees as possible.
I'm delighted to be here. And in my search for a new, first-rate EPA Administrator, one of my top priorities was to find someone with strong credentials as a leader in the environmental community, and that man is our new Administrator, William Reilly. He's got big shoes to fill, though. I know that, and I have great respect for those that have preceded him. Lee Thomas did an outstanding job here, and I want those who worked with him to know how strongly I feel about that. I want to salute the members of the diplomatic corps who were nice enough to be with us today. I think that puts appropriate emphasis on the fact that many of the problems that we face in the environment are global problems. And I'm delighted that they're with us here today -- pleased to see Senator Chafee and other Members of the United States Senate and Members of the House with us as well.
I hope it is plain to everyone in this room and around the country that among my first items on my personal agenda is the protection of America's environment. I am pledged to improving the quality of life: for improving the quality of the air we breathe and the water we drink and the land that, as Father O'Reilly said, God has entrusted to us.
I have just come from the swearing-in of Manuel Lujan, our new Secretary of the Interior. EPA and Interior have got to work as partners, keeping our land and our air and our water clean -- public land secure. And I'm sure all of you know by now Bill Reilly's incredible background in environmental protection: president of the Conservation Foundation, one of the Nation's outstanding environmental think tanks; president of World Wildlife Fund, U.S. And I'm pleased that my friend Russell Train is still talking to me, having moved in on that cozy arrangement that served the private sector so well.
Mr. Reilly began his career in this field as a senior staff member of the President's Council on Environmental Quality, the CEQ, in the early seventies and then as executive director of the Task Force on Land Use and Urban Growth. A leader in one of the other major environmental organizations has said of Bill that he has, and I'm quoting now, "without question the most personal knowledge of the substance of issues of any of the CEO's of any of the conservation organizations." And that gives you an idea of why we are very lucky to have him here and why I selected him.
I thought I'd tell you a story that will tell you something more about why I picked him. About a year and a half ago, he convened a forum on the wetlands crisis. He brought together 25 people who, as the Washington Post put it, would normally have difficulty agreeing even on a place for dinner. Environmentalists, developers, industrialists, State and Federal regulators all were there. And the result: Well, by the time he was through with them, which took more than a year, they put aside differences and called for no net loss of wetlands, and they agreed on 100 reforms to achieve that goal.
I spoke the other day about wanting to broaden the consensus for defense, but that's not the only consensus that I would like to broaden. I want to broaden the consensus for a clean environment, and I believe doing that requires finding ways to clean up the environment without stifling the economy. During the campaign I noted that environmental action has too often been marked by confrontation among competing interests. Well, the fact is that more often than not there is common ground if the parties will make an effort to find it. Our great common desire is a better life for all Americans. And I believe that economic growth and a clean environment are both part of what all Americans understand a better life to mean. I also believe that the American people are impatient for results. They won't accept excuses anymore. And they won't accept finger pointing. They want us to get all the sides together and find a way to achieve both their goals.
By the way, the other day I got a little lesson in how impatient the American people are. In the morning mail, this marvelous mail that comes in to the President of the United States, I found letters from seventh graders at a church school in California. I thought I'd share one with you. It was dated Inauguration Day, January 20th; and it said, and remember this was just on the day that I was taking office,"Dear Mr. President, Would you please do something about pollution. I'm not saying you're doing a bad job, but could you put a little more effort into it." [Laughter]
Well, with William Reilly at the helm here, we're going to put a hell of a lot more effort into it. And now, Bill, let's do the honors.
[At this point, Administrator Reilly was sworn in.]
Administrator Reilly. Mr. President, on behalf of all 15,000 of my closest and most valued new colleagues, welcome to EPA. And great thanks to all of you who worked so hard to make this event possible this morning. We had to reschedule the opening of Black History Month. I'm pleased to say that that has been rescheduled. We appreciate all the effort that has gone into accommodating this event in these halls. We chose the place that would accommodate the very largest number of the EPA staff, and this is the place. And we put nice blue bunting in front of the lingerie store -- [laughter] -- and Roy Rogers. And we're grateful, as the President said, to everybody who worked to make this come off so well.
Well, it's just great to have you here, Mr. President. Several Senators asked me during last week's confirmation hearings about EPA's access to the White House, and that, of course, is a very crucial question. But I would add just one reassurance to my answer: Mr. President, you will always have complete access to us here at EPA. [Laughter] So, feel free to drop by any time. [Laughter] Our door will always be wide open to you, won't it, my friends? It will also be wide open to you, my friends in the Congress -- Senator Burdick, Senator Chafee, Senator Wilson, Senator Baucus.
We, as the President said, are beginning, I think, on a great note. We've had great cooperation through the confirmation period, and I appreciate that very much.
Well, it is clearly a very great honor to serve as Administrator of the Environmental Protection Agency. I thank you for your confidence in me, for nominating me, Mr. President. I thank you, Chairman Burdick, Senator Chafee, members of the Environment and Public Works Committee, for the great many courtesies that were extended to me over the past weeks in the course of the confirmation. I feel equally honored to be able to serve, to look forward to working with this very fine EPA staff. I wish all of them could be here today. I have got to say, I've been enormously impressed with the capabilities of the dozens or so of people who have come into contact with me in the course of the last several weeks. I can honestly say that EPA professionals began shoring me up and bailing me out a full month before my confirmation, and now is no time to stop. [Laughter] I will need all the help that I can get. I should say I owe a special debt of gratitude to those hard-working souls who assisted me in handling the written questions that followed our hearing on the Hill. We were pleased to be able to move the confirmation very fast. But in the course of doing that, we were given some 315 written questions, the answers to which were due 24 hours later, and many of you stayed up through the night. I was able to tap off the answers to 305 or so of these, of course, with no difficulty. [Laughter] But those last ten -- I really did appreciate your help, and we met that deadline.
Well, for the staff here today, let me reassure you: You are not dreaming. This is the President of the United States. [Laughter] He is standing here at the headquarters, or as close as we could get him to it, of the Environmental Protection Agency. And he's not up for reelection for another 4 years. [Laughter] I think, as a matter of fact, he's probably smiling for all three of those reasons. [Laughter] The President is here for a very simple reason: He cares. He cares urgently about protecting the environment. He said so during his campaign, and his commitment came through to me in my very first meeting with him. And it has since been reinforced in countless ways, only one of which is the fact that he's here with us today.
This powerful statement, this important symbol of the President's interest in the environment, may not, in fact, make our jobs here any easier. If anything, I think our work will be judged by even higher expectations than ever before. But isn't it encouraging to have an environmentalist in the White House who comes here to signal his close and public commitment to the work of the Environmental Protection Agency? Mr. President, I know that you appreciate -- as I do and as Russ Train was saying in his remarks before you arrived -- that life is not easy on the front line of environmental protection. Probably no other Federal agency touches so many lives as EPA touches. Probably no other Federal agency faces so many complex and fiercely controversial decisions.
Looking out over this group, you can almost see the powder burns. I don't think it's simply that it's Ash Wednesday today. [Laughter] By the way, I don't know if there's any symbolism in this, but we are taking office on the very first day of Lent. [Laughter] So, to my friends and colleagues here at EPA, let me say simply this: Through the end of the century and on into the next, the quality of human life and of the environment will be very powerfully influenced by your energies, your imagination, and your dedication. The public demand for a safe, clean environment has probably never been firmer. And so, the demands that you face, that we face, have probably never been greater.
In the confirmation hearing, there were two themes that were sounded again and again from across the political spector [spectrum]: "The Environmental Protection Agency should be an advocate for the environment," the Senator said. "EPA should enforce the laws of the land," we heard. And so we shall.
I think, as I stand here, about the extraordinary sweep of the responsibilities we here at EPA exercise. I think of so many places in America that have touched me and my family in a very special way, as I was growing up with my parents and my sister, who I'm proud to say are here today, and later on with my wife and children and friends, many of whom are also here today, Lake Michigan, the Rio Grande and the Gulf of Mexico, Narragansett Bay, Cape Cod, and the Chesapeake -- these we lived on or near.
And it's personally stirring for me to have some responsibility for them now, for them and for other resources of air, water, and land in a country where the real crown jewels are the wonders of nature. And now even the stratosphere is receiving our attention. And we're called upon to offer the ideas and experiences of the United States to other nations in a search for environmental policies that may be crucial to keeping this planet habitable. The cause of the environment is so vital and so personal that working in this vineyard is its own reward.
One of the hallmarks, I think, of this agency is that many of the people who work here are very powerfully motivated: motivated to help the environment. The idealism and the commitment to a better environment makes you EPA's employees very, very special, and it makes the prospect of working with you here for me a very, very happy one. So, I could not be more pleased or more proud to have the opportunity to work for the environment, to work for President Bush, and to work with you, my EPA colleagues. I think that we are going to do great things together.
Thank you very much.
Note: The President spoke at 10:43 a.m. at Waterside Mall. In his remarks, he referred to Lee M. Thomas and Russell Train, former Administrators of the Environmental Protection Agency. Rev. William H. O'Reilly delivered the invocation.
George Bush, Remarks at the Swearing-in Ceremony for William K. Reilly as Administrator of the Environmental Protection Agency Online by Gerhard Peters and John T. Woolley, The American Presidency Project https://www.presidency.ucsb.edu/node/247721