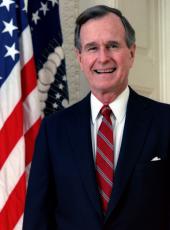 Remarks at the Swearing-In Ceremony for Supreme Court Designate Clarence Thomas
President Bush. Welcome all to the White House. Mr. Vice President and Mrs. Quayle, a warm welcome. And, of course, to the members of the Supreme Court. And may I simply say that Barbara and I join with you and with all the Nation in mourning the loss of Nan Rehnquist, the wife of the Chief Justice.
Let me also welcome the many Members of the United States Congress that are with us today. Single out but a few: Minority Leader Dole and Chairman Biden and ranking member Thurmond of the committee, and so many others; members of our Cabinet over here and so many friends of Clarence Thomas, who have worked with him here in Washington. And, of course, I should especially single out Senator Jack Danforth, a man every American would be proud to call friend.
And of course, those special guests, the many members of Clarence Thomas' family here today: his wife, Ginnie, son Jamal here in the front row, and Clarence's mother, Mrs. Leola Williams; his sister, Emma Mae Martin; his brother, Myers. His cousins, it reminds me of Pinafore, his cousins, sisters, aunts. [Laughter] But that's the way it ought to be. And all of you, some of whom drove all the way up, I see a little advertisement over here from Pin Point, Georgia, to be here this afternoon. That's 600 long miles, but I've got a feeling they might have driven 6,000 miles to be here today.
People from far and wide, from all walks of life, all levels of education and income, have come here today in testament to the character of Clarence Thomas. But what brought you here is also something more: the power of the American ideal; the values of faith and family, of hard work and opportunity. These are the values that unite us all, that give America meaning.
America is the first nation in history founded on an idea: On the unshakable certainty that all men are created equal. When we ask our Justices to uphold the Constitution, we entrust to them the laws that give life to our principles. Clarence Thomas now joins the distinguished ranks of jurists to whom we entrust this sacred task, who, in the stark and simple phrase of Chief Justice Marshall tells us "what the law is."
I said when I nominated Clarence Thomas that this man is a fiercely independent thinker, with an excellent legal mind, who believes passionately in equal opportunity for all Americans. Since then, the whole Nation has learned that the passion and the intellect and the independence of mind all spring from a single source: An inner strength stamped on his character long ago, when he walked the dirt roads of Pin Point.
Clarence Thomas comes to the Supreme Court having worked in the private sector, having served in State government and in every branch of Federal Government. Each position will serve him well on the Court, sharpening his vantage point on the many questions that come before him.
These are the man's qualifications. They are not the same as his experience.
Clarence Thomas knows firsthand the searing hate and sting of segregation. He knows the cold face of indifference, the unthinking cruelty that tells some men and women that society expects little of them and offers even less.
But Clarence Thomas would not be here today if there were not more to his story. He's known his share of the joys of life: the love of family, the devotion of friends, the kind gestures from people committed to decency and fairness, to justice and to the American dream.
Clarence Thomas has endured America at its worst, and he's answered with America at its best. He brings that hard-won experience to the High Court, and America will be better for it.
So, let me say to everyone here: Don't be overawed by the solemnity of this moment. Celebrate this day. See what this son of Pin Point has made of himself. See how he makes us proud of America, proud of all that is best in us.
In just a few moments, we will bear witness as the oath of office is administered to our Nation's newest Supreme Court Justice. Before we do, let me say on a personal level, America is blessed to have a man of this character serve on its Highest Court.
Clarence Thomas, Mr. Justice Thomas, congratulations. And now I'd like to ask Justice Byron White to administer the oath.
[At this point, Associate Justice Byron White administered the oath of Government service, and Judge Thomas then spoke.]
Note: The President spoke at 2 p.m. in a ceremony on the South Lawn of the White House. In his remarks, the President referred to Chief Justice William Rehnquist's wife, Natalie, who died on October 17; Senators Robert Dole, Joseph R. Biden, Jr., Strom Thurmond, and John C. Danforth.
George Bush, Remarks at the Swearing-In Ceremony for Supreme Court Designate Clarence Thomas Online by Gerhard Peters and John T. Woolley, The American Presidency Project https://www.presidency.ucsb.edu/node/265839