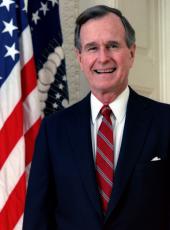 Remarks at the Swearing-in Ceremony for Richard B. Cheney as Secretary of Defense
The President. Mr. Vice President, members of the President's Cabinet, distinguished Members of Congress, the Joint Chiefs, I am very pleased to participate in the administration of the oath of office to our new Secretary of Defense, Dick Cheney.
This is a proud day for Dick's family: his wife, Lynne, who heads a vital effort of another sort -- safeguarding our cultural heritage at the National Endowment for the Humanities -- and their daughters, Elizabeth and Mary. I also want to welcome Dick's mom and dad, who are here from Wyoming, other family members as well, who came to join Dick on this very important day.
Let me outline some of the crucial responsibilities that Secretary Cheney is taking on in his new assignment: defense strategy and management, procurement reform, the day-to-day operations of our Armed Forces, and the long-range planning that will keep us free and secure into the next century. In a building where it can be a challenge getting from the A Ring to the E Ring without getting lost, the challenges that you'll face, Mr. Secretary, are truly enormous. Confession time: Dick told me that he's already gotten lost in the garage of this place -- [laughter] -- but things can only go up from there. [Laughter]
The challenges may be enormous, but so, Mr. Secretary, are the skills and talents that you bring to the job. Dick Cheney knows his way around Washington. He knows how things work on Capitol Hill and in the White House. And he'll draw on that wealth of experience to help make things work right here at the Pentagon. Dick and I worked together in the Ford administration on national security issues -- he was the White House Chief of Staff and I was then Director of Central Intelligence -- and teamwork paid off then, and he was the best at it. And, Dick, you'll have help from the best Armed Forces in the world and a civilian staff equally dedicated to our national defense. I know they're ready to work with you and for you.
And I'm convinced the international scene today is defined by opportunity: a chance to advance America's interests and ideals, and to strengthen the forces of freedom now gaining a foothold in many places around the world. Dick shares my belief that the chief national security lesson of this decade is simply this: strength secures peace. That fact remains true, even in the present time of transition in world affairs.
Consider the key issue of change in the Soviet Union. I take a very positive view of the changes there, but there are still more questions than answers about the ultimate outcome of those changes. And until these questions are answered, we should continue our successful policy of flexibility, combined with strength and firm resolve. We must be ready to seize favorable opportunities to improve relations with the Soviet Union, but we must also remain ready and able in any event to secure our national interests. And let me say clearly, now is not the time for America and its allies to make unilateral reductions to relax our defense efforts.
Everyone here knows that we're facing tough choices on defense programs. We must move ahead with plans to modernize our strategic and conventional forces. We must continue to turn the nation's technological capabilities to our strategic advantage, in SDI and other programs. But our need to deal with the deficit means that we're working with limited resources. And, Dick, your task is to sort out those priorities -- which programs should continue, which we can't afford in the current fiscal climate. I'm convinced these difficult choices can be made in a way that preserves our defense capabilities.
Close cooperation with the Congress is absolutely essential, and Dick's high standing on Capitol Hill will be an enormous plus. Procurement reform is a case in point. Our aim should be a more stable and streamlined acquisition system. But procurement reform can't be confined to the Pentagon alone. We will work with the Congress, our partners in the process, to move forward with the Packard commission reforms, to adopt a 2-year budget cycle, and to expand multiyear procurement for major weapons systems.
And stability begins with a commitment to maintain a steady, moderate, and affordable increase in defense spending, an increase we must have in order to maintain and continue to modernize our forces. Following the freeze for 1990, that means growth -- 1 percent -- '91, '92, rising to 2 in '93, 2 percent. For too long, defense spending has ridden a roller coaster: unpredictable ups and downs, a recipe for waste and inefficiencies. Stable spending makes it possible to plan for the long term, and that's the basis of a more efficient and effective defense posture. And that long-term view is the one we must take, with the 21st century only 11 years away.
I'm convinced that in the years ahead the United States can take the lead in building a more peaceful international environment, in laying the foundations for a new American Century, where freedom and democracy will flourish. I am confident that Dick Cheney will play a pivotal part in keeping America strong and secure, free and at peace.
Secretary Cheney, congratulations. You have my complete confidence and my sincere best wishes as you undertake this extraordinarily important task for the greatest country on the face of the Earth.
[At this point, Secretary Cheney was sworn in.]
Secretary Cheney. Mr. President, distinguished guests, men and women of America's Armed Forces, ladies and gentlemen, it is a humbling experience to assume office as the Nation's 17th Secretary of Defense. Mr. President, I thank you for the confidence you've placed in me. I will do my best to justify your trust.
This transition comes at a time of significant change, change that may portend a more peaceful and prosperous world in the years ahead. Nations whose political and economic systems, like ours, are based on principles of freedom, democracy, individual liberty, and market economics are thriving. Those nations which derive their legitimacy from the authoritarian suppression of the human spirit are in retreat.
It's become clear in the last few years that freedom works. The Soviet Union is being forced to question its basic assumptions in light of its obvious failure to produce a prosperous economy at home or to enable it to compete abroad. Developing nations no longer look to the Soviets or their allies for a model upon which they can build successful economies. And in place of a hostile Soviet Union seeking to expand its empire by military means, we see an empire beset by difficulties, withdrawing from Afghanistan and talking about significant troop reductions in Eastern Europe.
In part, this change is attributable to more realistic leadership inside the Soviet Union. But it is also due in part to the success of the strategy of the United States and our allies. Containment has worked. Deterrence has held. Principle has paid off. Still, dangers abound. There are those who want to declare the Cold War ended. They perceive a significantly lessened threat and want to believe that we can reduce our level of vigilance accordingly. But I believe caution is in order. However real the reform rhetoric coming out of the Kremlin, Moscow's armaments compel caution on our part. To date, there's been no reduction in the strategic systems targeted against the United States. Until we see a significantly lessened military capability on the part of the Soviets, we cannot possibly justify major reductions in our own. We must guard against gambling our nation's security on what may be a temporary aberration in the behavior of our foremost adversary.
Mr. President, the military and civilian professionals of the Department of Defense stand ready to do everything possible to provide for the Nation's security with the resources the American people entrust to us. To that end, our strategy and policies must be carefully calibrated to an ever-changing international landscape. Our force is designed and equipped to meet the full range of likely contingencies, and our needed munitions acquired as efficiently as possible.
Today I would like to address myself to several key groups. To the men and women of America's Armed Forces: I am honored to serve with you in the defense of freedom. Every individual soldier, sailor, airman, and marine contributes to America's strength, and I pledge to do my utmost to provide you the quality, equipment, and support you must have to do the job we ask you to do for all of us. You, our uniformed men and women, are my number one priority. You and your families are the mind, body, and soul of America's military might.
To America's friends and allies around the world: I look forward to working with you in our common quest. Collective security is the only strategy for our democracies. We, therefore, must deepen our cooperation, especially to stretch scarce defense resources. And where we have differences, we must deal with them in recognition that cohesion is the most potent power and weapon of free nations.
To the United States Congress: Fresh as I am from your ranks, I appreciate your constitutional responsibility for America's defense. I pledge my full cooperation as, together, we wrestle with a shared challenge: too many claims on too few dollars. I've got to make the hard choices, and I seek your support so that these can be the right choices.
To America's defense industry: U.S. national security is vitally dependent on our defense industrial base. We must have top-notch firms willing to compete for defense contracts and able to fulfill those contracts with high-quality work efficiently delivered. Don Atwood and the rest of my staff are anxious to work with the defense industry to improve productivity, reduce costs, and advance new technologies. Defense acquisition is a partnership, and that spirit must guide our actions.
Finally, to the American people: The first obligation of the Federal Government is the defense of the Nation. You support that aim with your tax dollars and the sacrifices of your sons and daughters in uniform. We who are appointed to lead these defense preparations owe you, the American people, a high return on your investment and great care for the lives of your loved ones who serve. I accept that responsibility. And with the support of my family and the President of the United States, and with many other dedicated Americans sharing the solemn stewardship, I am ready and eager to serve.
Note: The President spoke at 2:16 p.m. in the Center Courtyard of the Pentagon. In his remarks, the Secretary referred to Deputy Secretary of Defense-designate Donald Atwood.
George Bush, Remarks at the Swearing-in Ceremony for Richard B. Cheney as Secretary of Defense Online by Gerhard Peters and John T. Woolley, The American Presidency Project https://www.presidency.ucsb.edu/node/247600