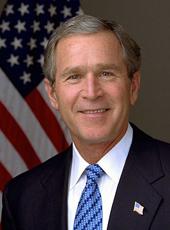 Remarks at the Swearing-In Ceremony for Paul H. O'Neill as Secretary of the Treasury
The President. Well, I'm pleased to welcome Nancy O'Neill and the O'Neill family here. Thank you all for coming. It's an honor for both the Vice President and I to say some words about the Secretary of Treasury. With Paul over at the Treasury, he is literally a next-door neighbor. And I'm going to see a lot of him right here in this office. He'll be a valued adviser and a steady hand.
Secretary O'Neill has served in this office before, at the Office of Management and Budget. He understands the workings and responsibilities of the executive branch. More than that, he understands the private sector, where he and others like him have been driving our country's economic boom.
In a distinguished career, Paul has earned a reputation as a straight shooter and an innovator, and I'm proud to welcome him as the chief financial officer of this Nation.
Paul and I share a great goal: to make sure that all Americans can find high paying, high quality jobs. And we share a vision of how to get there. Our prosperity depends on free trade, less regulation, and America's strong place in our global economy. More than ever, American jobs depend on America's standing in the world. I value Paul's vast experience in the world economy. I value his background in employing American workers, and I value his steadiness, his conviction, and his authority.
We also share a belief that broad, responsible tax cuts are an important step we can take to regain the momentum of our economy. When we reduce the income tax burden, we must do so for everybody who pays taxes. When we have a Government surplus, we must prioritize and spend responsibly and return some of that surplus to the people who worked for it. Because our Government has a surplus does not mean that every American family has a surplus. In fact, many families are feeling squeezed by high energy prices and credit card debt. We need to give them their own money back, to help families manage their own account, to pay down their own personal debts. Our tax cut will give the biggest percentage reductions to people who struggle to get into the middle class and American families who struggle to stay there.
I believe in leaving more dollars with the people who earned them, and so does Secretary O'Neill. And I'm proud that those dollars will soon bear the signature of Secretary Paul O'Neill.
Congratulations, Mr. Secretary.
[At this point, Secretary O'Neill made brief remarks.]
The President. Mr. Secretary, thank you.
Why don't we have a family picture, too, if you'd like one. Come on up.
NOTE: The President spoke at 12:06 p.m. in the Oval Office at the White House. In his remarks, he referred to Nancy O'Neill, wife of Secretary O'Neill. The transcript released by the Office of the Press Secretary also included the remarks of Secretary O'Neill.
George W. Bush, Remarks at the Swearing-In Ceremony for Paul H. O'Neill as Secretary of the Treasury Online by Gerhard Peters and John T. Woolley, The American Presidency Project https://www.presidency.ucsb.edu/node/214326