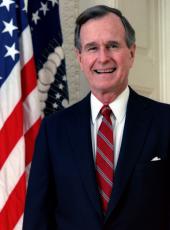 Remarks at the Swearing-In Ceremony for Patricia F. Saiki as Administrator of the Small Business Administration
The President. Good afternoon, Secretary Martin and distinguished friends from the United States Congress. And of course, a special welcome to the members of Pat's family with whom I just met. And it's a pleasure to have you all here for this very special occasion. And it's also a pleasure -- the business at hand -- to welcome a good friend on board as this nation's new Administrator of the Small Business Administration.
Pat Saiki will be bringing her own spirit of aloha to this job. And for those who don't know what I mean, just watch. Watch how she does over there. You talk about enthusiasm and ability, you're going to see it all, all at once.
I'm pleased that she's going to be heading up the SBA because small business is so vitally important. Small business -- the heart of our country's economy. In the 1980's, small business produced two out of every three new jobs. But more importantly, they're the heart of the American dream. The SBA was founded to encourage that spirit and that belief in our ability to make our dreams come true.
Owners of small businesses show the rest of America the way. And they've seized control of their own lives, made their own choices, made their own decisions. And over 20 million men and women across the U.S. today are running their own small businesses -- 20 million pieces of the American dream. Pat Saiki's going to be their advocate, their tough, smart advocate.
I know her, and I know she'll throw her whole energy and dedication into this challenge because Pat will be responsible for more than administration and policy development. She's going to have the chance to help people shape their own futures. She'll do this by expanding SBA's role in providing start-up guidance; by concentrating on business opportunities for minorities, women, and veterans; by focusing on outreach.
Pat will be a dynamic champion of small business. She's got the strong background for it. She's been a board member of a big company -- Hawaiian Airlines, of AMFAC, one of Hawaii's largest companies with extensive small business interconnections. And she received the Congressional Guardian of Small Business Award.
In public service, Pat's proven herself as an effective administrator of can-do optimism. This former teacher and assistant Republican leader in her State legislature became the first Republican elected to the House from Hawaii. And now she'll bring to the SBA stellar House committee experience ranging from banking and finance to consumer interests.
During her two terms in the Congress, I admired her bipartisan approach to getting the job done, watched her build consensus. She's smart, and she's direct, and she moves government forward.
Pat's also a fiscal conservative. As a matter of fact, her efforts against waste in government made her a two-time winner of the Golden Bulldog Award. I like that image. [Laughter] It kind of captures her personality -- but nevertheless, tenacious -- [laughter] -- dedicated. I mean, tenacious, dedicated -- [laughter] -- protective, honest.
But Pat comes from a land that showed the world how men and women of varied backgrounds can tie their destinies together in common cause. And I know she's going to help show all of us how we can work together, can use our exuberant diversity to make this nation the best place it possibly can be.
Aloha, Pat. Welcome and congratulations. And now on with the formal part of the service here. All right.
[At this point, Administrator Saiki was sworn in.]
Administrator Saiki. Thank you very much. Mr. President, Justice O'Connor, Governor Sununu, my congressional colleagues, all of my friends, my family, aloha.
I have been very fortunate to have faced many challenges in my lifetime. But by far this opportunity to serve my President and my nation is the greatest challenge of them all. And I thank you, Mr. President, for the privilege.
The small business community, made up of aspiring entrepreneurs, risk-takers with the same pioneer spirit which made our nation great, deserve encouragement and recognition as we move into the 20th century.
Your encouraging remarks, Mr. President, I know will be appreciated by all those men and women who truly believe that ours is still the nation of opportunity. I shall do my best to deserve your trust and faith and earn the confidence of those I shall serve.
I want to especially thank my dear husband, Stanley; my mother; my father; all of my children -- my entire family -- for sticking by me all these years. And there have been ups, and there have been downs, but I know they will be with me again as we embark on this new and exciting journey.
Mr. President, I thank you very much for making this all possible.
The President. Thank you all very much for coming. And again to the family, our respects; I'm delighted. And I didn't pay my respects to Justice O'Connor -- which is an oversight of enormous proportions -- [laughter] -- but I know Pat and I are both just honored that she would be here for this special occasion. Thank you, Sandra.
All rise, thank you all.
Note: The President spoke at 2:17 p.m. in the Roosevelt Room at the White House. In the ceremony, the following persons were referred to: Secretary of Labor Lynn Martin; Sandra Day O'Connor, Associate Justice of the Supreme Court; and John H. Sununu, Chief of Staff to the President.
George Bush, Remarks at the Swearing-In Ceremony for Patricia F. Saiki as Administrator of the Small Business Administration Online by Gerhard Peters and John T. Woolley, The American Presidency Project https://www.presidency.ucsb.edu/node/265888