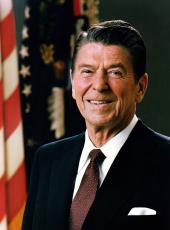 Remarks at the Swearing-in Ceremony for Nicholas F. Brady as Secretary of the Treasury
The President. Well, let me begin by welcoming all of you here today, with a special welcome for Nick, Kitty, and the Brady family. It's a happy occasion for me to be welcoming Nick Brady into the Cabinet as America's 68th Secretary of the Treasury. In fact, I can think of no one more qualified for this post.
In an investment banking career that has spanned three decades, Nick Brady has earned the respect of the financial and economic communities for his integrity and professional accomplishment. As a Member of the United States Senate, he won the respect and friendship of his colleagues. And he received national recognition for his work investigating the events in the financial markets of last October, leading the task force that came to bear his name. Now this, in fact, is the sixth time he has answered my call, and he has distinguished himself each time.
Secretary Brady will be chief economic spokesman for the administration, and I will be relying on him to continue our policies that have proved so successful. Just this week, excellent new trade numbers came out, showing a continued decline in the Nation's trade deficit, giving us the lowest trade deficit since 1984. America currently is in the longest peacetime economic expansion on record, employment is at an all-time high, and the unemployment rate recently hit a 14-year low. In fact, a larger percentage of our potential work force is employed today than ever before: 62.7 percent. And that potential employment pool includes everyone, male or female, 16 years of age and up, whether they're even going to school or even if they're retired. You know, I had to get this job to learn that. [Laughter] Of course, I wouldn't be surprised if Nick already knew it.
Now, last January when I went before the Congress to deliver the State of the Union, I also laid out something of a challenge to the leadership there. Now, here today, with your new Treasury Secretary, I want to renew that challenge. I told the Congress that there should never again be another catchall, omnibus continuing resolution of the kind they sent down last year. And I told them that if they sent another one, I wouldn't sign it. Well, the best way to get a grip on the Federal budget deficit is for Congress to make the budget process work, and that means 13 individual spending bills all reaching my desk by October 1st.
And that must include defense legislation that maintains what Franklin Roosevelt rightly called the "great arsenal of democracy." When it comes to our own security and the cause of freedom, we cannot accept naive, liberal notions that fail to keep faith with the American people and their dedication to peace through strength.
And now, even though the new fiscal year is just 2 weeks away, a number of appropriations bills are still being haggled over in conference committees. And another round of midnight budget legislation is no way to control spending and fight the deficit. So, I hope Congress will watch my lips here: I want 13 separate bills, and if it makes it any easier, Congress can just think of it as a baker's dozen. [Laughter] And unless they pull that baker's dozen out of the oven by October 1st, well, they will have cooked their own goose, because the American people will see those spending bills are behind the budget deficit.
Well, Nick, I'm delighted to turn over the keys to the Treasury Department to you. Don't lose them. Alexander Hamilton gave them to me personally. [Laughter] But I think you are a most worthy successor to Hamilton. You have my congratulations and my thanks. And God bless you.
Secretary Brady. Mr. President, I am honored that you would ask me to be Secretary of the Treasury to follow in Jim Baker's big footsteps. I come from 30 years in the banking business. And although in today's fast-moving world you don't hear the term anymore, I was always taught that the best loan you could make was a character loan, one that looked beyond the hard numbers and took a leap of faith and counted on the character and strength of the individual involved.
This principle applies to countries as well. And as you have shown the world, this principle is doubly true where the United States is involved. Your leadership has produced the longest sustained period of prosperity in most Americans' memories. Not only have the economic statistics turned out to be right, but what is more important is that they have meant better lives for Americans.
The Treasury Department will do its homework, do the pick-and-shovel work to make sure the numbers are right. But we will always be guided by your faith that character is at the root of all human endeavor. Thank you.
Note: The President spoke at 10:56 a.m. in the Roosevelt Room at the White House. In his opening remarks, he referred to Secretary Brady's wife, Katherine.
Ronald Reagan, Remarks at the Swearing-in Ceremony for Nicholas F. Brady as Secretary of the Treasury Online by Gerhard Peters and John T. Woolley, The American Presidency Project https://www.presidency.ucsb.edu/node/252611