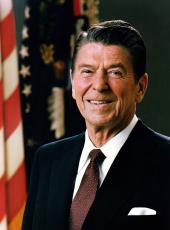 Remarks at the Swearing-In Ceremony for New United States Citizens in White House Station, New Jersey
My fellow Americans—and I am proud to be the first to so address you—welcome to the freest land on Earth.
We are, as you have just pledged, "one Nation under God, indivisible, with liberty and justice for all." Our commitment to self-determination, freedom, and peace is the very soul of America.

Our people include every race, creed, and ethnic background, yet we're bound by shared values and a love of freedom. Somewhere in the history of every American family is a person like you, who became an American not by birth but by choice. The original colonists came here driven by a hunger for freedom and have been followed in every generation by immigrants possessed of the same hunger and the courage that it takes to tear up roots and start again in a new land. We're a nation of dreamers who've come here, as you have, in search of an ideal: respect for the liberty and dignity of man.
When I was still a very young boy growing up in the rural heart of this continent-great-grandson of an Irish immigrant—another President, Woodrow Wilson, welcomed new Americans as I do today. And he told them, "You dreamed dreams of what America was to be, and I hope you brought the dreams with you. No man that does not see visions will ever realize any high hope or undertake any high enterprise. Just because you brought dreams with you, America is more likely to realize dreams such as you brought. You are enriching us if you came expecting us to be better than we are."
Those words are especially true today. You're now a part of a great nation in the midst of renewal. We're eager to add your strength and your spirit and your dreams to our own. In the week that begins today, Citizenship Day, some 10,000 will take the oath that you have just sworn. And the number will have reached nearly 200,000 by the year's end. Together, you will infuse our people with renewed appreciation for liberty and pride in being an American. Give to us all your energy, your drive, and your determination. We'll share with you this precious freedom that we keep in trust for all mankind.
You know, it's long been my belief that America is a chosen land, placed by some Divine Providence here between the two oceans to be sought out and found only by those with a special yearning for freedom. This nation is a refuge for all those people on Earth who long to breathe free.
There are places in the world today, as there have always been, where human rights are recognized only as selective favors to be doled out by the state. As we meet today at a Polish freedom hall, we cannot help but think of the iron hand of repression still firmly gripping a people who have struggled and sacrificed for liberty throughout their history. Remember the proud people of Poland on the day that you take the oath of allegiance to our land of freedom.

In the Soviet Union authorities routinely deny human rights to their citizens. Just last week, the Moscow [Ukrainian] Helsinki Monitoring Group, a human rights organization, was forced to disband because of persecution. But let us remember the continuing struggle for even the most basic rights in the Soviet Union as we celebrate the 195th anniversary of the signing of the American Constitution.
You know, I have to say one thing about that. In the countries that all of us came from, there are constitutions. And I don't claim to know all the constitutions of the world. But I do know that there is one thing that is different in ours from virtually all of the other constitutions. All of the other constitutions are a declaration of the rights that will be allowed to you by government. Our Constitution is a declaration of the rights that we, the people, allow to government, and it can have no power or rights that we, the people, have not freely given to it.
During the last two centuries, some 50 million people from every corner of the globe have flocked to our shores. Some of them crawled over walls, under barbed wire, through minefields, or risked their lives in leaky, makeshift boats to escape oppression. As we go about our daily lives, let us remember the price that so many are willing to pay for freedom.
We who enjoy liberty should understand that, as Thomas Paine wrote, "Those who expect to reap the blessings of freedom must ... undergo the fatigue of supporting it." It's our duty to work together for a strong America—morally strong, economically strong, and strong enough militarily that we might preserve this precious heritage.
The Governor of this State, Thomas Kean, said during his inauguration that for America to prosper, we must "draw upon the diversity of our people and tap the strength inherent in that diversity." I believe with him that the key to our national renewal lies in the character of our diverse citizenry. As you begin lives as Americans, remember that freedom rests, and always will, on the individual—on individual talent, on individual integrity, and individual effort. We need all that you can give us. If only we believe in ourselves and live up to our individual potential, then together there isn't anything that we can't achieve.
On behalf of all your countrymen, I welcome you and urge you to cherish the rights and privileges you now share. And if for a second you were thinking back to the land of your birth, when I said countrymen, I mean your American countrymen. I also call on the rest of America to renew with you today this compact of freedom, this duty and blessing that is our American citizenship.
And now, I think the band is prepared for this—I hope—so that I don't take them by surprise. I think it'd be wonderful if we all sing "God Bless America."
[At this point, the President led the audience in singing "God Bless America."]
Well, thank you all. Just one last line. I have said it before. That same Tom Paine that I quoted, 200 years ago one of our Founding Fathers, said—and it's still true today—"We have it within our power to begin the world over again."

Thank you. God bless you.
Note: The President spoke at 3:38 p.m. at Liberty Hall, the meeting place of the Polish-American Citizens' Club. Prior to the President's remarks, the oath of allegiance was administered to the candidates for citizenship by Judge Clarkson Fisher, Chief Judge of the U.S. District Court for the District of New Jersey. The President then presented each of them with citizenship certificates and led in the recitation of the Pledge of Allegiance.
Following the naturalization ceremony, the President went to the Ryland Inn for a meeting with the Republican State chairmen from 11 northeastern States, the District of Columbia, and the Virgin Islands.
Ronald Reagan, Remarks at the Swearing-In Ceremony for New United States Citizens in White House Station, New Jersey Online by Gerhard Peters and John T. Woolley, The American Presidency Project https://www.presidency.ucsb.edu/node/246807