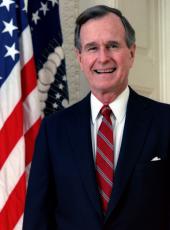 Remarks at the Swearing-in Ceremony for Manuel Lujan, Jr., as Secretary of the Interior
The President. It is a pleasure to be here today. Mr. Justice Scalia and distinguished Members of the United States Senate and House of Representatives, and all the distinguished guests here, thank you. I'm proud to be over here for the swearing-in of my friend Manuel Lujan as the 46th Secretary of the Interior. I've known Manuel from the days when we first came to Washington and served in the United States House of Representatives together. He's an extremely capable man, a very fair man -- you'll find that out -- and a man dedicated to his country. And I also have to mention what a great contribution his wife has made over these many years.
Manuel Lujan has long experience with the important issues that face this Department. He served with distinction as the ranking member of the House Committee on Interior and Insular Affairs, and he's demonstrated commitment to public service with some 20 years in the United States Congress. And through his work with his constituents and with those who came before his committee, he's been in very close touch with the people of our country, the people who are affected by the policies of the United States Government. And that quality of receptiveness, being a good listener, is so essential because government must serve the people. And that's what we are all here for.
Manuel knows how much I enjoy going fishing -- got his priorities sorted out here -- [laughter] -- no favoritism. If I'm fishing in a national park, I don't expect special treatment upstream so the 12-pounders come my way. [Laughter] I want to fight for my rights like every other American.
But the Department of the Interior is our nation's principal conservation agency. And I think you know how deeply I care about issues of conservation and the wise management of our public land. Secretary Lujan has my total confidence.
Together we've laid out a 10-point agenda called Stewardship that speaks to the broad responsibilities of your Department. From environmental and resource issues to our commitment to the dignity and well-being of Native Americans in the territories, I know that this Department will continue to demonstrate leadership, sensitivity, and professionalism. I want to recognize the outstanding work done by all of you at the Department of the Interior, and certainly the men and women who are working for this Department all across our country. There's also a great contribution being made by volunteers who participate in the many programs to keep America beautiful and to make it possible for more Americans to use and enjoy the outdoors.
I believe, as you do, in clean air and clean water and the protection of American wildlife. I also want to see our nation's public lands preserved so that this generation and future generations can use and enjoy our natural bounty: the great outdoors. You know, I have to say, it's only in Washington that the agency that handles the great outdoors would be called the Department of the Interior. [Laughter] But whether it's managing wildlife and fisheries or our national parks or administering the lands that constitute a third of our nation, I want to be sure that our grandchildren will be able to enjoy that same natural abundance that we enjoy today.
One of my favorite Presidents was Teddy Roosevelt, and he said that "A grove of giant redwoods or sequoias should be kept just as we keep a great and beautiful cathedral." Well, I think we all agree with that, and I know that Manuel feels the same way. I think he's going to be a superb Secretary of the Interior. I know he's going to be a very valuable member of my Cabinet. So, it is my pleasure to see him now take the oath of office as Secretary of the Interior. Justice Scalia, would you do the honors please, sir?
[At this point, Secretary Lujan was sworn in.]
Secretary Lujan. Mr. President, Justice Scalia, Father Haddad, Members of Congress, Jean, my family and friends and fellow Interior employees, I'm deeply honored and, of course, humbled by the opportunity to serve you, Mr. President, and the American people as the 46th Secretary of Interior.
I wasn't going to say anything, but since you mentioned that you didn't want any special treatment on your fishing trips, you should have told us that before you went down to the Everglades National Park -- [laughter] -- and we made arrangements for you to catch that 13-pound bonefish. [Laughter] We won't do it again, I promise.
Mr. President, I grew up in New Mexico, where love of the land, if not inbred, is one of the earliest lessons of life. One thing that a native of any Western State also learns very early is that the Department of Interior has vast power over much of the land and its resources. Never did I dream back then that I would someday have the opportunities and the responsibilities for stewardship of such treasures.
And as you have stated, Mr. President, how well we carry out our stewardship responsibilities today will determine how well people will live in the future. You have emphasized, Mr. President, our goals for stewardship cannot be accomplished without teamwork between those of us in your administration and the career professionals. In meeting with my new Interior family, I have shared with them the commitment and the goals that you and I share for this Department. Each employee received this brochure which outlines the 10-point Stewardship program you and I agreed upon. As you can see, it's not chiseled in stone, but we are referring to it as the "Ten Commandments." [Laughter]
You should feel quite at home here, Mr. President, as I do, because within this audience are people who have devoted their careers and their lives to the environmental ethic represented in these 10 points. All of us share your love and your reverence for our great natural heritage. Your words have touched our hearts. Your vision of America has inspired our spirits. We will put both our heart and our spirit into the task before us. Thank you for this magnificent opportunity to serve you and this country. Thank you very much, Mr. President.
Note: The President spoke at 10:15 a.m. in the Department of the Interior auditorium. In his opening remarks, the Secretary referred to his wife, Jean; and to Reverend Norman Haddad, who delivered the invocation.
George Bush, Remarks at the Swearing-in Ceremony for Manuel Lujan, Jr., as Secretary of the Interior Online by Gerhard Peters and John T. Woolley, The American Presidency Project https://www.presidency.ucsb.edu/node/247714