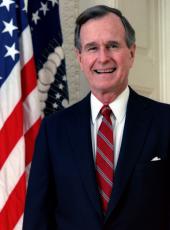 Remarks at the Swearing-in Ceremony for Louis W. Sullivan as Secretary of Health and Human Services
The President. To Members of the United States Congress here, Senate and House; members of the President's Cabinet; to Judge Higginbotham, who'll be doing the honors here in a little bit; and old friend, Senator Ed Brooke, whom I'm so glad to see; distinguished dais guests; and of course, the Sullivan family, just let me say that Barbara and I are very pleased to be over here. I know the Sullivans, but I didn't know that Halstead Sullivan, outstanding student, president of his school, I believe, the University of Virginia, could sing. But you heard him not miss a note -- unbelievable.
But, Lou, before beginning, I do want to make an announcement today. I think it's one that concerns people and everyone in this room. It's about a public health issue that I know this audience particularly can appreciate. Then a few words about our new Secretary. But this one relates to the health and well-being of our environment. I want to announce an important step that we're taking to address an environmental issue of great concern, and that is the transboundary movement of hazardous wastes.
During the past year, there have been many accounts of the risks to human health and the environment, too, posed by certain exports of hazardous waste, particularly to developing countries. And the U.S. has been a world leader in requiring the informed consent of receiving countries before allowing such exports of hazardous waste. And I intend to continue and to extend this leadership role by seeking new legislation that will give the United States Government authority to ban all exports of hazardous waste except where we have an agreement with the receiving country providing for the safe handling and management of those wastes. We're determined to work with other concerned governments to exercise wise stewardship over our environment, particularly where matters of health are concerned.
Now, on to the business at hand. The swearing-in of Dr. Louis Sullivan is a proud day for all involved: for this Department, whose dedicated workers are welcoming as their new leader a man of energy, enthusiasm, and intellect; for Dr. Sullivan's family -- Ginger, Paul, Shanta, and Halstead -- whose share in Lou's success has been beyond measure; and for all of us who know Lou, admire him, and consider him our friend. Dr. Sullivan has enjoyed a distinguished career as physician, scientist, scholar, teacher, administrator. But what sets Lou Sullivan apart is that something extra he brings to his work -- a sense of mission.
As the first president of Morehouse -- in this instance, Morehouse School of Medicine -- Lou made it his goal not only to train a new generation of minority physicians but to instill in them this sense of service, a commitment to minister to communities in our inner cities and in rural America, where health care facilities are stretched thin and doctors are in short supply. In the past 7 years, Barbara and I have taken a special interest in the work being done by Dr. Sullivan at Morehouse. I knew that a man of his vision could contribute to our national well-being in much the same way he contributed to the health and well-being of so many people throughout his career in medicine.
Lou, the assignment that you are about to undertake is among the most diverse and difficult public service has to offer. The Department of HHS is involved in a vast enterprise. You command a $400 billion budget and 114,000 employees. And in all, your responsibilities range from regulating food and drugs and conducting major medical research to providing support and care for the elderly, the disabled, and the disadvantaged. What this Department does affects the life of each and every American, and especially the lives of the least advantaged among us.
I know, Lou, that we spoke about the scope of the administrative challenges that you face here at HHS, but I'm not sure I mentioned to you that your budget ranks fourth in the world -- behind the U.S., the Soviet Union, and Japan. Then comes HHS -- [laughter] -- do not declare your independence. [Laughter]
We look to you and the HHS team to meet a number of major challenges in the years ahead. We ask you to work to get better value for health care dollars, targeting effective services, finding ways to contain the escalating costs of medical care without compromising the quality of health service. Work to sustain programs like AFDC -- Aid to Families with Dependent Children -- and Head Start that help build the foundation for families and children to overcome disadvantages and difficult circumstances, to succeed and grow strong. Advance our understanding of the AIDS virus, and move us towards a cure. And to that end, I've directed HHS to pull together 23 separate AIDS projects now in progress into a more focused effort under the direction of the Public Health Service. I've called on Congress to provide $1.6 billion for the Public Health Service efforts in 1990. That's an increase of 24 percent over 1989. And finally, Lou, I know you'll take a position right on the front line, joining, I'd say, everybody in our Cabinet and certainly all here in the war on drugs. Too many lives have been imperiled or lost to drugs, too much human potential is being ground up and wasted. I've said it before, but this scourge must stop.
And I'll need you to train scientists, to conduct the right kind of research. I'll look to you to assess the data on drugs and tell us where and how to respond. And I'm counting on you to see that State organizations and hospitals, volunteer groups get the kind of technical assistance they need to help us win this battle. I'm asking you to work with me, with Bill Bennett, to find solid strategies for the prevention of drug abuse and effective treatment for those already caught in the trap.
And so, Mr. Secretary, I hope these and the many challenges that I have not named will be enough to keep you busy. Rest assured you'll have help. The staff over here is among the most talented and dedicated in the Federal service. And they understand the importance of the work that they do and the differences that HHS makes in the lives of the many millions of Americans served by this Department.
HHS is the Department that, more than any other at the Federal level, gives shape and form to the promise that America makes its people, the promise I've made to you: to fashion for ourselves, yes, a kinder and gentler nation and to take care of those in need, especially our children and the elderly, to steady those who seek only an opportunity to better themselves and their families.
So, it is noble work that you all are engaged in. And, Mr. Secretary, as you make this responsibility your own, you have our sincere best wishes, my complete confidence, and my full support.
And now on to the brief, but important, formal ceremony of swearing in Lou Sullivan as the next Secretary.
[At this point, Secretary Sullivan was sworn in.]
Secretary Sullivan. Mr. President, Mrs. Bush, friends and colleagues, let me thank all of you for being here. As you might imagine, this is a special moment for the Sullivan family. Mr. President, thank you for your friendship, your trust, and your confidence. Mrs. Bush, as a friend, for your work as a trustee of the Morehouse School of Medicine, for your efforts to advance literacy, for your help to those in need, thank you for reminding all of us of the importance of love, compassion, and care for our fellow man. I'm also grateful to Senators Dole, Simpson, Mitchell, Bentsen, Packwood, Kennedy, and Hatch, Thurmond, and many others for their assistance in the Congress. Congressman Newt Gingrich and the entire Georgia delegation, I'm grateful for your support.
God has been good to Lou Sullivan for the past 55 years. And things have been particularly bright since I had the good sense to marry Ginger some 34 years ago. I've been blessed with a fine family. And for 21 years, I learned, practiced, and taught medicine and conducted research in some of the Nation's finest medical institutions. Then in July of 1975 I accepted the opportunity of a lifetime: to develop a medical school that would concentrate its energies on the education of those minorities who had been overlooked. It was a chance to see that young blacks, Hispanics, Native Americans, who might otherwise not have an opportunity, were given the same opportunities that I had received as a young man.
There's a special place for the Morehouse School of Medicine in the hearts of Lou and Ginger Sullivan. There's a special place in the hearts of the Sullivans for the people who worked so hard and unselfishly to make that school a reality, many of whom are here today and we count among our friends. When I was installed on July 1, 1981, as the first president of the medical school upon its gaining independence from Morehouse College, it never entered my mind that I would ever consider doing anything else. But one day a friend called. So, here I am, Mr. President. [Laughter]
There is no title, no award, no recognition which can compare to the trust of a friend. The honor of that call, Mr. President, will never be forgotten. You have given me the opportunity to serve -- to serve you and our nation. You've given a challenge to me and to this Department, and I want you to know we will meet that challenge.
We will work to assure the ongoing solvency of programs like Social Security and Medicare. We will work hard to find ways to contain escalating medical costs without sacrificing our goal of quality health care for all. We will continue to look for ways to better serve our nation's poor and help them work their way out of poverty. Those programs like Aid to Families with Dependent Children and Head Start, which have been so beneficial to our disadvantaged citizens, will be sustained.
Mr. President, we are challenged to continue a strong biomedical research effort in our quest for a cure for AIDS, this disease which destroys our youth and saps our nation's vitality. We will continue our assault against cancer, heart disease, diabetes, arthritis, and the many other disorders afflicting our citizens.
The issue of drugs in our society is a problem that affects us all. It eats at the fiber of our families and at our very social structure. President Bush, today this Department joins with me in a commitment to work with you and with our drug adviser in doing all that we can to halt this terrible epidemic.
With your challenge, Mr. President, you've given us the opportunity to shape the future -- to shape the future through the development of health promotion and preventive medicine strategies, to shape the future through the implementation of last year's welfare reform legislation. We will seek ways to strengthen family life in our country and to restore our sense of community, our shared sense of responsibility and commitment to each other.
We have been given the opportunity to stress the value of every life through the promotion of adoption and by focusing our efforts on the poor, the disadvantaged, and the neglected in our society. We have the opportunity to see that rural and inner-city health needs are not forgotten, that the poor of our nation are cared for properly and with dignity. The health of our minority citizens -- black, Hispanic, Native American -- and those others who have yet to fully realize the American dream is the concern of us all.
Mr. President, you've called for a kinder and gentler nation, a goal which I support with enthusiasm. As you have noted, there's no other department or agency of our government where that call can be more directly implemented than here in Health and Human Services. Health and Human Services is the hub of a vast wheel whose spokes radiate out to touch all Americans, from the onset of life through health and sickness, from the foods we eat to the medicines we take. Our children, our parents, our youth, our seniors -- all are affected by the activities of this vast agency.
During my tenure, the offices of the Department will have a human face. The regulations promulgated will carry a gentle touch. Health and Human Services employees will be bound by the hallmark of service and take their pride in the health and assistance offered their fellow Americans.
Mr. President, you have delivered today a challenge; you have granted an opportunity. I'm grateful to you, sir. I accept your challenge. I cherish the opportunity. I will keep your trust. Thank you, Mr. President.
Note: The President spoke at 10:18 a.m. in the Great Hall at the Department of Health and Human Services. Halstead Sullivan sang the national anthem at the ceremony.
George Bush, Remarks at the Swearing-in Ceremony for Louis W. Sullivan as Secretary of Health and Human Services Online by Gerhard Peters and John T. Woolley, The American Presidency Project https://www.presidency.ucsb.edu/node/248404