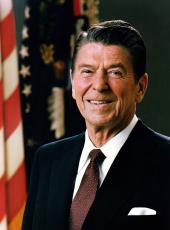 Remarks at the Swearing-in Ceremony for Katherine D. Ortega as Treasurer of the United States
The President. Today we're here to welcome Katherine Ortega as our new United States Treasurer. Also with us today are three former Treasurers—Bay Buchanan, Francis Neff, and Ramona Banuelos.
As is the case so often when appointments are made to prominent positions, we're not welcoming a new person on board. Instead, we're congratulating someone already on the team for moving up. Katherine Ortega's been a Commissioner on the Copyright Royalty Tribunal and a member of our Advisory Committee on Small and Minority Business Ownership. She's been one of those invaluable individuals who has shaped the character of our administration—always taking her task seriously, getting her job done, and rarely winning public attention. She's a true professional, a hard worker, and a good American.
And, Katherine, I know your family must be very proud of you today; I certainly am. You've proved to all of us that the American dream is alive and well.
Katherine is the youngest of nine children and comes from a family whose heritage is the stuff of which novels are made. She comes from sturdy pioneer stock, brave people who tackled the wilderness, when it was a wilderness, of New Mexico. And she's demonstrated that same pioneer spirit in her own endeavors.
After a successful career as a certified public accountant, she became the first woman bank president in California history. She brings to her new job experience and credentials.
I was also pleased that when we announced her appointment, she indicated her longtime commitment to Republican principles. In fact, she said she was born a Republican. That's better than me; I'm only a convert. [Laughter]
Well, it's important that key positions within an administration be filled by people who reflect the goals and ideals for which the people voted. And this is certainly the case today. As Treasurer of the United States, Katherine will oversee a budget of $340 million and supervise over 5,000 employees. I have faith in her, and I'm pleased and honored that she's a part of the team.
Being Treasurer gives one a certain immortality, because it's the Treasurer's name which appears on all new paper currency. I can't think of a better name to have on our money than Katherine Ortega. So, let's get on to the main event, and then I understand we'll get a chance to see her put her signature to good use.
[At this point, Ms. Ortega was sworn in by Secretary of the Treasury Donald T. Regan.]
Ms. Ortega. Mr. President, Mr. Secretary, distinguished guests:
The number of messages I have received since my nomination for Treasurer of the United States from people across the country from all walks of life have been an inspiration to me.
Among the letters I received was one from an 87-year-old Cuban man with the surname of Ortega. And I would like to share with you a poem he wrote for me and which I have translated. "Congratulations, Mrs. Ortega. And thanks to Mr. President for appointing you to such an important position. You now have in your life a marvelous road, an excellent opportunity and future. God has extended you his hand with a prestigious position as Treasurer of the United States."
President Reagan, by appointing me as Treasurer of this wonderful country of ours, you have provided an inspiration to women and to members of the Hispanic community. Many will take encouragement that, yes, it is possible to work and to attain the many opportunities available in our country.
And so it is with a deep sense of honor and pride that I shall serve as our country's 38th Treasurer. And following the Hispanic tradition, I have chosen to have my name appear on our currency as Katherine Davalos Ortega. For in doing so, I will be honoring my father as well as my mother. Thank you.
Secretary Regan. As the three former Treasurers of the United States who are here will recognize, what Katherine Davalos Ortega is doing is putting specimens of her signature that will later be translated to those on the actual bills. What she will do over the next year is to see that name on about 51/2 billion separate notes with a value of about $60 billion.
[At this point, Ms. Ortega completed the signatures. ]
There we go. Now I think Treasury can translate that to the bills.
Note: The President spoke at 11:02 a.m. in the Rose Garden at the White House.
Ronald Reagan, Remarks at the Swearing-in Ceremony for Katherine D. Ortega as Treasurer of the United States Online by Gerhard Peters and John T. Woolley, The American Presidency Project https://www.presidency.ucsb.edu/node/261403