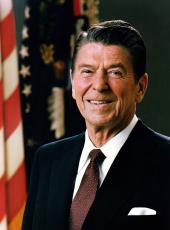 Remarks at the Swearing-In Ceremony for James H. Burnley IV as Secretary of Transportation
The President. Well, let me begin by welcoming all of you here today, with a special greeting of course to the members of the Burnley family. This is a proud moment for our administration, but I know that nothing can quite match the pride that each of you must feel.
I've called James Burnley a Washington success story, and he truly is. Jim came to Washington in 1981, first serving as Director of VISTA. The following year Jim went to the Department of Justice as an Associate Deputy Attorney General. In 1983 he joined the Department of Transportation, first as General Counsel, then as Deputy Secretary, a position in which Jim served in effect as chief operating officer of this Department that employs 100,000 and has an annual budget of more than $25 billion. Today we've heard Jim take his oath as a member of my Cabinet and Secretary of Transportation.
One of Jim's highest recommendations came from former Secretary of Transportation Elizabeth Dole, although after having distinguished himself as Deputy Secretary, Jim didn't need much recommending. Mrs. Dole described Jim as "an outstanding public servant, a very able lawyer." And Secretary Dole's predecessor, my first Secretary of Transportation, Drew Lewis, has praised Jim as, "a strong deregulator with a commitment to rebuild America's infrastructure while recognizing the importance of safety in all modes of transportation."
Well, I'm proud to have nominated Jim to become this country's ninth Secretary of Transportation. Jim is well-prepared and highly qualified to lead this Department, which has just celebrated its 20th anniversary. And I know that he'll do a great job in working to ensure us of a safe and efficient transportation system.
Jim shares my vision for a transportation policy that will remove government barriers to the private sector so it can provide the transportation service that America needs. Much has been done to continue deregulation of these industries, particularly in the airline, railroad, and trucking industries. But there's even more to be done in the next 14 months to return control to the private sector.
Jim, throughout your life you've demonstrated a dedication to the life of the Nation and to the ideals for which America stands. And now that you've taken your oath of office, I would only observe: This is a duty for which you're fully prepared and an honor that you fully deserve. Congratulations!
Secretary Burnley. Thank you very much, Mr. President, for your faith in me as I begin the challenge of being your Secretary of Transportation. And also let me say thank you to all of you for being here.
America's economy and its ability to compete in world markets depend on a dynamic and growing transportation industry. And I recognize the tremendous responsibility that I'm assuming to continue your administration's efforts to be sure that government is not impeding such growth while, at the same time, continuing to provide the traveling public with the highest level of safety. And I have the great advantage of being able to build upon the very solid foundation laid by Drew Lewis and Elizabeth Dole, clearly the two most successful Secretaries of Transportation in the Department's 20-year history.
And I am privileged to have an extremely talented and capable team of individuals working with me: the 100,000 men and women that you made reference to who are the Department of Transportation. With millions of Americans on our roads, trains, airways, and waterways every day, their safety is a responsibility that I and the people of the Department take very personally and seriously.
Since I am no stranger to the Department, I'm ready to begin immediately to lead them in making the last year of your administration one of continuing substantial progress in assuring the American people the safest, most efficient transportation system in the world. So, it's with deep, personal gratitude to you, Mr. President, that I assume this office, and I look forward to working with you and the Congress and the Cabinet in the year ahead.

Thank you.
Note: The President spoke at 11.'50 a.m. in the Roosevelt Room at the White House.
Ronald Reagan, Remarks at the Swearing-In Ceremony for James H. Burnley IV as Secretary of Transportation Online by Gerhard Peters and John T. Woolley, The American Presidency Project https://www.presidency.ucsb.edu/node/252040