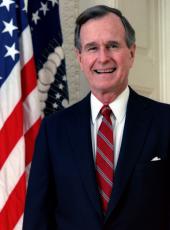 Remarks at the Swearing-in Ceremony for James D. Watkins as Secretary of Energy
The President. Thank you very, very much. Of course, my thanks to the marines. I didn't get your name, but you're sure good on the "Star-Spangled Banner." [Laughter] And thank you for that wonderful rendition.
Chief Justice, and to the distinguished Members of the House and the Senate that are here today, to the members of my Cabinet who are here, and I think most of all today to the Watkins family, and to you who will be working with one of the outstanding Americans, the new Secretary, Jim Watkins, my greetings to all of you.
It is a pleasure to come over here for this swearing-in. And as I see it, the responsibilities before this Department have never been greater than today, and I have total confidence that Jim Watkins is the best man to meet the challenges ahead. For over four decades, he's demonstrated an unswerving commitment to our country and to the call of service. A graduate of Annapolis, he went on in his distinguished naval career to serve in such key posts as Commander of the Sixth Fleet, Commander in Chief of the Pacific Fleet, Vice Chief, and then later as Chief of Naval Operations. And most recently, the Admiral took on a difficult and important assignment as Chairman of the Nation's AIDS commission, performing brilliantly in that capacity, taking a piece of work that some were saying couldn't possibly succeed; but succeed he did. And throughout his long career, Jim has shown a mastery of complex organizations and issues, and he's demonstrated an outstanding concern for the people who have served under him. And you here at this Department are about to find that out.
To the 16,000 men and women of the Department, from Juneau to Georgia, and your 130,000 contract workers, I want to tell you how much I admire you. And I told Jim, who has already told me about his respect for you, that one of the reasons I wanted to come over here was to make that very clear to the men and women of this Department. I admire your professionalism, your loyalty, your tremendous technical expertise. And there's been talk in the past that perhaps this Department was not necessary, was redundant, or its responsibilities could be taken over by others. Let me say, you have important work to do; you're on the cutting edge now; and this Department is here to stay and will have the full support of this President.
You have broad responsibilities. The most pressing challenge that you face -- I guess you might feel they're all pressing, and I think maybe I do, too -- but the most pressing challenge is to manage the modernization of America's nuclear weapons production plants. This task is critical to maintaining in every way, perfecting our deterrent force which ensures our security and, thus, a safe and stable world. But we also have a major environmental challenge: We need to clean up the pollution that's been created at these plants. These problems developed over time, and they'll be fully solved only over time, but we'll waste no time in getting started on fixing these problems.
Admiral Watkins is well-qualified to take on these complex issues. He's an extremely capable manager, highly respected in this city and around the country, knowledgeable about nuclear energy, with considerable experience in the Navy's nuclear-powered submarine program, from bringing a new reactor plant on line to commanding a nuclear-powered submarine to managing nuclear programs right here in Washington, DC.
Jim and I have also spoken about our commitment to protecting the environment while assuring that our energy requirements and national security requirements are fully met. We need nuclear power, hydropower, oil, gas, coal to meet the total energy requirements of the United States. And we need to improve energy efficiency as well as develop competitive renewable technologies. No one or two sources would be sufficient alone, nor would they provide us with the flexibility that is necessary. For reasons of national security, we need to have domestic production in each area. And we will institute policies to promote that by restoring incentives and also through deregulation.
I want to see a recovery in the domestic oil and gas production. Our great economic expansion will not be complete until every area of our country is reaping its benefits. And I also want to see continued development of this clean-coal technology; a generation of safe nuclear energy; and also R&D, research and development, of alternative fuels and new technologies. And again, let me emphasize conservation methods as well. Energy is the most important basic ingredient in everything we produce, everything we consume, everything we import or export. For America's economy to be competitive, we need sound energy policies and competitive energy industries. And for our national security to be guaranteed, we need the strongest possible national energy policy.
The Energy Department has big challenges ahead. Issues of national security and competitiveness, environmental quality -- they're all on the agenda. And so, I selected a big man to do a big job. So, Jim, we'd better get going -- better swear you in and let you get to work. [Laughter] And thank all of you for the support I know you will give the newest Secretary of Energy.
Now on to the formalities here.
[At this point, Secretary Watkins was sworn in.]
Secretary Watkins. Mr. President; Mr. Chief Justice; Members of the Congress; my colleagues in the Cabinet; distinguished guests; my wife, Sheila; and family and friends. It's a great honor for me to appear before you today as your new Secretary of Energy. It's also a great personal honor to have been asked to serve in this capacity by a President who, by witness in the remarks we have just heard, has such an in-depth personal knowledge of this nation's energy needs and resources.
Mr. President, in your "Building A Better America," which was your budget message to the Congress only a few days ago, you affirmed the importance of energy security, safety, and environmental protection as coequal national priority. As your Secretary of Energy, I pledge to support and promote those policies. And Mr. President, we are particularly edified today by your commitment to the Department of Energy as the viable Federal entity to do the energy job for the long haul.
Now, to all of you in the Department of Energy, I recently transmitted a memorandum to all hands outlining key policy areas that we will pursue in the very near term, giving you therein my philosophy of the importance of personal excellence and contribution to the Nation.
My Senate confirmation hearing statement and related followup questions and answers to the Congress have also been made available to you. These documents, along with my forthcoming 90-day message, will set policy direction for the Department, ones that I intend to take as Secretary. I want each of you to know what I'm doing so that you, in turn, can be important participants in the solution-finding process. There will be demands on you. But I, in turn, also will take personal interest in the well-being of our employees. For example, one of the first things that I will do here in headquarters is accelerate the opening of our child day-care center to help working parents. And Sheila has asked to join our parents committee as an added guiding force behind that project.
In addition, my long history of interest in education for America's youth will be put to work to bring our many and diverse activities across the Nation into a more visible and effective partnership with the private sector in order to inspire the very young to seek careers in mathematics, in science and engineering, so important to the Department of Energy and so many other facets of our society today, and giving particular emphasis in this regard to inspiring minorities to come into these fields. We simply have too few of them serving in these areas today, and we can do a lot more and inspire the Nation.
By so doing, we will do our part in helping to assure the President and the Nation that we can have a topnotch technical work force well into the 21st century. And as you can glean from my own biography and the program today, my training and experience began in the early days of the peaceful use of nuclear energy, where I learned the important principles of safe and reliable application of nuclear technology. But I also learned the importance of the human component, that is, individual responsibility for strict application of standards. Nuclear power demands no less than the best from all who control it.
This, then, is exactly what I ask of my Department: a commitment to excellence. So, I ask you to help me forge a workplace culture that rejects the mediocre and the substandard and create one that excites excellence in each employee. Our mission is an important one, but we'll only find success when each of us feels a personal ownership in mission control.
Among our special guests today, Mr. President, are people from all parts of this Department, from mailroom workers to our adopted Woodrow Wilson High School principal and students to security guards and secretaries, all of whom strive to excel in their daily work. Some of their contributions in the past may have gone unnoticed, but I can assure you that on my watch they will not.
The Department of Energy is one Department clearly involved in America's future, as the President so beautifully stated. We've been given a great and important job to do, and we are at a unique time in history to do it. And with your guidance, Mr. President, in full partnership with the Congress and industry, we will succeed.
In closing these brief remarks today, I first want to thank all of those responsible for preparing our cafeteria so beautifully for this very special ceremony. Second, I'd like to thank each one of you for coming today and taking the time to spend a few moments with us. And finally, I would like you to all rise and join me in paying tribute to our President, thanking him as he departs today for sharing a few of his precious moments with us on this very special occasion. [Applause]
Note: The President spoke at 10:13 a.m. in the cafeteria at the Department of Energy. In his opening remarks, he referred to the Marine Corps Band. Cynthia Gains, an employee of the Department, sang the national anthem at the ceremony.
George Bush, Remarks at the Swearing-in Ceremony for James D. Watkins as Secretary of Energy Online by Gerhard Peters and John T. Woolley, The American Presidency Project https://www.presidency.ucsb.edu/node/248300