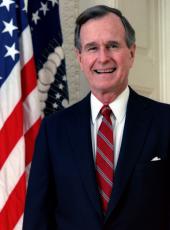 Remarks at the Swearing-in Ceremony for Jack F. Kemp as Secretary of Housing and Urban Development
The President. I'd say be seated, but I don't want to win the Smart Aleck of the Year Award. [Laughter] Thank you very much. I open with a question: Jack, now that you're going to be in charge of Federal housing, does that make you my landlord? [Laughter]
It's a pleasure, it's a real pleasure for me to be here for the swearing-in of Jack Kemp as Secretary of Housing and Urban Development. I've known Jack a long time -- Joanne, too. And I've seen him in action, and I think he's going to be a great HUD Secretary. For Joanne, she's an important part of everything he does. And I think of the Thousand Points of Light that I'll keep talking about. No one is more engaged in helping others than Joanne Kemp -- doing a great job out there. They'll be a wonderful team.
You know, Jack served nine terms in the House. He was an all-pro Congressman -- [laughter] -- voted by his colleagues three terms as chairman of the House Republican Conference. And Jack's record is an impressive one: more completed passes than any other Member of Congress. [Laughter] I count the tax rate reductions of '81 and '86 as being touchdown passes, a couple of his ideas that got across the goal line, incidentally. And the tax cuts did more than put points on the board: They helped produce the longest peacetime expansion ever recorded.
Both Jack and I are dedicated to making America, to the fullest extent possible, an opportunity society. And that means an economy that's thriving and creating jobs; cities that are filled with enterprise and offer residents a good life and a good living; neighborhoods that are vibrant and safe, with affordable houses going up, old ones being restored. It means giving people -- working people, poor people, all our citizens -- control over their own lives. And it means a commitment to civil rights and economic opportunity for every American. The chance for a greater America lies before us, and we're going to seize that chance.
To all the fine people here at HUD, I want to say that I greatly respect you and the work that you do. You face tough problems every day, and you do it with a tremendous sense of commitment. I think you're a great team, and I think in Jack Kemp you'll have a great quarterback. I also want to pay my respects to Sam Pierce, his predecessor, a faithful, loyal member of the President's Cabinet, who did an outstanding job here. And, Jack, I know you can fill those big shoes.
Jack's a man of ideas, and I've made clear that I want him to apply his creativity and energy to the area of housing and urban policy, which are among the most important and challenging issues in America today. These problems require a compassionate strategy, and that's the reason that I thought of Jack immediately and asked him to take this job. While still in Congress, he developed some innovative ideas, many of which won support from Members on both sides of the aisle.
Our plan is to use enterprise zones to bring jobs, investment, and opportunity to depressed areas. And I believe that, given a chance, economic freedom can bring a revival to the inner city; and it can create jobs and housing and dignity for every citizen. I want to use urban homesteading to enable public housing residents to gain a stake in their own communities and in their own futures. And I want to work toward giving tenants in Federal housing the right to manage and buy their own homes and apartments. Where whole neighborhoods have been blighted and boarded up, sometimes by misguided policies -- I want to change those policies and empower residents to rebuild their neighborhoods, with the public and private sectors working together. And I think you know how strongly I feel, but let me say it again: I am committed to equal housing opportunity for all our citizens and to the strong enforcement of the laws against discrimination.
And I want to see us finally end the tragedy of homelessness. I do favor full funding for this McKinney Act. We've got to care for those who for various reasons are unable to care for themselves, and we must identify and remove the obstacles that prevent people from being able to acquire housing.
So, these are our goals. And for these ideas I have clicked off here today -- Jack Kemp has been out front for those very principles for a long, long time. A lot of the most innovative thinking on the inner city has come from him. Throughout his political career, he reached out to work with talented people of every race and background, and he's made his commitment to inclusion something visible, something important in everything he has done. And I want him to continue working to open the doors wider, with more opportunity for everyone.
And so, before we go to work, there's one important thing to do, and that is the official swearing-in of the new Secretary of Housing and Urban Development, Jack Kemp.
Thank you all very much.
[At this point, Secretary Kemp was sworn in.]
Secretary Kemp. Thank you for that standing ovation. [Laughter] Thank you, Mr. President, not only for being here today but for the inspiring mission and exciting goals you've laid out for the Department of Housing and Urban Development. I particularly like the part, Mr. President, about a kinder, gentler quarterback in Jack Kemp. That's going to -- [laughter].
Thank you, Justice O'Connor. What an honor it is to have Sandra Day O'Connor here to do me the high honor of swearing me in as the new Secretary of HUD. Special thanks to my good friend, the Reverend Keith Butler, of Detroit, who's come down to deliver his moving invocation. To my friend, the NFL [National Football League] Hall of Famer, former Oakland Raider, enemy -- [laughter] -- and dear friend now, leader of the NFL Players Union -- I was the former president of the American Football League Players Union, and he is the executive director of the NFLPA [National Football League Players Association], Gene Upshaw -- very honored for him to be here, leading us in the Pledge of Allegiance.
I want to take a moment to introduce each and every one of you to my precious family and my inspiration. First, my wife, Joanne. [Applause] Our daughter -- you don't need to applaud for every one of them, but I have a -- [laughter]. Our daughter, Judith, who worked in the Reagan-Bush White House -- stand up, Judith. Our daughter, Jennifer, who's a public school teacher. Her fiance, Scott Andrews. They're getting married in May, which we're all excited about. Our son, Jimmy, who just recently signed a football -- notice I said a football -- scholarship to Wake Forest, and we're very proud of Jimmy. [Laughter] Our oldest son, Jeffrey, and his wife, Stacy, could not be here today. They're in Seattle, and he's preparing for his ninth season as an NFL quarterback. Joanne Kemp is the only wife and mother of an NFL quarterback in history, so -- [laughter].
President Bush, as I said, it's a particular honor to have you with us today and to have other members of your team. I'm very pleased that Secretary of Treasury [designate] Brady is here, Secretary of Transportation Skinner, Secretary of Labor Elizabeth Dole, Secretary of Health and Human Services [designate] Lou Sullivan. I'm honored that Chairman [of the House Committee on Banking, Finance and Urban Affairs] Gonzalez is with us today to give evidence of bipartisan support for HUD. I want to thank each and every one of them for coming -- family and friends from all over the country.
President Bush spoke eloquently about HUD's special mission. We operate in a market that contains the most visible symbol of the American dream: home ownership. Our mission, I believe, is to inject oxygen and seed corn and new life and new hope into those distressed inner cities. Mr. President, you talked about free enterprise zones, which include dramatic, some would say radical, tax incentives for entrepreneurship and the creation of new jobs in those areas. You talked about the need to empower the poor with home ownership and equity through initiatives like tenant management and urban homesteading, an idea which Kimi Gray [president of the Kenilworth/Parkside Resident Management Corp.] has helped make work in the District of Columbia and I believe can be a model for other cities, and most importantly, for other people.
You talked, Mr. President, of helping recapture the American dream for first-time homebuyers, young families just starting out. And you asked us at HUD to lead an all-out public and private effort to help end the appalling tragedy of homelessness, which really is a reflection of the tragedy of hopelessness for which housing is just only part of the solution. And we at HUD will carry more than our share of the load in helping end this tragedy.
This is a compassionate society, and we'll be compassionate at HUD. In a Judeo-Christian society, the ultimate compassion, however, is not measured by how many people are on welfare or government assistance. As the philosopher Maimonides said in the 12th century, "the noblest charity is to prevent people from having to take charity in the first place."
We here at HUD know that there are other challenges facing us: the need to build better public and private partnerships to promote economic development and entrepreneurship; the need to ensure that we expand the number of eligible families receiving housing assistance and housing opportunities; the need to change the red lines around distressed areas of our cities into green lines, where there can be success and jobs and entrepreneurial opportunity.
We want to work with local officials to reduce the barriers to growth and that opportunity not only in the days and months ahead but in the years ahead. And of course, Mr. President, you have challenged us here at HUD with the obligation -- indeed, I consider it an opportunity -- to fully, effectively, and vigorously implement the civil rights laws with regard to the new Fair Housing Act; and I pledge my best efforts in that regard.
I want to, for just a moment, speak about a more personal challenge facing you and me -- each and every one of us as public servants and keepers of the public trust. You said, Mr. President, when you recognized the fine people and dedicated public servants who work here at HUD and the rest of the Federal Government, that government service is a noble calling and a public trust. Indeed, it is. You said that you learned from your parents, your mother and your father, that there is no higher honor than to serve free men and free women, that there is no greater privilege than to labor in government beneath the Great Seal of the United States and the American flag. Well, I agree. Not only do I agree but I applaud your recognition, Mr. President, of the dedicated public servants in the Federal Government of the United States of America.
With that in mind, let me set out two touchstones for our work here at HUD. First, we need to adhere to the very highest standards of integrity, ethics, and the law. President Bush, you've made this standard the watchword of your administration. And I want to help you and help you at HUD make this an agency in which it is enthusiastically and vigorously upheld. Second, to my colleagues at the Housing and Urban Development agency, we all must keep our minds, our work, and our hearts focused on those we are meant to serve: not just the homebuilder but the homebuyer, not only public housing authorities but the public housing resident, not just mayors and city managers but the poor and those who live temporarily on the streets or in shelters.
We need to keep them foremost in our minds and our hearts because our job is to give them what Dr. King called a stake in the American dream: a helping hand, the equality of opportunity to build a better future for themselves and their children. No one has to lose in this equation. America is not a zero-sum game of static conditions on this Earth in which one gains at another's expense, or someone's job must come at another's loss, or someone must profit while others must lose. I don't see America that way. I don't believe in the perpetuity of poverty.
So, I'm excited about the challenge ahead. I'm thrilled and honored to have the opportunity to help implement George Bush's agenda for the nineties here at HUD, an agenda of compassion and opportunity, of hope and the promise of a better and brighter future for America in housing, economic development, in home ownership, and in jobs.
Today is special -- special for me -- and special not only because President Bush is here at HUD but also because it's the day after the 180th anniversary of the birthday of Abraham Lincoln. So, I want to close with one of my favorite quotes from Abraham Lincoln. One day in New England, Mr. Lincoln addressed some shoemakers who happened to be on strike. He told them he didn't believe in laws that prevented men from getting rich. He said it would only do more harm than good. Mr. Lincoln went on to say he did not propose any war on capital, but that he wanted to allow the humblest man an equal opportunity to get rich with everyone else. He went on to say, when one starts poor, as most people do in the race of life, in a free society it is such that that person knows that he can better his condition, that he knows that there's no fixed condition of labor for his whole life.
Well, ladies and gentlemen, that's our mission. That's our mission here at HUD and in America: to give every American man, woman, and child, regardless of their race or creed or their economic or their social condition, the opportunity to be what God meant them to be. And I believe we can make this system work. Indeed, I believe we have the moral and profound obligation to make it work. We can make it work together. We have the tools. And as you said, Mr. President, we know what works. Now we need to put it to work in our cities. We can't leave people behind. Mr. Lincoln said: "America cannot exist half slave, half free." In the 19th century, today, the next century, we can't have this country half or three-quarters prosperous and some folks left behind. The Good Shepherd would not have it be that way.
So, HUD is open for business. Let's get moving. God bless you here at HUD, and God bless America. Thank you very, very much.
[At this point, the band began playing.]
Now, one second, one second. Ladies and gentlemen, band leader, thank you. [Laughter] Well, that was gentle and kind and -- [laughter]. It would not be a Kemp event -- not that this is -- [laughter] -- but it wouldn't be Kemp at an event if we didn't do something a little bit different and special. And having Gene Upshaw here is symbolic of my many years in pro football and my friendship with him. And I asked a special guest to come here. I know you're excited about seeing Gene. But I asked a young man who is probably one of the great heroes of this town to bring a football on your behalf to the President from the Washington Redskins. Join with me in greeting Joe Gibbs, the coach of the Washington Redskins. [Applause]
Note: The President spoke at 4:18 p.m. in the cafeteria at the Department of Housing and Urban Development.
George Bush, Remarks at the Swearing-in Ceremony for Jack F. Kemp as Secretary of Housing and Urban Development Online by Gerhard Peters and John T. Woolley, The American Presidency Project https://www.presidency.ucsb.edu/node/247782