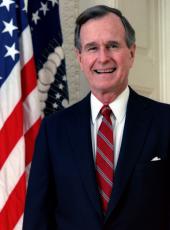 Remarks at the Swearing-In Ceremony for Henry Catto as Director of the United States Information Agency
The President. Thanks for that warm welcome. I'm just delighted to be over here for this occasion, the formal swearing-in, and also to give me the opportunity to thank all of you for what you do for your country. I want to salute, of course, Henry Catto and Jessica; Leonard Marks is out here -- one of the former directors of this very important agency.
I'm delighted to stand at the side of my friend of longstanding, Henry Catto. I'm pleased that so many of his friends and family could be with us here to share in this special day. First, let me also salute Dick Carlson, the Director of the VOA. Dick has piloted the Voice during 5, I think, of its most fascinating years, and done it well. I am just delighted that he has agreed to serve as an ambassador for our country. His service to the public will continue, and I'm very proud that he'll be at my side.
I'm also pleased to announce that his successor, as the new Director, is a man who I know will uphold this extraordinarily proud legacy of the Voice, and I'm talking about, now, Chase Untermeyer. He's now an Assistant to the President, but he was formerly an Assistant Secretary of the Navy, a former journalist. He was an elected official in Texas. And in his coming into this job, clearly he will be following a long line of distinguished Americans. So, he'll need your help, and with it I know he'll do very, very well.
And of course, I really wanted to have this occasion over here because I wanted to recognize the talented professionals of USIA. One of the reasons that I'm here today is to thank all of you for an awful lot, but especially for your dedicated service during Desert Shield and Desert Storm. I know many of you put in an awful lot of hours. For many, it was a round-the-clock effort. The expertise of your people in the field, the fine Gulf war pamphlets that you produced, all the extra hours behind the microphone at VOA and in USIA's TV studios helped us get the word out, helped people in the Middle East and around the world separate fact from fiction about Iraq's aggression and the intentions of Saddam Hussein. We were up against an enormous propaganda machine from various quarters overseas. And I think that you all distinguished yourselves with great honor and great credit to the United States of America. So, thank you from this grateful heart.
To those of us who know the history, the proud legacy of this agency, USIA's key role in the Gulf comes as no surprise. Since the time President Eisenhower created USIA nearly 40 years ago -- then in the midst of the cold war and conflict -- public diplomacy has played an integral role in American foreign policy. USIA is founded on the belief, the certainty, if you will, that ideas matter, especially to this nation, a nation founded on the idea of freedom.
The cold war was itself, in the deepest sense, a war of ideas. In that war, USIA acted as America's advocate, spreading the message of democracy and freedom, doing it in a very convincing way, spreading the message of human rights and human dignity that went behind the Iron Curtain, that passed the jammers' wall of noise and into every corner of closed societies around the world.
And today, at long last, thank God, the cold war has drawn to an end. The Iron Curtain, the Berlin Wall, the monument of lies posing as truth -- all were reduced to ruins by the undeniable power of an idea: that all people everywhere must be free.
Each of you shares in this great triumph of the human spirit. But your work, I'm sure you all know, is far from over. Just as millions drew hope from this American idea, so now the American example speaks to people the world over: in the developing countries seeking to unleash the power of free enterprise, to the nations now engaged in the difficult business of democracy-building, everywhere that men and women still struggle to be free. There's still this example, the American example, that we must get out.
Today more than ever, in our world of instantaneous communication -- when images, ideas, and information cross the globe at the speed of light -- the work you do at USIA advances our national interest. Your broadcasts, your exchanges, the overseas libraries and publications, the programs to teach English -- all tell America's story to the world: who we are, how we live, and perhaps most important, what we believe in.
That is America's message. You here at USIA take America's message to the world. You tell the story that the world still wants to hear.
Let me just close now with the business at hand, a personal note about my dear friend and your new Director. Back on August 2d, the day that the Iraqi tanks first rolled into Kuwait, both Margaret Thatcher and I were scheduled to take part in an Aspen Institute conference out in Colorado -- Aspen, Colorado.
We were also to be Henry's guests at their ranch in Aspen. It turned out to be quite a memorable "working visit," as some of you may remember. I saw firsthand at that critical moment, though, Henry's understanding of a complicated situation, his unerring judgment, his unquestioned expertise, and above all, his unswerving devotion to principle, as he and I discussed, of the Iraqi invasion. Everyone who knows this man will agree that his considerable strength will serve him well in this proud new post as Director of USIA.
So, once again, my sincerest thanks to all of you for your warm welcome, and much more important than that, for what you do. I expect over here you wonder if we over at the White House even know you exist at times. Maybe you're better if you don't know you exist at times. [Laughter] When Henry suggested we could come over here, it gives me an opportunity to thank you in the best way I possibly can for your dedicated service to the greatest country on the face of the Earth.
Now it is with great pleasure that I will witness the swearing-in of Ambassador Henry Catto as Director of USIA. Thank you.
[At this point, Director Catto was sworn in.]
Director Catto. Mr. President, Justice Kennedy, USIA colleagues here in Washington and watching throughout the globe on Worldnet or listening on the Voice of America. Spring, sir, is the season of new beginnings. Two springs ago in May of 1989, I had the experience of presenting my credentials to Queen Elizabeth at Buckingham Palace. Thanks to you, Mr. President, for 2 years I had the honor to represent our country in the United Kingdom.
That experience reinforced a belief of mine. I've learned a little something about diplomacy over the years; and if I have, it's that public diplomacy is an indispensable component of an effective foreign policy.
Scholars call ours the Information Age. The Industrial Age was defined by the steam engine, by the dynamo, by the electronic grid. The current epoch is defined by new technologies -- by computers, by satellites, by silicon chips. In the Information Age, public diplomacy is not only valuable, it is essential to any prolonged success in world affairs.
You mentioned, Mr. President, in your remarks, the events of August 2d. I think it would interest everyone here to know that at one point, half of Prime Minister Thatcher's Cabinet were former USIA international visitors. Your public display of unity and determination at that critical moment were crucial in shaping world opinion about the need for an international response to the Iraqi invasion.
The Gulf conflict was the first international crisis, unmistakably, of the Information Age. And appropriately, the men and women of the U.S. Information Agency did themselves proud. And proud they should be, Mr. President. As the coalition took shape, the USIA's public affairs and public information officers on six continents explained America's goals and diplomatic efforts.
Our Worldnet facilities at American Embassies throughout the globe made it possible for foreign journalists to interview by satellite the men and women shaping American policies in the Gulf and on other issues. Meanwhile, here in Washington, the USIA's foreign press center helped American-based foreign journalists by providing briefings, press releases, and press conference facilities. And all the while, people of the Voice of America did their jobs brilliantly. They got the news; they told it straight. That is their job: to tell it like it is.
Equally important, and also all the while, our exchange programs for scholars and teachers went on, and our AmParts lecturers made tour after tour, and our USIS centers around the globe helped those eager to learn more about America. And if I may say so, nobody could do those things better, either. No one could do them better than USIA.
Once upon a time, a wise man was asked the secret of happiness. He responded: Find a mission in life and take it seriously. Mr. President, the men and women of the United States Information Agency have a mission. They carry and transmit to a world that hungers for America's story -- our news, the best of our culture, information about our policies -- an understanding of our way of life. That is our mission: to be America's information agency in the Information Age. We do, and we will, take that mission seriously.
Mr. President, thank you for the honor you have done me and for the thrill you've given us all by paying us a visit here today. Thank you very much.
Note: The President spoke at 10:14 a.m. in the Voice of America Auditorium. The following persons were referred to: Director Catto's wife, Jessica; Leonard H. Marks, Director of the U.S. Information Agency during the Johnson administration; Richard W. Carlson, Director of the Voice of America; Charles G. Untermeyer, Assistant to the President and Director of Presidential Personnel; President Saddam Hussein of Iraq; former Prime Minister Margaret Thatcher and Queen Elizabeth II of the United Kingdom; and Anthony M. Kennedy, Associate Justice of the Supreme Court.
George Bush, Remarks at the Swearing-In Ceremony for Henry Catto as Director of the United States Information Agency Online by Gerhard Peters and John T. Woolley, The American Presidency Project https://www.presidency.ucsb.edu/node/265769