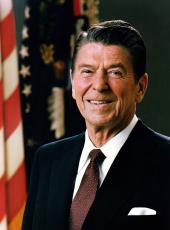 Remarks at the Swearing-in Ceremony for Helene A. von Damm as United States Ambassador to Austria
The President. You know, I had a carefully prepared script which I discarded on the way over. I think this room kind of tells the story. And I decided that maybe the best thing would, if I could, would be to relate a little personal experience that has gone on for a great many years, 16 of them so far. And all of you here are testimony to what I'm going to tell you and what I'm going to say.
There was a young girl in Austria, living in Vienna, during the time of the Soviet occupation of that city and all the tragedy that went with it. And then she made her way to the United States. And I've been very proud for a lot of years that she read something—she had a job in Chicago, and she left the job, made her way to California when I ran for Governor and went to the headquarters in San Francisco, wanted to work in the campaign, but needed a job. And she was hired, and she worked in the campaign.
And then I became Governor. Judge Clark came with us to Sacramento—decided that this young lady, from what he had seen in the headquarters and her work, should be a part of the administration. And there came a moment when there was someone needed in my office, and he said there was only one person he knew in the capital that should be the Governor's secretary. And Helene became my secretary. And I became acquainted with a very quiet, modest young lady who was absolutely, totally dependable—and who did everything the way it was supposed to be, but, who was also the most American human being I have ever met. [Laughter]
She made all of us admire the people of Austria with this as an example for us to see. But she was more American than Patrick Henry. [Laughter] And the few times that I saw her bristle was when some American was criticizing this country or what it has to offer, and she would even stomp her foot in times about them.
And then the years continued and now here. And, then, as you well know, into a very important position in our administration.
And then one day our Ambassador to Austria came home desperately ill and with the knowledge that he possibly would never be able to return there and came to me and told me that the one person, if he couldn't return, who should be the Ambassador to Austria was Helene von Damm.
Now, I greeted this with mixed emotions. I greet this day with mixed emotions. How do you say goodby to someone who has been so important in your life for 16 years? But, on the other hand, the joy of knowing that from the Prime Minister on, they are looking forward to their former citizen returning to be the Ambassador in their country.
And I know that she will be a great diplomat. She has tact. She has, as I say, great dependability. Certainly, there in her own homeland, I have complete confidence she will represent this, her adopted land for so many years, faithfully and as well as it could be represented.
There is one thing, also, that does add to my joy in this assignment, in spite of my sorrow at her going, and that is that she will have a chauffeur to drive her— [laughter] -wherever she goes. The only American thing she didn't master well was traffic. [Laughter] She has a couple of totaled Porsches to testify to that. [Laughter]
But I want to thank you so very much for all that this has meant and for what you're going to do, because we still have a string on you. [Laughter]

Ambassador von Damm. I hope so.
The President. Yes. And, Madam Ambassador, God bless you.
Ambassador von Damm. I hope it's okay for an Ambassador to show emotion because, if not, I think I just flunked my first test. [Laughter]
Mr. President, dear friends, thank you very much for sharing this very special day in my life. It is a little bit overwhelming to think that in less than a quarter of a century, a humble immigrant can progress to become Assistant to the President and now is sworn in as the United States Ambassador to her native country.
I hope Mrs. Reagan will forgive me for stealing a line, but my life, too, began with Ronald Reagan. [Laughter] That's, of course, not literally true, but it is in the sense of my knowing what it means to be an American, what it means to be dedicated to the principles that are the hallmark of our nation—individual freedom, personal dignity, equal opportunity.
In this sense, it all began, as the President said, one day in 1965 when an address he made so moved me that I followed him halfway across the country determined to get on his team. Well, since then, my life has been very rich on goals, satisfaction, personal growth, through 8 years of the Governorship, the disappointment and heartache of '76, the triumph of '80, and, now, of course, the continuing challenge of the Presidency.
During this time I also found my wonderful husband, Byron, whose love and understanding has been an immeasurable source of strength and happiness to me and whose support I know ! will need as I meet my new responsibilities.
In looking back, what I treasure most—I should say cherish most—about the American people is their incredible generosity. With all the initial handicaps of a new immigrant, I never felt anything but total acceptance and support as I tried to make my way as a citizen here in the United States. Whenever there was a bridge to cross, there were outstretched hands helping me across. That was particularly true with the Reagan family—Nancy Reynolds, Lyn Nofziger, Mike Deaver, Ed Meese, and of course Bill Clark, who initially brought me into the Reagan administration. They all not only became my friends but became my mentors as well.
This is true of all of you: my friends, colleagues, associates, and, of course, most of all, the President, who always found it perfectly normal to hear an Austrian voice on the intercom. [Laughter]
Mr. President, I cherish the memories. I feel very privileged to have been a part of this magnificent adventure. Nothing has been quite as inspiring and illuminating than getting to know the President and being at his side. While history books may record him as a strong leader, as a principled President, I feel very fortunate having known him as a human being whom I so much admire and respect.
To say that I am grateful to you, Mr. President, to my adopted country, and that I understand in a very personal way the meaning of the phrase, "only in America," barely begins to express the emotions I feel today. It sometimes is difficult for those who have always experienced freedom to really appreciate how very lucky we are here, and how people around the world who are so much less fortunate and suffering do look to America as a shining beacon for hope and encouragement.
When I was a young girl, experienced war, occupation, uncertainty, I, too, saw that beacon. And now, I'm more aware than ever how important it is that we have men like the President who make sure that America continues to live up to the responsibilities that go along with all our many blessings.
You honor me deeply by this appointment, Mr. President. And I hope you know you can count on me.
Note: The President spoke at 5:07 p.m. in the State Dining Room at the White House. Prior to the President's remarks, Assistant to the President for National Security Affairs William P. Clark administered the oath of office to Ambassador von Damm.
Ronald Reagan, Remarks at the Swearing-in Ceremony for Helene A. von Damm as United States Ambassador to Austria Online by Gerhard Peters and John T. Woolley, The American Presidency Project https://www.presidency.ucsb.edu/node/262171