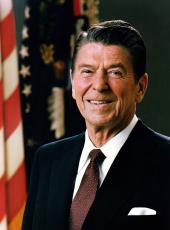 Remarks at the Swearing-In Ceremony for Frank C. Carlucci as Secretary of Defense
The President. Well, let me welcome all of you here today. And I'm going to begin exactly the way you would expect me to by saying how proud I am that someone with as illustrious a record as Frank Carlucci will be taking over at Defense. As you know, Frank has earned a reputation as an experienced and skillful administrator—a man who knows the bureaucracy, knows the Hill, and knows how to work with both to achieve remarkable results for our national security. I've worked closely with Frank here at the White House; it's been a privilege to come to know him well. He's earned my respect, my full trust, and confidence. I know firsthand of his deep commitment to a strong defense. And I look forward to working with him in a capacity—the importance of which I've stressed from day one of this administration—the national defenses and military readiness of the United States.
Now, I'm not going to recite all of Frank's accomplishments, because I know they're so well known to all of you. But it should be noted that his background as national security adviser, an intelligence manager, a career diplomat, a businessman, and Deputy Secretary of Defense makes him the most qualified individual in history to assume this post.
Frank, there are going to be extraordinary challenges, and I'm certain you're up to them. As you know, you'll face the day-by-day task of strengthening our military preparedness and the longer term work of using our military technology—through programs like SDI—to make this a safer world for peace and freedom. But there's also the difficult but honorable work of maintaining one of this administration's proudest accomplishments: the return of pride in our Armed Forces and the appreciation of those devoted young men and women who wear our country's uniform.
I think Frank knows better than anyone the importance of that last point I've just mentioned. A few years back, when all the experts were telling him differently, Frank persevered in supporting democracy in Portugal. And due in no small part to this personal commitment, today that nation is free and strong, and it set an example for democratic progress elsewhere in the world. That sort of grit has to come from something very deep in a person. Yes, Frank is the grandson of an Italian stonecutter; he knows in a special way not only what this nation means to all of us but to the entire world. The fact that he's reached the heights he has in his own life says a great deal about him and his family, but it also says something about this great nation and the cause of world freedom for which it stands.
Frank Carlucci is living proof to all of us and to the world that "only in America" is more than just an easy cliche: it's a great ringing truth. So, Frank, Marcia, today all of us extend to you our congratulations, our best wishes, and our warmest support.
Secretary Carlucci. Thank you, Mr. President, for those very kind and challenging words. I know it's customary to focus on one's new responsibilities in this kind of situation, but, Mr. President, I'd just like to take a minute to comment on my experience here at the White House under your leadership.
First of all, let me thank you for the tone that you have set in our relationship. You have made a tough job seem easy. I also want to thank you for your willingness to tolerate my viewpoint even when you've known that it has not accorded with yours. We've had some spirited discussions in the Oval Office, but always in an atmosphere of friendship and cordial debate. And I will miss those discussions, although I will be back to see you in my new capacity.
Let me also express my appreciation to Howard Baker, Ken Duberstein, and the White House staff for the extraordinarily cordial relationships that we have had and for the support that they have given to me and to the NSC. Someone said, Mr. President, you never had a White House staff that has gotten along so well together, and I can certainly endorse that. Your staff is serving you well, and they are worthy of your continuing support.
Cap just handed me a letter as I came in, which I suspect goes back to the days in 1980 when he asked me to be his deputy in Defense. And after wavering a bit, I said yes. And I said, "Cap, you know I have only one goal, and that is to help make you the finest Secretary of Defense in our nation's history." And I'm proud to say, Mr. President, that I have played some small role in achieving that goal, because surely, as you said the other day, Cap will go down in history as our finest Secretary of Defense. And, Cap, I will try to carry on in your tradition.
Lastly, I would like to express my appreciation to the NSC staff that has been so supportive and to my wife, Marcia, who has been very supportive throughout my days in the White House. It is a big job in the Pentagon, Mr. President, but it's a special department, because you head it. You are the CINC, the Commander in Chief. I know that you have a special feeling in your heart for our men and women in uniform and for the thousands of civilians that support them. And solid in that knowledge, I know that I can work with you to build on the very significant achievements of your administration to date and continue the fine Pentagon tradition that makes our Armed Forces the greatest in our country's history.

Thank you very much.
Reporter. Mr. President, why did you name an active-duty military man [Colin L. Powell] to replace Mr. Carlucci? The Irancontra report recommended against an active-duty military man in the NSC job.
The President. I guess I wasn't listening to them. [Laughter] Q. You don't think that's a good idea? The President. I think the man that I appointed has served as Frank's next-in-command, his deputy. I have seen him operate, and I think he is excellent for that particular job. And I don't think that wearing our country's uniform and a few stars take away anything from that.
Q. Is the INF treaty in any trouble? Are we going to get it?
The President. Wait until the plane lands— [laughter] —from Switzerland, and I'll let you know.
Q. Mr. President, the markets now seem to be terribly oppressed with the budget compromise.
The President. They probably haven't looked at it yet. [Laughter]
Note: The President spoke at 1 p.m. in the Roosevelt Room at the White House. In Secretary Carlucci's remarks, he referred to Howard H. Baker, Jr., Chief of Staff to the President and Kenneth M. Duberstein, Deputy Chief of Staff
Ronald Reagan, Remarks at the Swearing-In Ceremony for Frank C. Carlucci as Secretary of Defense Online by Gerhard Peters and John T. Woolley, The American Presidency Project https://www.presidency.ucsb.edu/node/251812