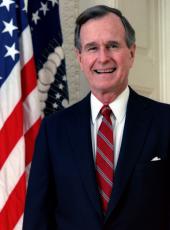 Remarks at the Swearing-in Ceremony for Edward J. Derwinski as Secretary of Veterans Affairs
Thank you all. Mr. Vice President and members of the President's Cabinet that are here; distinguished Members of the Senate and the House; and service Secretaries; and I see at least one member of the Joint Chiefs, General Vuono there, and distinguished guests over here, including Bill Mauldin: I'm just delighted to be here to salute Ed Derwinski, he with his family -- Bonnie, Maureen, and Michael. I heard Maureen and Michael -- I thought maybe President Reagan was back. [Laughter] But, no, this is the Derwinski clan.
And, Ed, I want to thank you for not wearing that gold and black checkered jacket with that tomato-red beret. [Laughter] I'm reliably informed that the White House camera crew would have gone on instant strike. We don't need another strike. [Laughter]
From where we're standing, most of the landmarks of this town are almost a stone's throw away. That's one of the beautiful things that Barbara and I have rediscovered, but discovered principally from living in the quarters above here. Just to the west of us Abraham Lincoln reposes majestically in his chair of stone. Straight ahead, Thomas Jefferson commands our respect, a bronze giant underneath a dome of marble. And the Washington Monument rises above the level of the surface of the Mall, much as our first President dominated his time. We glorify our greatest leaders, but we do not build these ivory temples to honor them alone. We honor the enduring principles for which they stood, and we honor the millions of men and women who have been ready throughout the history of our nation to defend those principles.
There've been four calls to arms in the living memory of most Americans or their parents. From the South Lawn of the White House, one can see a flaming sword, a tribute to the courage of the soldiers of the Army's 2d Division who fought so bravely in World War I. At the Iwo Jima Memorial just across the river, a fleeting moment of victory, first captured in an Associated Press photograph, is now cast for the ages in bronze. No one who lived through that war will ever forget that picture or what it meant to us. And we have yet to honor the veterans of the Korean war in such a way, although I'm glad to see that planning for a memorial is moving forward. But 3 weeks ago I saw a living monument to these brave Americans: the Republic of Korea itself, a newborn democracy aided by American sacrifice, protected by American strength. Just below the horizon, to our right, are the simple lines and chiseled names of the Vietnam Veterans Memorial, a somber salute to those who fell and to all who answered the call to duty. May we never cease to honor them, in name and deed.
And let us never forget those men and women in the Armed Forces who, even in peacetime, risk their lives in a hardship post or a dangerous assignment, whether it's standing on the deck of a carrier off the Persian Gulf or an antiterrorist unit waiting for a call that we hope never comes. The meaning of a monument, as Lincoln said of the battlefield at Gettysburg, is "far above our poor power to add or detract." These words are carved in stone in the Lincoln Memorial. But Lincoln himself acknowledged that speeches and statuary are inadequate repayment for those who made the ultimate sacrifice.
And our obligation is also for the living. If you go to the front entrance of the Veterans Affairs Department, you'll see another quote from Abraham Lincoln, cast in a plate of steel, calling on us "to care for him who shall have borne the battle and for his widow and his orphan." This is the mission of the new Department of Veterans Affairs, which today officially assumes the duties of the Veterans Administration.
I consider the new Department to have a vital mission. In fact, it is so vital that there's only one place for the veterans of America: in the Cabinet Room, at the table with the President of the United States of America. And as the first Secretary of this new Department, Ed Derwinski will set a precedent. He is uniquely suited for this role, having served with distinction in both the legislative and the executive branches of government.
My friendship with Ed goes back to my days as a freshman Congressman from Houston, Texas. Ed, a Congressman from Illinois then, was already a veteran of some tough congressional battles. And I know that for Ed the House of Representatives is still a second home with many, many friends. No former colleagues of Ed can ever forget his unfailing good humor and his concern for people. Nor will veterans forget his good work: Ed's handling of a heavy burden of casework, cutting redtape so that thousands of veterans could receive their pensions, medical benefits, deserved military honors.
At the State Department, Ed packed the achievement of a whole career into a few years. He worked with Congress; conducted special international negotiations with Canada, Iceland, the Pacific nations; acted as a senior official for refugee policy and programs; and prevented the diversion of the sensitive technology that belongs to the United States to unfriendly nations.
In short, Ed Derwinski has the skill of a seasoned legislator, the patience of a practiced administrator, the finesse of a diplomat, and the heart of a man who knows what it means to start his government career as a private in the United States Army. This is a unique combination of experience and skills. And make no mistake, this new job requires someone with Ed Derwinski's backgrounds and talents.
This new Department must manage its vast resources to meet vast needs. Almost one out of every three U.S. citizens is a potential VA beneficiary -- count among them 27 million veterans and 53 million dependents and survivors. Ed will oversee a Department with almost a quarter of a million employees -- the second largest civilian task force in the Government -- administrating a budget of more than $29 billion. And the Department of VA provides compensation to service-disabled veterans; pensions for low-income, disabled veterans, and survivors; educational assistance; and vocational rehab. It guarantees the home loans for 12 million families and operates the fifth largest life insurance program in America. It also runs the Nation's largest medical system, with 172 hospitals and hundreds of outpatient clinics and nursing homes. But the best resource of the new Department is its people, men and women who live up to the highest ideal of public service every day. And they have my sincerest gratitude for a job well done.
It is only appropriate to note one other task assigned to the Veterans Affairs Department: to tend and care for 112 national cemeteries across America. There's no power, no glamour in such a job, but there is caring and respect for those who are gone and for those who grieve. In those gardens of stone sleep the heroes -- men and women of every service, marine, soldier, sailor, airman -- lost youth that can only be measured in centuries. A President could have no more poignant a reminder that he is charged with a great trust.
It is my duty as the Commander in Chief to see to it that our Armed Forces are so strong and our diplomacy so wise that we will never again need to erect another monument to the casualties of war. A free America in a world at peace -- together we have achieved that goal; together we can preserve it. And if we do, then surely that peace will be the truest monument to our veterans.
Ed, congratulations! Thanks for all that you have already done, and we've got a big job ahead. And I look forward to working closely with you in the years to come. Thank you all, and God bless the United States of America.
Note: The President spoke at 1 p.m. on the South Lawn at the White House. In his opening remarks, he referred to Bill Mauldin, syndicated cartoonist and author.
George Bush, Remarks at the Swearing-in Ceremony for Edward J. Derwinski as Secretary of Veterans Affairs Online by Gerhard Peters and John T. Woolley, The American Presidency Project https://www.presidency.ucsb.edu/node/248651