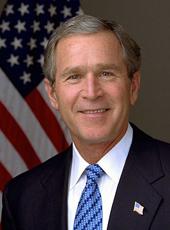 Remarks at the Swearing-In Ceremony for Donald L. Evans as Secretary of Commerce
Thank you, Mr. Vice President. It's great to be here with Members of the Congress. Thank you all for coming. Senator, thank you, sir. Two members of the Texas delegation are here, and we appreciate it very much for coming.
I want to thank you all for giving the Vice President and me a chance to come and see the swearing in of a really good man—who married, by the way, a person with whom I went to first through seventh grade with at Sam Houston Elementary School in Midland, Texas, and San Jacinto Junior High. And when we were on safety patrol, little did she ever imagine I'd be President. [Laughter]
I want to thank all the good folks who work in this Department. You don't know Don yet, but you're going to love him like I do. I also want to thank you for your service to the country. I appreciate your hard work on behalf of America and the American citizens.
Don has taken an oath to serve this country, and I know he'll be true to that oath in every way, because in 25 years, I have never known him to break his word or forget a promise. Don's the kind of man you can trust without reservation and turn to without hesitation. He's a good man. I trust and admire him a great deal.
Since we first met in west Texas, I have turned to Don many times for help and advice. I've never been disappointed. We were together in Midland, Texas, when we set out in the oil business with big dreams for ourselves and our families. We were together in Austin, Texas, 7 years ago, when I began serving the people of Texas. He was there on our journey that led to the Presidency.
At every turn, Don has always been a wise and strong and steady influence. I thank him for taking this assignment. I am proud to call him my Secretary of Commerce. I'm honored to call him my friend. He has his work cut out for him. We came to Washington with a bold agenda, and we don't intend to waste any time.
Don shares with me a conviction that open trade is a powerful force for good in the world. In all our dealings abroad, we must stand for free markets and for the principles of democracy. We must stand for free and open trade without favoritism and without barriers. We have set a great goal, a world that trades in freedom, and that goal will take all of our commitment.
Secretary Evans has a mission to represent to America's interests in the world. Many American industries and our farmers have met with unfair practices as they try to export their goods to foreign markets. In Don, they'll have an advocate who carries with him knowledge of trade, proven skill as a negotiator, and the full support of the President.
It helps, too, that the new Secretary of Commerce has a background in energy. Our Nation's economy depends on the fossil fuels that keep our engines running. And we must be less dependent on foreign suppliers. Along with my Secretary of Energy, Spence Abraham, Don will help me in pursuing a strategy of increased domestic production and energy independence. Don is a key part of my economic team. We're going to make the case for broad, fair, and responsible tax reductions. We're going to respect and reward the spirit of entrepreneurship in our country, helping small businesses as they expand and provide employment. We are going to make sure that American workers can find quality jobs in our American landscape.
I can't think of a better background for Commerce Secretary than a west Texan with a creed of hard work and independence and enterprise. Don has always represented those qualities for me. Now he will represent those qualities for America.
Mr. Secretary.
NOTE: The President spoke at 2:32 p.m. in the Oval Office at the White House. In his remarks, he referred to Secretary Evans' wife, Susan Marinis Evans. The transcript released by the Office of the Press Secretary also included the remarks of Secretary Evans.
George W. Bush, Remarks at the Swearing-In Ceremony for Donald L. Evans as Secretary of Commerce Online by Gerhard Peters and John T. Woolley, The American Presidency Project https://www.presidency.ucsb.edu/node/215365