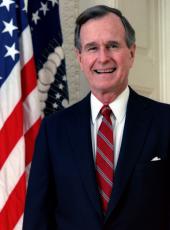 Remarks at the Swearing-In Ceremony for Catalina Villalpando as Treasurer of the United States
The President. Greetings to the Secretary of the Treasury and my Senator, Senator Phil Gramm, and of course, our star, Cathy Villalpando -- delighted. Ambassador, nice to see you here, our Ambassador from Mexico to the United States, Ambassador Petricioli, a good friend of our country -- delighted you came, sir.
And of course, needless to say, I'm pleased to be here for this special ceremony. This remarkable woman, who is going to be sworn in as the Nation's 39th Treasurer, is no stranger to big challenges. Private sector, government service, Cathy Villalpando has brought knowledge and enthusiasm and a lot of savvy to whatever task was at hand. Many knew her as the skilled representative of a dynamic telecommunications firm. Many others, including me when I was Vice President, worked with her and remember her service for President Reagan as Special Assistant for Public Liaison, a big task, tough job.
As U.S. Treasurer, she will advise Secretary Brady on coinage and currency matters as well as the important savings bond program. And she'll also oversee the U.S. Mint and the Bureau of Engraving and Printing, take the lead on important work regarding advanced counterfeiting deterrence.
During her White House service, Cathy demonstrated outstanding creativity in working on issues of direct importance to our nation's Hispanic citizens. And she has also been an active hard-working leader in political and civic campaigns too numerous to mention and has been chairman of the Republican National Hispanic Assembly.
Her skills are formidable, her administrative skills well-known. So, it's a pleasure to welcome you to this team, and I am confident that you will provide the kind of leadership that has a rich heritage dating back to September 1777, and I'm confident you're going to do an outstanding job.
Secretary Brady will now administer the oath of office, and I am proud to be a witness, Cathy.
Treasurer Villalpando. Thank you, President Bush. Thank you, Secretary Brady, Senator Gramm -- and also Congressman Bartlett from Dallas is here, a longtime friend. Thanks to all my family for being here today, my business associates, my friends, and all supporters.
I look forward to working for the President, the Secretary, to the best of my ability during my tenure as 39th Treasurer of the United States. It is truly a distinct honor to be a cosigner of the currency and to be selected to oversee the Bureau of Engraving and Printing, the United States Mint, and the savings bond program.
This will be a great challenge for me and my new staff. It will be filled with opportunity for growth and deepening dedication, attributes the Department of the Treasury under the leadership of Secretary Brady is already recognized for.
I'm grateful to all of you for being here this day -- to my grandmother, my parents, my sisters, my brothers-in-law, and my uncle and his wife, to my business partners that soon will be former partners, my new associates from Treasury, and to all my friends and all Bush supporters. Thank you so much. And a special thanks to God for making this happen. And Mr. Chairman, from the RNC, I know that you worked very hard on this. Thank you very, very much from the bottom of my heart.
Note: The President spoke at 10:22 a.m. in the Indian Treaty Room of the Old Executive Office Building. In her remarks, the Treasurer referred to H. Lee Atwater, chairman of the Republican National Committee.
George Bush, Remarks at the Swearing-In Ceremony for Catalina Villalpando as Treasurer of the United States Online by Gerhard Peters and John T. Woolley, The American Presidency Project https://www.presidency.ucsb.edu/node/264175