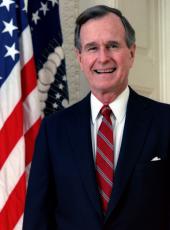 Remarks at the Swearing-in Ceremony for Carla A. Hills as United States Trade Representative
The President. Well, it is a great pleasure for me to be here for the swearing-in of our friend, Carla Hills, as U.S. Trade Representative. This is a position of great importance to our country. And with the emergence of a truly global economy, trade issues have taken on a new prominence. And I think, as Lord Macaulay so rightly said, that "Free trade is one of the greatest blessings which a government can confer on a people."
I have great confidence in the ability, the wisdom, and the toughness of Carla Hills, which is why I chose her in the first place for this critically important post. This is her second Cabinet position, and she won universal respect for her service as Secretary at the Department of HUD, Housing and Urban Development. And I know that she'll win strong support in this important current role. She's a skilled negotiator with a strong international background and extensive experience in government. Trade issues involve listening to many voices within our nation while working with the full breadth of government and maintaining a clear sense of mission. As I said when I nominated her, I can think of no one better suited to be America's trade minister at home and abroad.
And Carla will have a very committed and talented group of people at USTR who work hard and bargain hard for the people of our country. I greatly respect, incidentally, the dedication and expertise of those with whom Carla will be working at USTR, and I'm glad that many of you are here with us today.
America, as the world's number one trading nation, has the largest stake in the continued expansion of world trade, which has been one of the key factors in our growing prosperity. In addition, our trade relationships are a vital factor in America's international alliances that help secure freedom and stability for so much of the world. We will apply firmness to help promote what is fair, but we will always remember that our major trading partners are not our enemies but, indeed, they are our allies.
We have a leading role to play in modernizing a trading system that has served the world well for over four decades. There's a new and dynamic international order in the economy that offers the chance for higher levels of prosperity for all nations which freely participate in this international economy. We want to do more to remove trade barriers; to address the issue of agriculture; and to bring the benefits of free trade to new areas, including services, investment, and the protection of intellectual property. The current Uruguay round of the GATT [General Agreement on Tariffs and Trade] talks holds many opportunities for progress in multilateral negotiations. There's also a new international impetus for trade expansion created by our U.S.-Canada free-trade agreement. This agreement can serve as a model, and it proves that freer trade between nations is the wave of the future.
Ladies and gentlemen, the goal of this administration's trade policy, simply put, is to open markets, not close them; to fight protectionism, not to give in to it. We don't want an America that is closed to the world. What we want is a world that is open to America. We're going to work to promote American exports and to see to it that in dealing with the United States other nations play by the rules. As Carla said during her own confirmation hearings, we will open foreign markets with a crowbar where necessary, but with a handshake whenever possible.
And, Carla, it is now my pleasure to witness you take the oath of office. And we're very fortunate that Judge Scalia, one of our Supreme Court Justices, is here with us today.
[At this point, Ambassador Hills was sworn in.]
Ambassador Hills. Mr. President, Justice Scalia, Members of Congress, distinguished guests, and dear friends, I thank you one and all for being here. And I especially want to thank the members of my wonderful family for their enormous support, and I confess that I am absolutely thrilled that they're all with me today.
I am honored, and I look forward to serving as the United States Trade Representative. And to all of you I pledge to devote all of my energies to carrying out the trade policy goals that you, Mr. President, have just outlined. We will seek to open markets, not close them; and we will fight protectionism, not give in to it. You can be certain -- absolutely certain, Mr. President -- that those are the goals of the Office of U.S. Trade Representative. We seek free trade not just for a more prosperous America, we seek it as a part of our great quest for a freer, fairer, and more prosperous world. Rather we seek to have our foreign markets opened to the entire community of nations, rich and poor, and from that unfettered commercial exchange comes healthy world growth and increased prosperity for all people. As a nation, we seek open trade because that goal is as morally correct as it is economically beneficial.
During the past week, I have had the opportunity to meet with and work with the extraordinarily talented and dedicated women and men at the U.S. Trade Representative's office; and, Mr. President, with this group of splendid professionals, we can meet the challenge that you have given us. Our office will work closely with other Federal agencies and with Congress. And I know that you, Mr. President, share my gratitude for the commitments that Members of both the House and the Senate have made to work alongside of our trade negotiators. And we all have gained immeasurably in drawing upon the experience and the commitment of the private sector. Together we can build an expanding multilateral trade system based upon equitable, clear, and enforceable rules. We can strengthen our bilateral relationships, and we can uphold our trade laws. In short, we can do great things together.
Now, last month, Mr. President, you called your Cabinet together to receive your very clear marching orders. Your first commandment was: Think big. Well, the Office of the United States Trade Representative is small, but its talent and dedication is enormous, and your commandment is our motto. And in that spirit, Mr. President, we offer you a token of our wholehearted commitment to your goals and our great affection. And so, if I could just give you -- [laughter] -- --
[At this point, Ambassador Hills gave the President a sweatshirt that read: Think Big.]
The President. I have a funny feeling, having worked with Carla and knowing her ability, that that handshake, backed up by a lot of conviction, is going to get the job done for the most part. But I was thinking the other day, when we had the Prime Minister of Japan here and he met Carla -- perhaps not for the first time, but the first time officially with her new role about to unfold as USTR -- and maybe I was dreaming something, but I thought I saw him looking her over very carefully. [Laughter] And I just have a funny feeling that that combination of the handshake and the crowbar is going to be tremendously successful. [Laughter]
Ambassador Hills. Thank you very much. Thank you all for being here.
Note: The President spoke at 1:45 p.m. in the Indian Treaty Room of the Old Executive Office Building.
George Bush, Remarks at the Swearing-in Ceremony for Carla A. Hills as United States Trade Representative Online by Gerhard Peters and John T. Woolley, The American Presidency Project https://www.presidency.ucsb.edu/node/247683