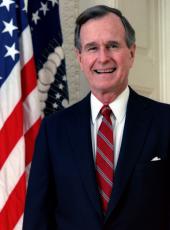 Remarks at the Swearing-In Ceremony for Bob Martinez as Director of the Office of National Drug Control Policy
The President. Please be seated. Well, first, Monsignor, thank you, sir, for that lovely invocation. And to Jim Smith, a longtime friend and secretary of state of Florida, welcome back to Washington. I'm delighted to see so many members of our Cabinet here with us today. And I think that says that all Cabinet Departments want to help Bob Martinez in this fight against drugs. And I'm delighted that they're here, and we pledge you our full support.
I'm delighted to see Bill Young, who has the onerous responsibility of representing that enormous Florida delegation. But it's most appropriate that he, a big supporter of the Governor's and of mine, be with us today in that capacity.
I want to welcome the executive directors of the several major State and local organizations: Don Borut of the National League of Cities, John Thomas of the National Association of Counties, and Ray Scheppach of the National Governors' Association.
And most of all, of course, a great pleasure to welcome to Washington Mary Jane -- Mary Jane Martinez -- Alan, his son, and also so many friends that are up here from Florida and elsewhere. I don't know who's looking after the State, but I'm delighted you all are here -- [laughter] -- on this beautiful day in the Rose Garden.
Bob brings to this important job, Director of National Drug Control Policy, a resolute personal commitment and unmatched experience in the field. Our 50 States are the labs, the laboratories of democracy, and Bob brings an impressive arsenal of some of the Nation's most innovative and wide-ranging antidrug programs. As Governor of Florida, he led a State that was among the hardest hit by drug smuggling, drug crime, and drug use. And he responded to that challenge the same way he'll respond to this new, even bigger challenge: with vigor and intelligence and a program comprehensive enough to attack the drug culture.
Bob Martinez already has contributed mightily to the National Drug Control Strategy. As the National Governors' Association's lead Governor on the drug issue, he personally developed a number of proposals regarding law enforcement, drug treatment, prevention, and international cooperation. These initiatives have greatly strengthened our long-range prospects for stopping the scourge of drugs.
In the fight against drugs, every level of government must work together. And no one is better equipped than Bob Martinez to get local, State, Federal authorities working together. He served long and well with the Nation's Governors. But he also has a long record of working with the city leaders. Twice elected mayor of Tampa, he served on the board of the National League of Cities, and he participated actively in the U.S. Conference of Mayors.
Bob also had the kind of international experience that's required for this new job. He's traveled to South America to meet with our Andean friends, the leaders of the Andean countries, in support of inter-American responses to the drug crisis. Our initiatives in the Andes and around the globe are of paramount importance, and Bob's experience will be a tremendous advantage right there as well.
As a teacher and as a businessman and as a parent, Bob Martinez understands that we cannot defeat drugs through law enforcement alone. Any long-term solution also depends on successful education and treatment. And that means drug-free schools, a drug-free work place, and drug-free kids.
During my service as Vice President, I was head of the National Narcotics Border Interdiction System, and there I worked very closely with Bob Martinez -- personally and directly. And we're going to continue to work together personally and directly in this new assignment of his. As you can tell by this audience out here today, our administration is committed to Governor Martinez' success.
I'm going to ask all members of the Cabinet and their Departments to continue to give his Office every measure of help and coordination. Bob will be asking for your advice. He'll be asking for your help. And he'll have my support every single step of the way.
I think this is a proud day for America. Bob Martinez is the grandson of Spanish immigrants, the son of a waiter, a man who worked his way through school. My predecessor called him the embodiment of the American dream.
And so, sir, as you assume command of our national drug fight at this critical time, we've made important new progress, good solid progress. Cocaine use has fallen. Hospitals report fewer drug-related emergencies. Fewer high school students abuse drugs. And the evidence shows clearly that we've turned in the right direction. But we still have a long way to go, and the drug menace remains intolerably large. And it cripples families, destroys kids, wipes out entire communities.
Our administration has announced ambitious new goals for the drug war, backed by ambitious new proposals and an ambitious new budget. And we've renewed our call for Congress to pass a true crime bill. And I'm asking Bob Martinez to fight for those goals and programs with all his heart, knowing that he already has committed his heart and soul to this crucial battle. I'm asking Bob Martinez to lead America further away from drugs, knowing that he is determined to do so. This is a top priority. And Governor Bob Martinez is the right man, the best man for this job. I'm proud to welcome him to the White House.
And let's face it, many challenges lie ahead. And the American people stand ready to face them. We will remain on the front lines, block by block, day by day, school by school, in homes, in hospitals, in treatment centers, and in courtrooms. For your kids, for mine, for America's kids, we will overcome the scourge of drugs.
And now, Governor Martinez, over to you.
[At this point, Director Martinez was sworn in.]
The Director. Thank you, Mr. President. Thank you very much.
First, Mr. President, let me thank you for having nominated me for this position, and thank you and your staff for the tremendous work that was done through the whole nomination process. I also want to thank secretary of state Jim Smith for taking the time to be here today to kind of keep the program going for us. And of course, to Monsignor Higgins, who has been at each of my swearing-ins for the last 12 years, and I appreciate him making this trip to be here. And of course, to Justice Scalia for taking time from his busy schedule, for being here today to give me the oath of office. And to all of you who took time to travel long distance.
And to all my, now, colleagues in the President's Cabinet and all of your agencies that I'll be working with, I look forward to the opportunity to get to know you real well. And many, I've had that opportunity as Governor to work with you -- some more than others. But the one thing I have found in my short time here is the tremendous interest that all of you have on the subject -- and those of you that have various agencies that are involved in the war against drugs, the enthusiasm and professionalism that they show.
Like the President indicated, we have made tremendous gains over the last several years. But there still is a rather large population that we still have to deal with. And we mustn't forget that there's a constant renewal of our population, that the young people must forever be educated -- that we can't simply say we've got a good education initiative for the current set of youngsters, but we will continue to have a current set of youngsters every year that we must continue to address. And therefore, if we fail to do that, we will have large treatment needs because we failed at the front end to provide that opportunity of letting them know what drug abuse is all about.
And of course, there is a supply side, offshore and domestic, and the tremendous work that must be done there. And it has been done and will continue to be done and are often -- sometimes I kind of regret that we divided this in the supply and demand because I kind of see it as one ball game -- that a good effective supply system makes demand efforts a lot easier.
If a youngster gets the message in school and can walk across the street and there isn't a pusher because supply has taken care of that, then that message is going to stick. And, therefore, I hope that as we go in time that this can be taken to the Nation, that this is an integrated initiative. It's not a compartmentalized type of activity -- of education, prevention, treatment, offshore, domestic -- and each operates separately.
So, I hope that, in time, that we'll be able to show that this truly is a national strategy involving all national groups, local, and State. And I'm delighted to hear that mayor groups and city groups and country groups and the Governors' Association is here because it is to be implemented in a manner that truly brings in all levels of government. And having been mayor and Governor, I kind of have heard from time to time what some of the difficulties are. And I hope to be able to work on those issues.
So, Mr. President, thank you. And on behalf of the people of this nation, I also want to thank you for the budget recommendation that you've made that clearly shows that when you speak out against drugs, it's more than words. What follows are the resources to get the work done. And I hope that I'll be able to work with you each year to be sure that your dollars that you've recommended bring the results that all Americans want.
Thank you very much, and I really appreciate it.
Note: The President spoke at 9:48 a.m. in the Rose Garden at the White House. In his remarks, the President referred to Msgr. Lawrence Higgins of St. Lawrence Church in Tampa, FL; Jim Smith, Florida secretary of state; Representative C.W. Bill Young; executive directors Donald J. Borut of the National League of Cities, John Thomas of the National Association of Counties, and Raymond Scheppach of the National Governors' Association; and Director Martinez' wife, Mary Jane, and son, Alan. Director Martinez referred to Associate Justice Antonin Scalia of the Supreme Court of the United States.
George Bush, Remarks at the Swearing-In Ceremony for Bob Martinez as Director of the Office of National Drug Control Policy Online by Gerhard Peters and John T. Woolley, The American Presidency Project https://www.presidency.ucsb.edu/node/265717