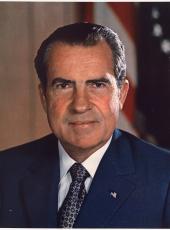 Remarks at the Swearing In of Caspar W. Weinberger as Secretary of Health, Education, and Welfare.
Ladies and gentlemen:
As you are aware, we are now swearing in Caspar Weinberger as Secretary of HEW. I suppose that to an extent he must feel somewhat discriminated against because he is the last of the Cabinet officers to be sworn in and confirmed.
I think, on the other hand, all of us who have known him here in California--Governor Reagan for whom he worked as the State finance director, the budget man, I should say--and all of those who have worked with him in the State Legislature as Judge Caldecott has, as has Bob Finch, and all of those who have worked with him in the Government in Washington when he was Director of the Office of Management and Budget, we can say that the fact that he is the last to be confirmed does not mean he may not be the first in terms of his overall capacity to handle one of the most important assignments in Washington.
He is a man of great intelligence. He is a man of great compassion. He is a man also who is organized in terms that he has demonstrated his capacity as Director of the Office of Management and Budget. He believes in solving problems. He does not believe in wasting money in solving problems. But above everything else, he is one who, whether it is in the field of health or education or welfare, does not want to just leave the problems unsolved. He wants them solved, but he wants to find the best ways to solve them.
I think the country is very fortunate to have a man of his intellectual background and his managerial capacity and his really great heart in this position. And he has our total confidence and, I think, will have the confidence of the whole country as he carries on this very important assignment. Cap, you can have a word now.
MR. WEINBERGER. Thank you. I am particularly glad you mentioned the point about compassion. I made the point to the Senate committee, or tried to, that no one has a monopoly on warmth or compassion or feeling or concern about the problems the Department is concerned with, and our whole hope here was that, as you have said in your instructions to me, that the whole point of the budget cutting is not just to get a better figure on the last line but it is to eliminate the problems of inflation that come in most serious form to the people who are the beneficiaries of this Department, and also to free some dollars so we can do something more effective than has been done in the past.
So, it is from a warm and compassionate point of view that we are starting this position, and I really think that quite a lot more can be done than has been accomplished in prior years by what we hope to be a more effective use of available funds. There are quite a lot of them, and we want to use them in a way that will most benefit the people who are most in need. Thank you, sir.
THE PRESIDENT. Judge Caldecott who, as you have heard, was a seatmate of the new Secretary when they were young assemblymen in California and when I was a young Vice President, will now administer the oath.
Note: The President spoke at 10:30 a.m. at the Western White House, San Clemente, Calif.
Associate Justice Thomas W. Caldecott of the Court of Appeals of the State of California administered the oath of office.
Richard Nixon, Remarks at the Swearing In of Caspar W. Weinberger as Secretary of Health, Education, and Welfare. Online by Gerhard Peters and John T. Woolley, The American Presidency Project https://www.presidency.ucsb.edu/node/255911