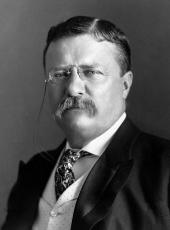 Remarks on the Submission of the Memorandum Concerning the Kishineff Massacre
Mr. Chairman:
I need not dwell upon a fact so patent as the widespread indignation with which the American people heard of the dreadful outrages upon the Jews in Kishineff. I have never in my experience in this country known of a more immediate or a deeper expression of sympathy for the victims and of horror over the appalling calamity that had occurred. It is natural that while the whole civilized world should express such a feeling it should yet be most intense and most widespread in the United States; for of all the great powers I think I may say that the United States is that country in which from the beginning of its national career, most has been done in the way of acknowledging the debt due to the Jewish race and of endeavoring to do justice to those American citizens who are of Jewish ancestry and faith.
One of the most touching poems of our own great poet, Longfellow, is that on the Jewish Cemetery in Newport, and any one who goes through any of the old cemeteries of the cities which preserve the records of Colonial times will see the name of many an American of Jewish race who in war or in peace did his full share in the founding of this nation. From that day to this, from the day when the Jews of Charleston, of Philadelphia, of New York, supported the patriot cause and helped in every way, not only by money but by arms, Washington and his colleagues, who were founding this republic—from that day to the present, we have had no struggle, military or civil, in which there have not been citizens of Jewish faith who played an eminent part for the honor and the credit of the nation. I remember once General Howard mentioning to me the fact that two of his brigade commanders, upon whom he had placed special reliance, were Jews. Among the meetings of the Grand Army which I have attended one stands out with peculiar vividness—a meeting held under the auspices of the men of the Grand Army of Jewish creed in the Temple in Forty-fourth St.—Temple Emanuel—to welcome the returned veterans of the Spanish-American War of Jewish faith.
When in Santiago, when I was myself in the army, one of the best colonels among the regular regiments who did so well on the day and who fought beside me, was a Jew. One of the commanders of the ships which in the blockade of the Cuban coast did so well was a Jew. In my own regiment I promoted five men from the ranks for valor and good conduct in battle. It happened by pure accident, for I knew nothing of the faith of any one of them, that these included two Protestants, two Catholics and one Jew; and while that was a pure accident, it was not without its value as an illustration of the ethnic and religious makeup of our nation, and of the fact that if a man is a good American that is all we ask, without thinking of his creed or his birthplace. In the same way when I was Police Commissioner of New York I had experience after experience of the excellent work done—an excellent work needing nerve and hardihood, excellent work of what I might call the Maccabee type—in the Police Department under me by police officers of Jewish extraction.
Let me give you one little incident with a direct bearing upon this question of persecution for race or religious reasons. You may possibly recall, I am sure certain of my New York friends will recall, that during the time I was Police Commissioner a man came from abroad, I am sorry to say, a clergyman, to start an anti-Jewish agitation in New York, and announced his intention of holding meetings to assail the Jews. The matter was brought to my attention. Of course, I had no power to prevent those meetings. After a good deal of thought I detailed a Jewish sergeant and forty Jewish policemen to protect the agitator while he held his meetings; so he made his speech denouncing the Jews protected exclusively by Jews, which I always thought was probably the very most effective answer that could possibly be made to him, and probably the best object lesson we could give of the spirit in which we Americans manage such matters.
Now let me give you another example dealing with a Russian Jew, an experience that I had while handling the Police Department, and that could have occurred, I think, nowhere else than in the United States. There was a certain man I appointed under the following conditions: I was attracted to him by being told on a visit to the Bowery branch of the Young Men's Christian Association, that they had a young fellow there, a Jew, who had performed a feat of great note in saving people from a burning building, and that they thought he was just the type for a policeman. I had him called up, and told him to take the examination and see if he could get through. He did and he passed. He has not only been an excellent policeman, but he at once, out of his salary, proceeded to educate his younger brothers and sisters, and he got either two or three of his old kinsfolk over from Russia through the money he had saved and provided homes for them.
I have given you examples of men who have served under me in my administration of the Police Department in New York and my regiment, in addition thereto, some of my nearest social friends, some of those with whom I have been closest in political life, have been men of Jewish faith and extraction. Therefore inevitably I have felt a degree of personal horror over this dreadful tragedy as great as can exist in the minds of any of you gentlemen yourself. Exactly as I should claim the same sympathy from any one of you for any tragedy happening to any Christian people, so I should hold myself unworthy of my present position if I failed to feel just as deep sympathy, and just as deep sorrow, and just as deep horror over an outrage like this done to the Jewish people in any part of the earth. I am confident that much good has already been done by the manifestations throughout this country, without regard to creed whatsoever, of horror and sympathy over what has occurred.
It is gratifying to know, what we would of course assume, that the government of Russia shows the feelings of horror and indignation with which the American people look upon the outrages at Kishineff and is moving vigorously not only to prevent their continuance but to punish the perpetrators. That government takes the same view of those outrages that our government takes of the riots and lynchings which sometimes occur in our country, but do not characterize either our government or our people.
Theodore Roosevelt, Remarks on the Submission of the Memorandum Concerning the Kishineff Massacre Online by Gerhard Peters and John T. Woolley, The American Presidency Project https://www.presidency.ucsb.edu/node/343695