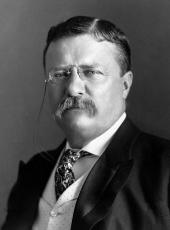 Remarks to the Students of Northwestern University in Evanston, Illinois
Mr. President, and you, my fellow alumni:
The first degree of Doctor of Laws that I ever received was from your university—and I am doubly glad to have the chance of coming here ten years later to meet you and wish you well. One word before I speak especially to college men and women, and that is a word, Mr. Mayor, about the City of Evanston—to say how glad I am to be here in this beautiful city; how glad I have been to see your people, and especially the children.
And it seems to me, Mr. Mayor, that they are all right in point both of quality and quantity. And I wish to state in all seriousness that a deficiency in either cannot be atoned for by excellence in the other respect.
And now a word, and only a word, to you on the college here. The President has said that still, after 2,000 years, it is a subject of discussion as to exactly how much a college education does for a man or a woman. It seems to me that the explanation why that is still a question is, after all, simple. If either the boy or the girl, the man or the woman, has not got the right stuff in him or her, you cannot bring it out.
But if you have got the right stuff in you, why, then, surely it is the veriest truism to say that the better your training the better will be the kind of work that you can do. This, above all, to the young men going out, each to do a man's work in the world—and if he has not that purpose he is of no use whatsoever in our American life; we have no room for the idler here; we have no room for the man who merely wishes to lead a pleasant life; if that is all he desires he can never count in American work; if the man has not got in him the desire to count, the desire to do good work in whichever line he adopts, then scant is our use for him.
But if he has got it in him, then all that I ask him to remember is this—all that I ask each one of you here to remember is this: that if you go from this university—from any university—feeling merely that your course here has given you special privileges; if you feel that it has put you in a class apart, you will fail in life. If you feel, on the other hand, that the very fact of your having had special advantages imposes upon you special responsibilities, makes it specially incumbent upon you to show that you can do your duty with peculiar excellence; if you approach life in that spirit the university training will have done much for you.
We need all the training for mind that can be given. We need all the training for body that can be given. I welcome every form of rough, vigorous athletic sports.
Some of the cheering this morning made me feel as if I was looking on at a good football game.
I welcome all forms of manly, vigorous, rough exercise. The best kind of work that can be done is such as is done by your life-saving crew here.
But all universities cannot be placed beside a lake, where there is a chance for a crew. They are going to do the best they can with the nine and the eleven.
Now, it is a great thing to have a safe and a strong and a vigorous body.
It is a better thing to have a sage, a strong and a vigorous mind. But best of all is to have that which is partly made up of both, and partly made up of something higher and better—character.
That is what counts. That is what counts, and the main good that can be done to you after all in a university such as this is to give you what I am certain universities do give—character, a fine and high type of citizenship. That is what we must strive to produce in our universities.
Physical strength? Yes. Mental strength? Yes, even more than physical.
But above all, let us strive to develop that for the lack of which neither bodily prowess nor mental capacity can atone—the quality of the soul, of the heart, the qualities of strength, of courage, of sweetness, which we group together when we say that a man or woman has character.
I thank you for listening to me today.
Theodore Roosevelt, Remarks to the Students of Northwestern University in Evanston, Illinois Online by Gerhard Peters and John T. Woolley, The American Presidency Project https://www.presidency.ucsb.edu/node/343394