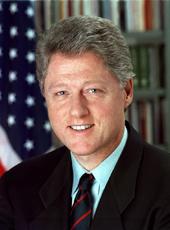 Remarks at the State Dinner Honoring President Thabo Mbeki of South Africa
Ladies and gentlemen, welcome to the White House. And let me say a special word of welcome to President and Mrs. Mbeki and the South African delegation.
In 1966 Robert Kennedy began a famous speech to the students at Cape Town by describing his deep interest in a land settled by the Dutch in the mid 17th century, then taken over by the British before finally becoming independent, a land with complicated and cruel racial problems dating back centuries, a land of untamed frontiers alongside a proud history of entrepreneurial achievement. He said, "I refer, of course, to the United States of America." [Laughter]
Obviously, in 1966 and in 2000, a great deal unites South Africa and the United States. We share a fundamental sense, dating back to our earliest struggles, continuing through our most recent ones, that nationhood is more than an inheritance; it is a living gift to be protected, defended, and redefined every day.
Few nations have worked harder at nationhood or achieved more impressive results than South Africa. Few leaders have given more of themselves to the struggle than Thabo Mbeki. His mother says that even when he was a small child, he used to get terribly excited whenever news broadcasts came over the radio. If only we could replicate that today. [Laughter]
When his father was in prison, alongside Nelson Mandela, in the early 1960's, Thabo Mbeki carried on the struggle from England. At the tender age of 21, he delivered a powerful appeal for his father's life in which he mentioned, as an aside, the fact that his father's birthday was the Fourth of July, 1910. Even though the United States was not exactly supporting the ANC in 1964, he saw that day, nevertheless, as a symbol of freedom and all the more reason his father should not lose his life for affirming the simple truth that all people are created equal.
Fortunately, Thabo Mbeki won that campaign, as he has won so many since. And South Africa's resurgence has given the entire world something to feel proud of. Today we talk about how best to deliver on its promise, how to deepen the friendship between our nations. I have already thanked President Mbeki for his strong support for peacekeeping and his ongoing leadership throughout the continent. I pledged to him that we would work harder to hasten the return of peace in troubled parts of Africa and that we would do more to build the prosperity needed to make conflict and disease less likely.
So many people who are here tonight, Mr. President, Mrs. Mbeki, contributed to the landmark legislation I signed last week to expand our trade with Africa and the Caribbean. Now we need to keep the momentum going to support the Africans who are working and fighting for peace, to relieve the debt of the poorest nations so they can devote their resources to basic human needs, to find cures and treatments and preventive strategies for the diseases ravaging the continent.
With echoes of John Donne, President Mbeki once said we have to address the problems of other peoples, because "each one of us is a particle of the complete whole." A South African poet, Mongane Wally Serote, recently wrote a poem entitled "Come hope with me." As you might imagine, I sort of liked it. [Laughter] In the poem, he urges people never to forget, "life is a promise, and that promise is us."
Tonight I ask you to join me in a toast to President and Mrs. Mbeki, to the people of South Africa and the promise of South Africa, the promise that will always join our two peoples.
NOTE: The President spoke at 9:40 p.m. in the State Dinning Room at the White House. In his remarks, he referred to President Mbeki's wife, Zanele, and his mother, Epainette; and former President Nelson Mandela of South Africa. The President also referred to Public Law 106-200, the Trade and Development Act of 2000. The transcript released by the Office of the Press Secretary also included the remarks of President Mbeki.
William J. Clinton, Remarks at the State Dinner Honoring President Thabo Mbeki of South Africa Online by Gerhard Peters and John T. Woolley, The American Presidency Project https://www.presidency.ucsb.edu/node/227948