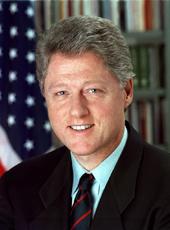 Remarks at the State Dinner Honoring President Jiang Zemin of China
Good evening. President Jiang, Mrs. Wang, members of the Chinese delegation, Ambassador and Mrs. Sasser, distinguished guests, friends all, Hillary and I welcome you to America's house.
Mr. President, in your lifetime you have witnessed the sweep of a remarkable century, both in China and abroad. And in your different occupations, you have lived a rich sampling of the human enterprise. While you lead China toward the future, we know you also are a student of the past, with an interest in our history, from Thomas Jefferson to Mark Twain. Not many heads of state can recite the Gettysbury Address, Mr. Lincoln's powerful hymn to the sanctity of our Union and our guarantee of freedom.
China has played an important role in our history. In 1784, shortly after America's independence, the first American merchant ship landed in China. The Chinese officials knew we were not European, so they simply called us the "new people." And though we were unfamiliar, the Chinese allowed us to trade freely with them. So one of the oldest societies on Earth, China, extended the hand of friendship to the world's youngest nation.
The two centuries since then are a tiny fraction of recorded Chinese history. Long before the United States was even born, China was a stronghold of creativity, knowledge, and wealth. From the printing China invented to the poetry it produced, from medicine and mathematics to the magnetic compass and humanistic philosophies, many of China's earliest gifts still enrich our lives today.
Now, the Chinese people are dramatically building on this legacy. Economic reform over the past 20 years has transformed China's landscape and its people's daily lives, lifting millions from poverty, giving more people education, shelter, choice of work, and a chance to provide for their children, bringing the Chinese people closer to the rest of the world and into a greater leadership role in the community of nations.
Now, on the verge of the new century, both our nations seek to continue this progress, to contribute to China's growing prosperity, to encourage its democratic development, to support its emergence as a responsible global power and partner.
Surely a new world is dawning on the other side of the millennium. From Shanghai to San Francisco, a community is emerging that can become "Pacific" in every sense of the word. Communication and commerce cross even the world's widest ocean in only a matter of seconds, making all of us neighbors.
Let us make the most of these new realities. Our commercial and cultural relationship is strong and growing stronger. Our people travel back and fourth, teaching and learning from each other. Mr. President, we Americans are proud that your son received a part of his education at one of our universities, and we want more of our young people to study in China. We want to work even more closely to promote peace, to fight drugs and organized crime, to build prosperity, to protect our environment for future generations.
We must press ahead on these fronts and more. I hope some day, Mr. President, the children of both our nations will say of us that our decision gave new meaning in our time to President Lincoln's call for a new birth of freedom. The United States has benefited already beyond measure from the contributions of Chinese-Americans, whose unique culture and values of family, education, and hard work have strengthened the fabric of our society. Already, China has enriched America's history. Now, Mr. President, let us work together with confidence to enhance our common destiny.
The ancient text, the "I Ching," in English is called "The Book of Changes." It tells us leaders plan in the beginning when they do things; leaders consider problems and prevent them. With this summit we have considered problems, taken steps to prevent some of them, and we have begun to plan together for a future not of problems but of progress for America, for China, for the world.
It is in that spirit that I ask you to join me in a toast to the people and the President of the People's Republic of China.
NOTE: The President spoke at 9 p.m. in the East Room at the White House. In his remarks, he referred to President Jiang's wife, Madame Wang Yeping; and James M. Sasser, U.S. Ambassador to China, and his wife, Mary. The transcript made available by the Office of the Press Secretary also included the remarks of President Jiang.
William J. Clinton, Remarks at the State Dinner Honoring President Jiang Zemin of China Online by Gerhard Peters and John T. Woolley, The American Presidency Project https://www.presidency.ucsb.edu/node/222972